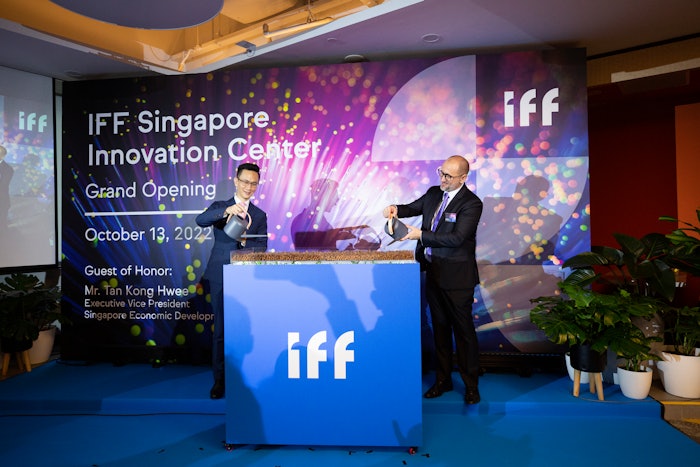 C/O IFF
IFF has announced the opening of its Singapore Innovation Center, the first in its global network of research, creative and application centers said to integrate the technologies, capabilities and expertise of all four business divisions, Nourish, Health & Biosciences, Scent and Pharma Solutions. At nearly 11,000 square meters, it is IFF's largest in the region.
Related: IFF Debuts Nourish Innovation Lab
Situated in Singapore's biomedical research hub, the center features more than 10 creation, design and analytical laboratories, a collaboration studio, and culinary and demo kitchens. The center is designed to provide customers with full sensory capabilities to support each stage of the process, from ideation through commercialization. It is said to house one of the biggest dairy processing pilot plants in Southeast Asia, replicating large-scale industrial production processes. The center also hosts IFF's global innovation center for fabric care powders and personal wash, the largest scent evaluation facility worldwide, and is the first IFF location to support all scent product categories.
Frank Clyburn, chief executive officer of IFF, said, "By 2030, Asia is projected to account for 60 percent of global economic growth. For IFF, Asia has demonstrated consistent growth, and we see tremendous opportunity in the future. Just this year, we've opened innovation centers in the U.S., Latin America, Europe and now Singapore, demonstrating our commitment to advance scientific discovery globally. Together, these significant investments will fast forward innovation across our broad portfolio, supporting our customers in bringing differentiated, new-to-world solutions that benefit people and planet."
Ramon Brentan, IFF Singapore Innovation Center site leader, and vice president, Greater Asia regional general manager, Scent, IFF, said, "In this integrated space, we will unlock cross-divisional synergies, fast-tracking innovation and accelerating new growth opportunities. We are very well positioned to offer a comprehensive portfolio for Asian consumers, offering end-to-end solutions that consumers love in food, beverage, health, biosciences and scent. This center is a true powerhouse of innovation and will further strengthen our position as a strategic co-creation partner to our customers in Asia."
Tan Kong Hwee, executive vice president, Singapore Economic Development Board (EDB), said, "We are delighted that IFF chose Singapore to establish its largest innovation facility in Asia. Along with their new Flexiblend plant, these investments demonstrate how innovation and solution-driven companies can leverage Singapore's talent, scientific capabilities, and access to regional markets to develop new, sustainable products for Asian consumers. In Singapore's push towards environmentally sustainable growth opportunities in food, wellbeing, home and consumer care, EDB will partner like-minded companies such as IFF for their growth plans and create interesting jobs for Singaporeans in these areas."
Want to know everything going on in flavor & fragrance? Sign up for P&F+'s newsletter. You can also follow along on Instagram and LinkedIn.