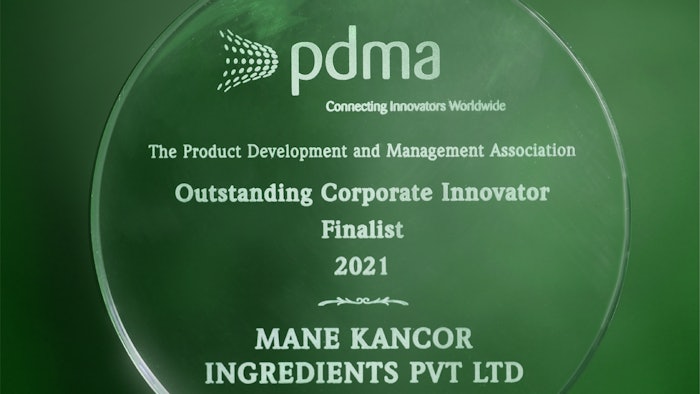 Mane Kancor has announced it is one of four finalists for the Outstanding Corporate Innovator (OCI) Awards for the year 2021, organized by Product Development & Management Association (PDMA).
Related: The Red List Project x Mane Discuss Plant Conservation and Collaboration
The award evaluation consisted of two OCI committee members conducting virtual site visits to each of the finalists to assess their innovation processes.
According to a press release by Mane Kancor, the assessors recognized that Mane Kancor has a "bottoms-up" approach. They added that the company has a strong and open innovation ethos, a learning culture and a good documentation process for innovative practices. They suggested that the company has shown "embedded innovation" with a grass-root level approach in regions where it operates. 
The release also stated that another aspect liked by the auditors was sustainability as an innovation driver, as Mane Kancor has become one of the world's largest producers of mint flavors and ingredients by setting sustainability standards in the industry.
Geemon Korah, CEO and director of Mane Kancor, said, "It was a great experience to get our innovation processes reviewed at global level. Our team had a significant learning and becoming a finalist itself is a great achievement for us. We were selected from the final 25 applications shortlisted out of all global applicants. The comments we received from the auditors are quite encouraging and we are very proud to be the sole company to represent the food ingredient industry at the global level."
Want to know everything going on in flavor & fragrance? Sign up for P&F+'s newsletter. You can also follow along on Instagram and LinkedIn.