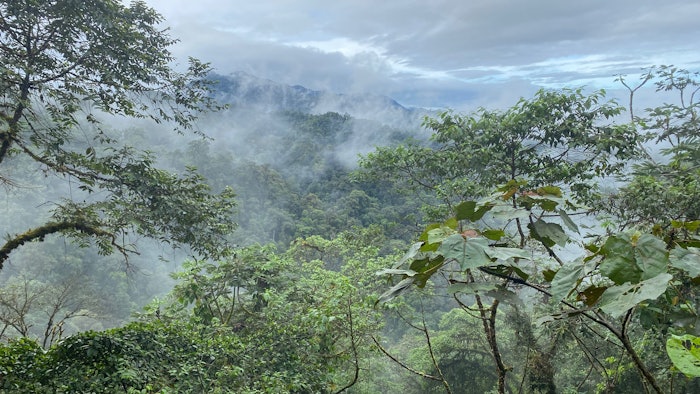 C/O TLRP
The Red List Project's (TLRP) mission is to inspire plant conservation action and engagement on a global scale. TRLP is a nonprofit collective that raises impact philanthropic donations and helps generate conservation funding through collaborations with consumer products industry partners, grounded upon scientific consensus and global biodiversity conservation concepts.
Related: The Countdown to World Perfumery Congress 2022
Perfumer & Flavorist+ (P&F+) connects with TLRP's director of conservation science, Vanessa Handley, Ph.D., and Mane's category and sales director of the Specialty Business Unit, Fragrance Division, Sophia Gillio, to discuss opportunities and challenges for fragrance companies in the conservation realm, the pair's commercial fragrances collaboration and more.
P&F+: What was the driving force behind TRLP's launch? How has it evolved since then?
Vanessa Handley [VH]: TRLP was launched in 2018 to address the global plant extinction crisis. By recent measures, roughly 40% of the world's plant species are under threat yet plant conservation remains drastically underfunded, receiving only a fraction of the philanthropy currently directed at animal conservation. Due to this, the mounting conservation needs of the world's flora remain woefully unmet. This motivated Peggy Fiedler, Ph.D., (an internationally recognized plant scientist) and Brooke Carlson, Ph.D., (dean at Fashion Institute of Technology) to found TRLP as a platform for initiating and funding conservation action for the most critically endangered plants. Broadly speaking, the plant targets are those designated as imperiled by the IUCN Red List Unit, an international authority on the conservation status of plants and animals.
Peggy then assembled a dedicated team of specialists (at this stage, I was honored to come on board) with the collective mission of inspiring plant conservation action and engagement on a global scale. To this end, we partner with conservation and consumer products entities (primarily in the fragrance industry), to initiate projects that not only enhance awareness of threats to botanical diversity but also generate funds for conservation action. We continue to concentrate our efforts on threatened plants and habitats but increasingly place emphasis on community-based conservation. Through these diverse conservation activities, we provide a platform for committed businesses, impact investors and consumers to join local communities in stewardship of our planet's irreplaceable botanical heritage.   
P&F+: Can you share any current or recent collaborations with fragrance companies/brands that TRLP has been working on?
VH: Gladly! I'll touch on two projects that I am very excited about. The first is a recent collaboration with Spyros Drosopoulos, Ph.D., the fragrance artist behind Baruti Perfumes. Spyros partnered with us to create two elegant ambient sprays that evoke—and provide conservation support for—a rare violet from Sicily and the critically endangered Portlandia platantha of Jamaica (a woody plant with white trumpet flowers and a rich perfume). Both products are now on the market with labels and other collateral that communicate the conservation stories inherent to their creation. Based on feedback from stores and consumers, both scents and stories and have been enthusiastically received.
The second project I'd like to share—and in fact, officially announce for the first time!—is our pilot with Mane. Mane is a family-owned, 150-year-old fragrance and flavor house that was founded in the Grasse region of France, and has a global presence in 39 countries. Mane carries its rich heritage in natural ingredients and its commitment to environmental social governance into every fragrance and flavor that they create for its global client base. While the specific details are still under wraps, I'll say that our focal plants are charismatic and novel from an olfactive perspective. Of course, there is also a powerful conservation connection, and I am very excited about putting allied work in motion with support from Mane. And with that preamble, I'll hand it off to my amazing partner in this endeavor, Sophia Gillio, Category & Sales director of the Specialty Business Unit in Mane's Fragrance Division.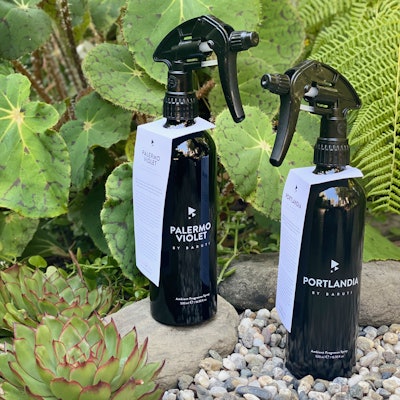 P&F+: What do you see as key opportunities and/or challenges for fragrance companies in the conservation realm?
Sophia Gillio [SG]: As a fragrance company, it is both an opportunity and a challenge to raise awareness of the importance of sustainable perfumery through conscious sourcing. In an industry where plants are harvested from the wild and used for fragrance production, and where natural ingredients are widely coveted, it is imperative to commit to sustainable practices that positively impact social and environmental conditions. While many sustainable ingredient partnerships exist industry-wide, there is a massive opportunity to further promote and protect biodiversity via the re-integration of certain endangered or rare species into their natural habitat. TRLP's knowledge of these species and worldwide partnerships open the door to seemingly endless opportunities to do better for our planet and invest time and money into conserving the very plants upon which the fragrance industry would not exist without.
Further, there is a specific opportunity to change the narrative around natural vs. synthetic materials in the fragrance industry. There is a persistent narrative that natural ingredients and products are superior in all areas, though this does not necessarily prove to be universally true with respect to sustainability and environmental impact. While it would be false to suggest that there is no environmental impact of synthetic materials, the creation process contributes less to the exhaustion of natural resources than the sourcing of natural materials. By using sustainably curated synthetic materials to recreate the essence of natural materials, the fragrance industry can celebrate the earth's most beautiful ingredients in a safe, eco-conscious manner. With an increasing number of consumers basing purchase decisions upon the environmental impact of products and ingredients, it is the perfect moment to provide education in this space.
The Mane/TRLP partnership was built specifically around these two opportunities. Most notably, what makes this partnership truly unique and novel is that no plants will ever be commercially harvested from the wild. Rather, Mane will use its environmentally conscious Jungle Essence* extraction technology to capture the odorous molecules of each plant via extraction near the supercritical state, at low temperature. The yield is a natural extract of outstanding quality, that will be analyzed and recreated using sustainable ingredients on our perfumery palette. The result is an authentic fragrance accord that represents the quintessence of each critically endangered species—a truly sustainable alternative to harvesting from the wild. This method creates a genuine conservation effort by representing the plants, their stories, and the people who strive to protect them while facilitating each plant's ability to thrive in both conservation and in the wild.
P&F+: How can TRLP assist with the fragrance industry's path to sustainable practices/ conservation initiatives?
VH: First and foremost, we provide a direct conduit to authentic, high-impact conservation projects around the globe. We are a small, dedicated team and this means that we engage with every project in a very hands-on manner. This ensures that we provide opportunities for corporations to support real conservation action, whereby funds go to on-the-ground projects with tangible outcomes. Collectively, we have deep expertise in conservation and international relationship building so we are also able to develop "bespoke" projects tailored to regions and/or impact points that a corporate partner may wish to emphasize.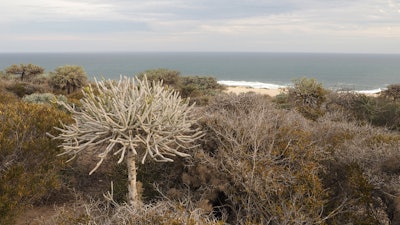 On the consumer side, we provide a respected platform via which companies can engage in the type of initiatives that consumers are increasingly in tune with—even demanding. We are edified to see that the fragrance industry is already engaging in sustainability initiatives and hope to facilitate enhanced conservation engagement as well. We recognize that this can be a difficult space to navigate and that finding the right conservation projects to connect with is far from trivial. Crafting authentic conservation narratives for brands/consumers can also prove challenging. With our conservation sector insight and expertise, we feel that we provide the perfect complement to companies wishing to embark on these endeavors.
P&F+: Could you touch on the TRLP partnership with Mane's Fragrance Division? Can you share the evolution of and/or vision for the partnership?
 VH: Mane and TRLP began to explore collaboration shortly after TRLP was founded and, from the start, we were gratified by how receptive they were to our mission. Moreover, the leadership at Mane had always been clear about the desire to engage in genuine conservation action. I place emphasis on genuine since this is so critical to our endeavor—making sure that the projects we engage in (and promote to industry partners) have been thoroughly vetted and have the potential for real impact. The fact that the team at Mane frontloaded this expectation fueled our excitement about partnering. With that jumping-off point, we embarked on the process of exploring projects and scent targets and, more broadly, defining the framework for our fragrance-driven conservation partnership. Throughout, the team at Mane has brought so much passion and expertise… plus, they clearly embrace the spirit of adventure and openness essential to scent exploration in far-flung locations. TRLP's conservation projects are in biodiverse but often under-resourced regions and some locales require bumpy drives and muddy treks. The Mane team is clearly up for whatever may come! I'd be remiss in not mentioning that Mane also brings cutting-edge technology to the table—the capacity to capture (and recreate) the odorous molecules of the raw materials with such high fidelity opens many possibilities, particularly since working with rare plants precludes conventional extraction. At this point, I am happily counting down the days until I am in the field with Sophia and her colleagues!
SG: Our relationship with TRLP presented an incredible opportunity to pioneer a partnership in the severely underfunded plant conservation realm by leveraging each organization's strengths. In this partnership, Mane brings fragrance expertise, proprietary, sustainable sourcing methods, and a cross-category global client base, while TRLP contributes scientific expertise, a global network of conservationists, and applied conservation experience. Together, we aim to achieve genuine plant conservation action through authentic fragrance accords that are representative of the endangered plant species themselves. 
The ultimate goal of Mane and TRLP's collaboration is to promote public awareness of the vital need to conserve endangered plants through our growing collection of authentic fragrance accords that will ultimately be infused into customer-specific fragrances. As part of our conservation endeavor, we are seeking brand partners to help bring our shared vision to life.
Profits generated from the proceeds of fragrances containing the accords will be shared with in-country partners to fund their conservation work, under TRLP's planning and guidance.
We are genuinely excited to not only contribute to the conservation of endangered plant species but to bring enticing new fragrance notes to our client base!
P&F+: Does this partnership inform future endeavors for TRLP? For Mane?
VH: Speaking on behalf of TRLP, we hope this pilot marks the first of many project collaborations with Mane. We are actively discussing the next stages and new scents to explore. On the conservation front, this pilot will help frame our pipeline projects since it will give TRLP a better understanding of the process via which a fragrant accord is created and the narratives that resonate with brand partners.
SG: To echo Vanessa's point, Mane is excited about the prospect of expanding our plant conservation action globally through further projects with TRLP. At Mane, we believe in creating responsibly to preserve the earth's resources for future generations and engaging in continuous improvement in this space. We foresee our partnership with TRLP as an incredible opportunity to expand upon our ingredient strategy and make an impact on endangered plant conservation worldwide!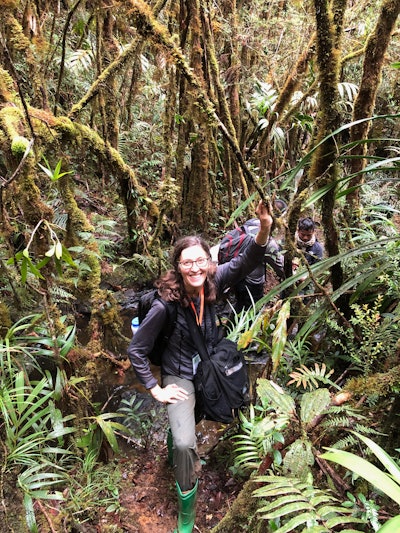 P&F+: Any particularly exciting projects TRLP has in the pipeline?
VH: We have an exciting new partnership developing with a cloud forest preserve in Ecuador. This is an extremely biodiverse region and the preserve harbors numerous stunning, fragrant plants—including a breathtaking Magnolia. This tree species towers above the forest canopy and showers the ground with petals during peak bloom. The flowers have an amazing scent—first floral but ripening into a funkier tropical fruit profile as they age. 
We also have an ongoing project in Southwestern Madagascar with a strong community conservation component. Two amazing young scientists—both Malagasy women—are currently in the field documenting biodiversity and developing a strategy for community conservation of threatened plants and habitats in the region. There are many exciting scent exploration possibilities and amazing stories to be shared in Madagascar! 
*Jungle Essence extraction technology is a trademark of Mane.
Want to know everything going on in flavor & fragrance? Sign up for P&F+'s newsletter. You can also follow along on Instagram and LinkedIn.