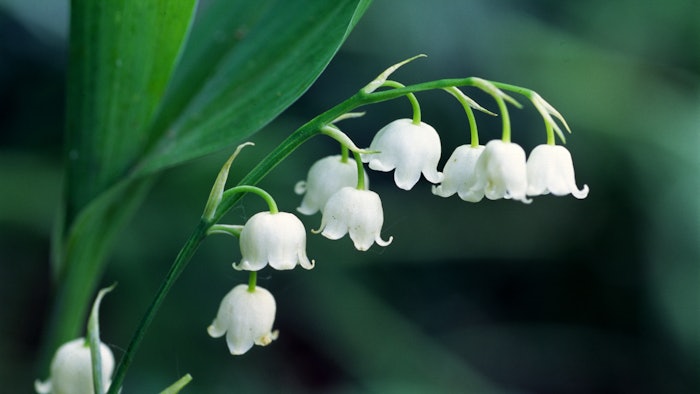 Firmenich has announced they have partnered with French start-up, Jungle, to release Muguet Firgoode, the first ingredient developed through this collaboration for the luxury perfume market, and the first-ever commercial extract safely obtained from the lily of the valley flower.
Related: Firmenich Receives Sustainalytics 7.5 ESG Score
The strategic partnership builds on Firmenich's pioneering Firgood natural extraction technology and Jungle's unique capabilities in vertical farming, growing crops in vertically stacked layers for reduced land and water use.
The two companies have successfully developed a commercially viable product cultivated through clean and highly efficient vertical farms and extracted using Firgood. Muguet Firgood will be a captive ingredient intended for the fine fragrance market.
The result is Muguet Firgood, a pure and 100% natural ingredient with fresh and authentic notes. Lily of the valley is known in perfumery as one of the most iconic "silent flowers," a flower that yields no essence. It is the first time in the history of perfumery that an extract of this flower has been captured with a safe and sustainable process, offering a completely new olfactory profile with genuine tonalities.
Julien Firmenich, vice president Product Strategy and Promotion, said, "Our strategic partnership and joint expertise with Jungle on sustainable technologies now makes it possible for our perfumers to capture and harness the genuine natural scent of this exquisite flower to the benefit of our customers and of consumers. Muguet Firgood is a truly rare and precious ingredient."
Gilles Dreyfus, president and co-founder of Jungle, said, "Jungle is thrilled to successfully break into the perfume industry. This project with Firmenich has strengthened our protocols and expertise in cultivating plants, in our vertical farms, for their enhanced biological activity. We are now well-positioned to support the cosmetics and nutraceutical industries by providing safe, local and reproducible plant extracts."
Want to know everything going on in flavor & fragrance? Sign up for P&F+'s newsletter. You can also follow along on Instagram and LinkedIn.