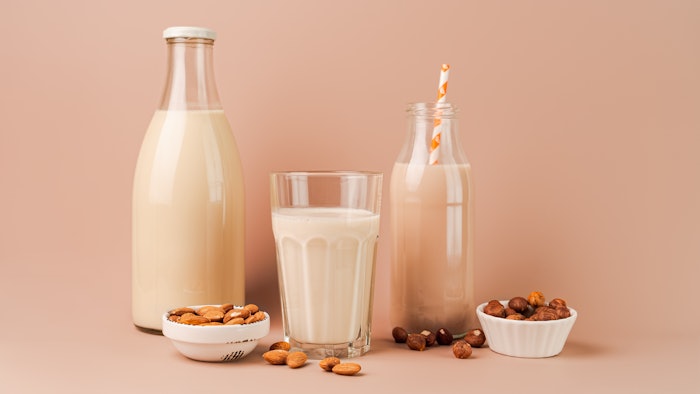 T. Hasegawa USA, Inc. has released its all-natural, plant-based Emulsitract milk colloid emulsion to the North American market. This flavor innovation provides a solution for food and beverage brands that need to simulate the creaminess and rich mouthfeel of traditional whole milk in a wide range of beverages, packaged foods and dairy alternatives.
Related: T. Hasegawa Report: Desserts and Confectionery Trends
Emulsitract was initially developed by T. Hasegawa in Japan, where fresh milk is not readily available and is prohibitively expensive. When added to powdered milk, Emulsitract restores the creamy mouthfeel that consumers expect in a wide range of dairy products, including coffee creamers, ice cream, dressings, protein beverages, yogurt, pudding, whipped cream and a broad range of dairy-alternative beverages.
The introduction of Emulsitract marks the latest in T. Hasegawa's growing line of innovative products aimed at providing a rich, full-bodied taste experience with improved mouthfeel.
In addition to improving creamy mouthfeel and providing a luxurious taste profile to dairy and dairy-alternative foods while reducing the use of edible oils, Emulsitract can offer nutritional benefits by aiding fat reduction in food and beverage products.
T. Hasegawa's Emulsitract fat mimetic is all-natural, organic-certifiable and whole-food compliant. The product is available in both viscous liquid and powder (spray dry) form, to suit a wide range of applications.
T. Hasegawa's vice president of research and development, Jim Yang, said, "Consumers are familiar with the rich mouthfeel that traditional whole milk fat provides, and expect these attributes in dairy-free beverages, low-fat foods and other products. Emulsitract is the result of our efforts to produce an all-natural solution that delivers the creamy richness that consumers demand. We have received great feedback from our customers, and we are confident that this technology is going to expand the possibilities of dairy alternatives moving forward."
Holden Rouse, senior beverage technologist at T. Hasegawa USA and head applications specialist for the Emulsitract product development, said, "Use of edible oils has long been a shortcut to simulating milk fat in certain liquid products like non-dairy coffee creamer and dressings, but Emulsitract can mimic this taste in a more natural and authentic way."
Want to know everything going on in flavor & fragrance? Sign up for P&F+'s newsletter. You can also follow along on Instagram and LinkedIn.