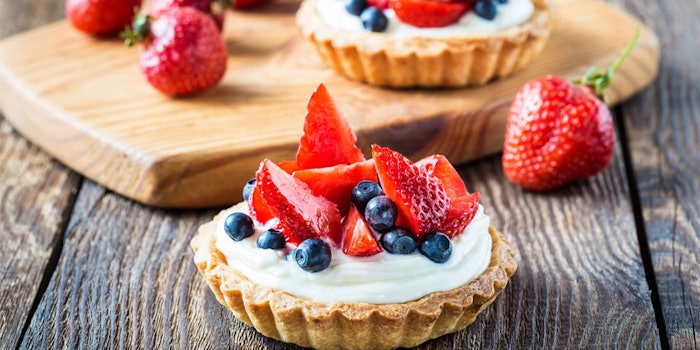 T. Hasegawa has released a report detailing recent flavor trends and how consumer demands are growing and shaping flavor innovations and new product offerings.
Related: T. Hasegawa Expands R&D with New Division
Key findings included:
COVID-induced indulgence will slow, pushing consumers toward lighter, naturally sweetened treats.
Consumers no longer have to make a choice between their favorite treats. Brands have been mixing and matching dessert and candy flavors in new product innovation, blurring the lines between categories.
Tropical fruits are trending in several categories, including desserts and confections, and they make adventurous flavors more approachable. Fruit flavors popular in Asian and Latin cuisines are positioned well for growth as consumers become more experienced with the variety of flavors in these cuisines.
As consumers spent most of their time at home, closer to their freezers, frozen novelties and ice cream varieties had the chance to solidify their place in consumer routines.
Nearly seven in 10 consumers are doing something to control sugar in their diet, but they are split evenly on how they approach sugar across all food and drink types.
Brownies and pudding, while consumed by a smaller segment of consumers, are ripe for innovation featuring co-branding and blurred lines between confection and dessert categories.
Nostalgia is a powerful driver behind dessert and confection selection, and 34% of consumers are interested in dessert and candy mashups.
Artificial sweeteners struggle to compete with refined sugar. Although consumers aspire to cut back on sugar, artificial, zero-calorie sweeteners are failing to prove an acceptable replacement to refined white sugar. According to a correspondence analysis of perceptions of sugar and sweetener types, while white sugar has a poor reputation, zero-calorie artificial sweeteners are seen as less acceptable in food and drink and less natural than traditional sugar.
Whipped, smooth and crispy textures resonate nearly equally across all generational groups, indicating a trend toward consumers equating lighter textures as a healthier option as opposed to overly heavy, dense textures.
Desserts and confections are gaining additional value through premium flavors tied to artisanal, crafted beverages such as espresso and bourbon. Prior to 2020, both bourbon and espresso had grown 18% on dessert menus within the United States from Q4 2017-Q4 2019, and coffee as a dessert and confection flavor has grown significantly among CPG innovation, making up 2.7% of all new product launches in 2021.
Matcha has grown 144% in CPG dessert and confection launches in the United States from 2016 to 2020, according to GNPD, and 54% of Millennials and 51% of Gen Z have either tried and liked or would like to try matcha, indicating room for both trial and long-term adoption.
Fewer than one in five consumers have dessert when eating Asian cuisine. Dessert and confection flavors often found in Asian cuisines including ube, lychee, yuzu and dragon fruit are still budding in retail, and consumer awareness is relatively low.
Millennials are a core target for emerging spices like chili and cardamom in desserts as this group tends to be the first to adopt new flavor trends.
Consumers want it all when indulging: healthier ingredient upgrades and a thoroughly enjoyable flavor experience.
Want to know everything going on in flavor & fragrance? Sign up for P&F+'s newsletter. You can also follow along on Instagram and LinkedIn.