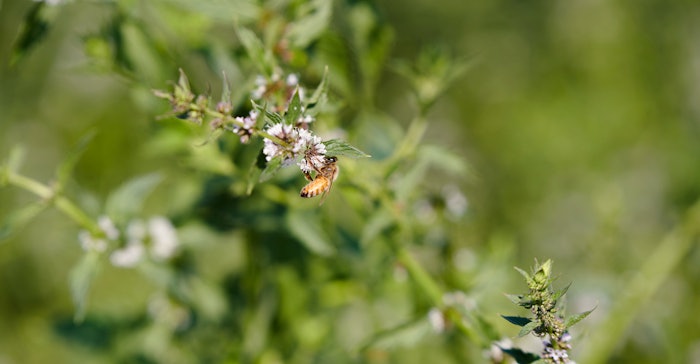 courtesy of Symrise
Symrise AG announced its first quarter sales for 2023, reporting increased sales in the reporting currency by 12.8% to € 1,230.2 million (Q1 2022: € 1,090.6 million). The company also recorded organic sales growth of 10.6% (previous quarter 8.3%). 
Related: Symrise Launches Multifunctional Ingredients Collection for Home Care
Report highlights include:
Sales growth of 12.8% in reporting currency in the first quarter
Sales rise to € 1.2 billion
Organic growth of 10.6%
Targets for 2023 and medium-term goals for 2025 confirmed
Heinz-Jürgen Bertram, Ph.D., CEO of Symrise AG, shared, "Symrise was able to seamlessly continue last year's positive business development at the beginning of this year. Despite high inflation and continued volatility in our markets, we are optimistic about the rest of the year and expect robust demand. Our diversified portfolio and our broad international positioning will also help us realize our growth potential and create lasting value this year. We therefore also confirm our outlook. For the current fiscal year, we are aiming for organic sales growth of 5 % to 7 % and an EBITDA margin of around 20%."
Scent & Care
Scent & Care, the business with fragrances, aroma molecules and cosmetic ingredients, generated sales of € 454.0 million and grew by 8.3% compared with the previous year's quarter (Q1 2022: €419.3 million). Sales grew organically by 4.2 %. In the Fragrance division, the luxury segment continued to show especially strong momentum. The Fine Fragrances business unit generated growth in the high double-digit percentage range compared to the first quarter of the previous year. Sales in Consumer Fragrances achieved single-digit growth. Especially hygiene and cleaning products enjoyed great demand.
In the Aroma Molecules division, the difficult market environment led to declining sales. Increasing competitive pressure from Asia and high inventories held by customers led to lower sales volumes. The menthols and terpenes product groups suffered from lower demand versus last year.
Sales in the Cosmetic Ingredients division continued to develop strongly in the first quarter of the current year, with organic growth in the double-digit percentage range. The most important growth drivers were the EAME regions (Europe, Africa, Middle East) and Latin America. Application areas with active cosmetic ingredients grew strongly. 
Portfolio effects from the acquisitions of the French companies Néroli and Romani contributed to the segment's sales with a total of €15 million.
Taste, Nutrition & Health
The Taste, Nutrition & Health segment (activities relating to taste solutions for food and beverages, pet food and nutrition) increased its sales by 15.6% to € 776.1 million (Q1 2022: €671.3 million). Organic growth reached 14.6%. All regions contributed to this positive result. Strong growth drivers were the Latin America and EAME regions (Europe, Africa, Middle East).
The Food & Beverage division, with its beverages and sweet and savory application areas, achieved high, in some cases double-digit growth rates. Here too, the highest growth was achieved in the Latin America and EAME regions.
The Pet Food division continued its high double-digit growth rates. The strongest momentum for growth came from the EAME (Europe, Africa, Middle East) and Asia/Pacific regions. Expansion of capacity in Brazil, Mexico and North America is progressing and creating the basis for further international expansion of the business.
The sales contribution from the acquisition of Wing Pet Food in China was € 10 million in total. 
Looking Ahead
According to the company, Symrise continues to expect to grow faster than the relevant market and to increase sales by 5% to 7% annually (CAGR) until 2025, with an EBITDA margin in the range of 20% to 23%. Despite continued high raw material prices and high logistics and energy costs, Symrise is aiming for an EBITDA margin of around 20 % in the 2023 fiscal year.