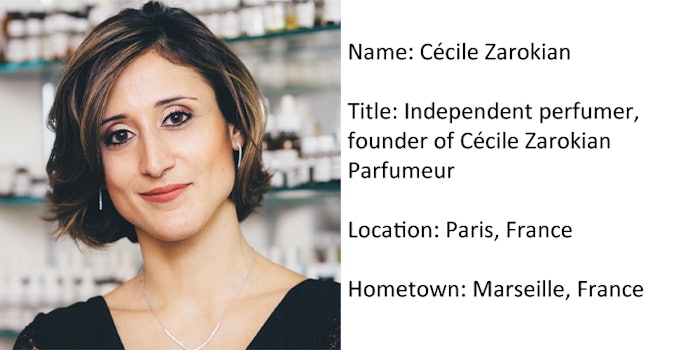 P&F+: What led you to the fragrance industry?
Cécile Zarokian [CZ]: When I began my studies, I had no idea this job even existed! I started medical school to become a pediatrician and then one day I met a girl who was studying at ISIPCA, the reference school for perfumery training worldwide, founded by JJ Guerlain. I immediately knew I wanted to do this, so I passed the tests and was lucky enough to enter the school.
When I was studying at ISIPCA, I did my two-year apprenticeship as a trainee perfumer at Robertet. I worked for them in Paris for two more years, so four years total. In 2011, I created my own company as an independent perfumer. We are celebrating our 11-year anniversary this year!
P&F+: What is the best part of your job?
CZ: What I love is that this is a multi-faceted job and that every day is different from the day before. I create perfumes of course, but I also deal directly with my clients, develop the business strategy of my company and offer consultancy services everywhere in the world (conferences, trainings, masterclasses, workshops, etc.). I'm even an in-house perfumer for fragrance companies that manufacture perfumes and work for fragrance houses as an external resource.
I specifically enjoy having a close relationship with my clients and being able to help them to support their project from the brief to the launch, and to adapt my work depending on their ambitions and needs. And of course, as a perfumer, having the freedom of creation that I have, but also business-wise, is priceless.
P&F+: Are there any recent projects/wins you're particularly proud of?
CZ: The full Bossa range, created to celebrate the 150th anniversary of the iconic carioca brand, Granado Pharmacias. It was the first time that an independent (French) perfumer won a fragrance for the Brazilian market.
Silver Oud by Amouage, nicknamed The Black Beast. Creative director Renaud Salmon gave me carte blanche and an unlimited budget—a perfumer's dream! This resulted in a powerful scent, recognizable by its unapologetic use of oud Assam oil, while being enjoyable internationally. It was launched as an exclusive and in less than two months, it was sold out.
The Amouage attars, or the opportunity to work on the oldest form of perfume known to mankind with very technical requirements (100% pure fragrant oils while complying with international safety regulations). It truly is a groundbreaking launch for the perfume industry!
P&F+: Do you have advice for people coming into the perfume field?
CZ: I would say you have to know that, like in many other creative or artistic jobs, it is going to be tough, many are called but few are chosen. Training and learning take time, and every year the competition gets more and more important with all the new students graduating from the various perfumery schools (including ISIPCA, but also new ones such as Ecole Supérieure du Parfum or specific training programs). So, you have to be passionate and determined—hang in there and be persistent!
What's also crucial is the people you meet along the way and how you connect with them. You have to get out there and meet people from the industry, they will all have good advice for you, and sometimes, something special will happen and doors will unlock towards the next part of your path.
P&F+: Are the types of projects you're working on changing over time? How are the creative demands of the job evolving?
CZ: I began mostly with briefs from niche perfume brands, and scaled up to bigger brands such as Nishane, Amouage and even Granado Pharmacias. I also developed my activity with the spirits industry—creating olfactory identities and edible scents, for example—and with fashion designers.
Actually, what drives me the most is working on new exciting and challenging projects, areas that have not been explored yet. Working on new ways and angles to create something different, trying to understand how we could bring something different to the market, a new business model. What is exciting for me is to push boundaries in our industry, trying to make a change with a different approach and way of working, something I believe is key to be a game changer.
What I've been observing recently is that the lines seem to be shifting in the perfume industry. Winning projects for brands that are owned by big groups, working with fragrance houses on specific projects as an independent perfumer or being contacted directly by fashion designers. All this wouldn't have been possible a few years ago!
For the full article, please check out the Perfumer & Flavorist+ August 2022 issue.