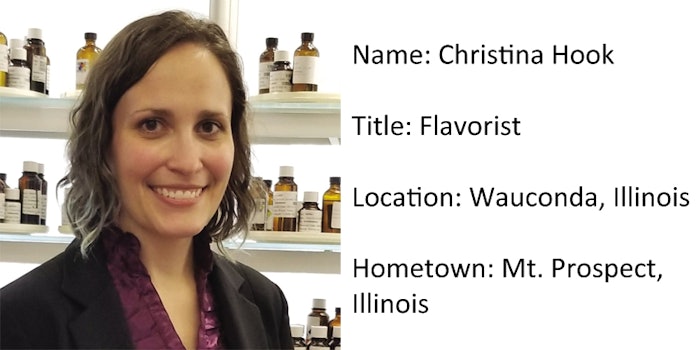 Perfumer & Flavorist+ [P&F+]: What led you to the flavor industry?
Christina Hook [CH]: I grew up with my dad bringing home samples from work for my brothers and I to try. We were the coolest house in the neighborhood, and it was always a laugh when we tried good and bad products that were new to the market. When I graduated high school, I started working for Bell Flavors as a summer intern. Over the next five summers, I worked in many departments and saw the flavor process from raw materials coming in the door to finished products shipping out. I loved the blend of science and creativity, but my heart pushed me to pursue a career as a high school teacher instead. When I discovered it wasn't the right path for me, I defaulted back to a time I really enjoyed and officially joined the industry when I started at Sensient Flavors over eight years ago.
P&F+: What applications do you primarily formulate for? Do you have a favorite?
CH: I work on a blend of applications for our Sweet and Beverage group. This includes ice cream and confections on the sweets side and CSD, alcohol and juice on the beverage side. My favorite application is confections. In my personal life, I have a huge sweet tooth and I enjoy trying different flavored candies. This interest carries into my work, where I get to design flavors for multiple candy forms like chocolate, gummies and hard candy. Out of those, my favorite would be gummies. Not only is there demand for a wide variety of flavors, but there is also a range of textures to try.
P&F+: Are there any recent projects/wins you're particularly proud of?
CH: I worked on a project with Sensient's applications team to help develop a beverage for a small customer. The project required a lot of flavor iterations and base changes as the customer worked through what they wanted. Finally, the product was launched in a small distribution market and I high-fived my applications teammate. Little did we know that our small customer was going to sell the product to a much larger business with a bigger distribution network. Our tiny sale turned into bigger revenue for the company. I can say that I dedicated just as much time on this project for a small customer as I would for a big customer and, with a stroke of luck, I was able to see my hard work pay off.
P&F+: Describe yourself in three ingredients.
CH: Capsicum, cinnamon superesin, and cis-3-hexenyl-acetate. I use a lot of sarcasm, have little tolerance for BS and say what is on my mind. That can make me a bit spicy, like capsicum. If you can see past that, I'm warm, welcoming and down to earth. I treat people like family and would go to battle to defend them. I also like to bake in my free time, so cinnamon superesin represents my characteristics and hobby. If you catch me in a purely social setting, I like to let my hair down and dance like nobody is watching. I'm a kid at heart, making jokes and spending as much time outside as possible. cis-3-Hexenyl-acetate, with its bright, fruity profile, brings me back to childhood and the pure joy kids can have.
P&F+: What is the best part of your job?
CH: The best part of my job isn't even a daily function of my role at Sensient. I really enjoy educating people about the flavor industry. I'm very passionate about what I do and the new and interesting products that get launched in the marketplace. I like to share that passion with the people around me. Typically, when customers come in, I introduce them to the world of flavors and show them what goes into creating a flavor from scratch. I've had the opportunity to lecture at a conference and guest lecture at a university. Besides the time I spend representing Sensient, I also like to answer questions from friends and family. This usually involves trying to correct misconceptions, like organic means no pesticides or that natural is chemically different than artificial. On top of that, I'm already following in my dad's footsteps by bringing home new things I've tried at work to show the people close to me that there is so much out there to experience. Finally, I manage the flavorist training program at Sensient where every day I spend time teaching the next generation of flavor chemists.