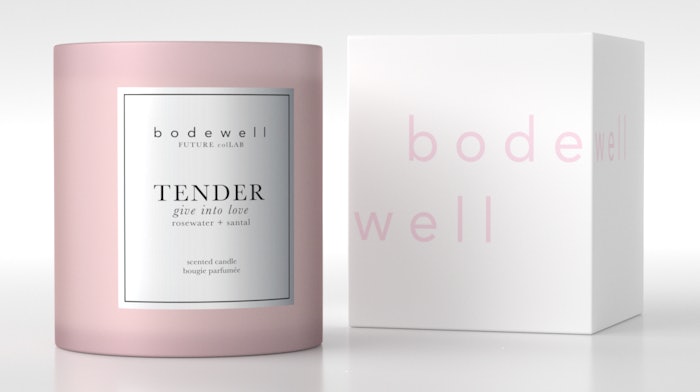 Research from the NPD Group states that during the two weeks leading up to Valentine's Day 2021, fragrance sales grew 5% compared to the same weeks the previous year.
Related: Indian Sandalwood Tops Vitamin E for Antioxidant Activity, Inhibits MMP-1

Valentine's Day is right around the corner, and romantic fragrances have been blooming across the market in time for the holiday. From floral scents to rosy colors, here are some headlines by Perfumer & Flavorist+ covering these seasonal scents.
Ascention's Ascent to Love fragrance is centered around the theme of self-love with a blend of red currants and strawberries, vanilla and musk and infused with fair-trade rose quartz crystal.
Bodewell Living's Tender Candle comes in a blush-colored vessel and custom gift box, combing rosewater and santal in natural soy wax.
Indigo Wild, the maker of Zum bar soap, has launched Zum Oil aromatherapy body oils. Available scents include grapefruit, sea salt, frankincense and myrrh, lavender and lemon and rosemary and mint.
Guru Nanda's Halo diffuser also functions as a humidifier with 22 hours of runtime. It pairs with any of Guru Nanda's various essential oils, ranging from lavender, eucalyptus, peppermint and many more, with specific blends to promote health benefits, like Immunity Essential Oil Blend and Calming Sleep Essential Oil Blend.
Aldi has launched a range of Valentine's Day-inspired candles. The Hotel Collection features both candles and reed diffusers, offering floral scents of roses or peonies. The Scentscerity LED light-up candle comes in rose gold or red, and the Hotel Collection Votive Candle Gift Set includes a duo of red votives and 12 tealights in rose or peony scents.
House of Sillage announces a limited-edition Ruby Reign fragrance launch in celebration of Valentine's Day. Top notes include bergamot, cedar leaves, rose, saffron. The heart notes include agarwood, guaiac wood, orange blossom and suede. The base notes include amber, musk, cedarwood, incense, patchouli and tonka bean.
American singer, Ciara and NFL quarterback, Russell Wilson, have announced two fine fragrance launches to R&C Fragrance line, the Harmony Duo and the Intense Duo. Harmony Duo includes Russell for Him, which offers notes of holographic salt, lavender, geranium, vetiver and cedar. Ciara for Her holds floral notes, musk, bergamot, Sichuan pepper and amber. Intense Duo includes Russell for Him with woody notes, patchouli, juniper, lavender, sage and musk. Ciara for Her holds notes of amber, tonka bean, floral accords and musk.
Lush is adding to its CBD offerings with the 4:20 perfume and Joints massage bar. The 4:20 perfume has fragrance notes of smoky sandalwood and patchouli. Each 30 ml bottle contains 1000 mg of CBD.
Le Point G by Veronique Gabai, also known as the G Spot, is an organic, ethnically-sourced and vegan and cruelty-free fragrance. The fragrance offers notes of French rose centifolia, Mauritian pink pepper, Virginian cedarwood and Brazilian tonka.
Pura has announced a partnership with fashion brand Kenneth Cole to develop two new fragrances, Aim to Teas and Go Fig-ure. Aim to Teas holds notes of sparkling orange, spearmint, white tea and basil combined with pear blossom and patchouli. Go Fig-ure offers notes of bergamot, fig and jasmine blended with golden amber, creamy sandalwood, and urban musk.