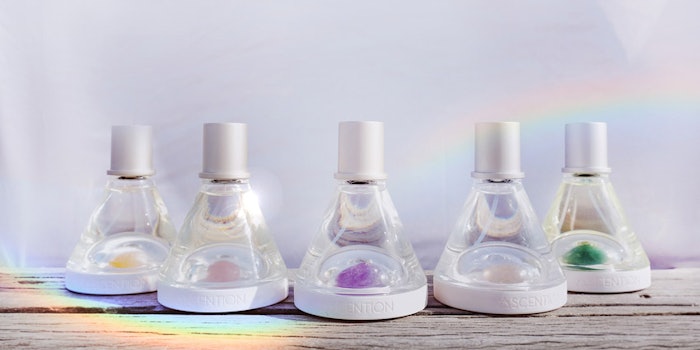 The Ascention fragrance line combines the power of scent with the power of intent.
Founder and CEO, Greta Fitz, is a seasoned fragrance professional on a mission to create a new beauty category that she calls "Wellness Fragrance." 
The line offers five scents, each woven with aromatherapy ingredients: 
Ascent to Love: Floral ambery notes 
Ascent to Courage: Woody fruity citrus notes
Ascent to Peace: Aromatic floral
Ascent To Detox: Woody musk
Ascent To Prosperity: Woody aromatic floral
Perfumer & Flavorist+ [P&F+]: Can you touch on your experience in the fragrance realm and what led you to launch Ascention?
Greta Fitz [GF]: When I turned 15, my mom started selling Mary Kay cosmetics. I watched all of her training videos (on VHS!) and taught myself about makeup and fragrance. Shortly thereafter, I became a self-taught makeup artist and worked my way through college doing makeup for weddings and special occasions. After I earned my bachelor's degree, I landed at the world's biggest cosmetics company, L'Oreal at Ralph Lauren Fragrances. I worked my way through the corporate jungle gym, landing marketing roles at the industry's biggest companies including Shiseido and Coty, where I continued to work in marketing roles on designer brands such as John Varvatos and Calvin Klein Fragrances respectively. I later ended up at an indie beauty company called, Clean Beauty Collective, where I led in the creation of Clean Reserve, the first sustainably sourced fragrance brand that changed the standard of clean fragrance.
During the course of my career, my personal life intersected with my professional life, where success meant continuous stress and burnout culture, it got the best of me. My health started to suffer as I wasn't prioritizing my mental health. My hair was falling out, my body was always breaking out rashes and my stomach was having its own breakdown—all due to stress. When doctors discovered a precancerous polyp, I knew I had to make a huge change to prioritize my mental health and overall wellness. I went to the root cause of it all and focused on mitigating and healing the negative effects on my body, which was completely inflamed at the time. I worked with movement, energy work, and my senses to heal and to transmute stress. I created rituals that helped me elevate my mind and to keep my frequency high for my body and mind to heal. I didn't realize that I was even creating Ascention until I couldn't find something like my rituals on the prestige market. I believe that everything happens for a reason, and I knew that my journey had led me to create Ascention to help others elevate their minds and feel good through scent and ritual.
P&F+: Could you share some details on why you chose to launch the brand with the mission of tying into consumers' wellness journey?
GF: The use of scent was pivotal in my wellness journey to heal from the negative effects of stress and to keep my mental health balanced. Everyone in the fragrance industry speaks of scent tying to memories, but no one is talking about how it happens and how it can tie to overall wellness. Our sense of smell is the strongest that is tied to memory and emotion. When you have an experience with a scent—good or bad—you form an impression or a memory that you can recall every time you smell that particular scent. I worked with aromatherapy in my rituals with ingredients that evoke distinct emotions. I would mix lavender and sandalwood to invoke peace during a stressful day and I'd work with my amethyst crystal to amplify my intention of peace, freedom and balance. Essential oils are very functional smelling and I wanted to create a luxurious experience to dial up the aspiration and invite in manifestation with thoughts, words and actions. The fragrance industry is focused on the aspiration of beauty, sex, money, abundance, but has never focused on normalizing the discussion of our own personal journey of struggle, healing and triumphs. As scent is very personal, it made sense to create a luxurious wellness fragrance that normalizes the discussions on healing and thriving through scent and ritual. Ascention is elevating the dialogue on traditional fragrance. It's not just about smelling good, but more importantly, feeling good, through a sensorial experience. 
P&F+: Can you explain how consumers are meant to interact with the fragrance?
GF: The fragrance is designed to be a ritualistic experience. The double patented bottle, which we call The Ritual Bottle, comes disassembled for the client to set their intentions while assembling it. Clients can write their intentions and fold them under the stone and place in the dish and lock in the fragrance. The crystals can also be used to massage in the fragrance for an added connection. Each fragrance comes with a ritual and mantra card and breathing exercise to activate their scent and memory connection with the feel-good feeling of receiving their intention.
GF: Working in the industry practically my entire life, I am very particular about partners, materials and sourcing, and the impact on the environment. Specifically, when it comes to fragrance, I was determined to find a fragrance house partner that specializes in sustainability-sourcing, harvesting, giving back, but equally as important, innovation and olfactive payoff, so that you're experiencing a luxurious perfume that lasts. I partnered with Mane for these reasons as well as for their innovative and agile approach to fragrance development and working with startup brands like me. Mane is committed to sustainable development and has proudly received the Platinum ranking by EcoVadis, placing Mane in the top 1% among more than 60,000 companies assessed by EcoVadis throughout the world!
In addition, and most importantly, we are creating perfume. The challenge of creating a strictly clean, safe, vegan and cruelty-free fragrance is that the perfumer's palette decreases drastically. Not only do they have to develop this type of fragrance but it has to smell good and last! I've worked with the perfumers at Mane on many projects prior to this and they blew my mind on the result of the Ascention collection.
P&F+: What is on the horizon for Ascention? What does the future look like for the company?
GF: We are just getting started! Our mission is to elevate the mind with scent and ritual. We are creating a lifestyle sensorial experience rooted in mysticism and spirituality. Fragrance is the catalyst. Our collective is engaged, growing and booming on TikTok. We have new products launching in 2022, so more to come!