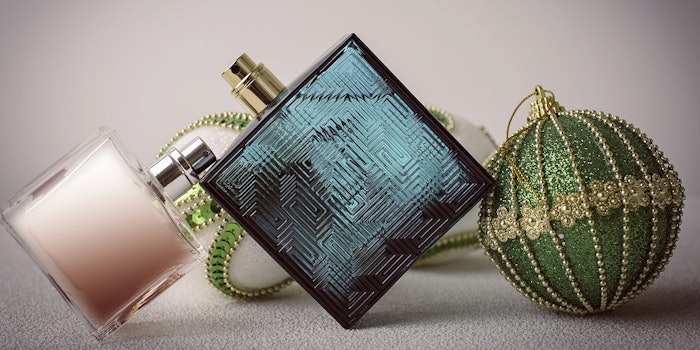 This holiday season more consumers are expected to give the gift of perfume. Fragrance sales in the United States totaled $2.7 billion and prestige sales were up 8% percent year-to-date through October, according to NPD Group.
Holidays Lead U.S. Fragrance Sales
Growth in fragrance shopping is largely attributed to increased purchases around holidays. For the four weeks of December 2017, U.S. prestige fragrance sales totaled $958.9 million, an increase of 5% from the same weeks the prior year. The second largest holiday for fragrance sales was the week of Mother's Day 2018 with $122.8 million and a 9% growth from the prior year. Rounding out the high fragrance buying holidays was the week of Father's Day with $94.3 million (an 11% increase) and Valentine's Day with $92.8 million (a 12% increase). Overall, the fragrance market growth rate is trending behind the skin care category (the fastest growing) but ahead of the makeup category (the largest category).
"After several years of soft holiday performance, fragrance made a comeback in December 2017 proving to be a giftable category for the holidays," said Larissa Jensen, executive director and beauty industry analyst, The NPD Group. "We continued to see this turnaround during other key periods in 2018, including Valentine's Day, Mother's Day and Father's Day, and I anticipate its streak to continue this Christmas."
Giving the Gift of Perfume
According to NPD Scentiments, half of all consumers are purchasing fragrance not for themselves but for others and a majority of these purchases are gifted during the winter holiday season. For the 2017 holiday season, the top-selling women's fragrance was Coco Mademoiselle and the top-selling men's fragrance was Acqua di Gio Pour Homme.
Related: Are Men the New Face of Fragrance? 
"New brands will be an important driver for fragrance during this holiday season. With close to a third of full-year fragrance sales happening in December, most fragrance manufacturers wait until the second half or the last quarter to introduce a new scent," said Jensen. "The success of new launches during holiday can make or break the category, but given the strong performance seen so far in 2018, I anticipate fragrance will end the year strong."