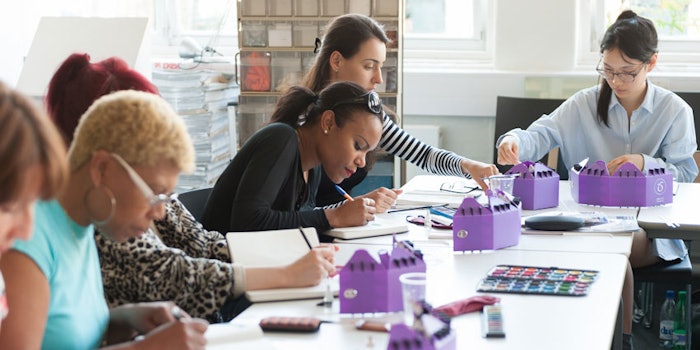 *Cover photo by Ezzidin Alwan
By Joanna Norman and Nicola Pozzani
Fragrance education continues to grow in demand with the rise of niche perfumery and consumer interest in fragrance. Beginning with in-house perfumery training from the major fragrance houses, it can be difficult to find training beyond those walls. The Design With Scents (DWS) course offers fragrance study to reflect the various emerging scent avenues for students and professionals interested in fragrance design. DWS is a multi-sensory one-week workshop which teaches participants to use fragrance as a powerful design tool, as well as how to use scent in creative projects to enhance people's lives.
A multi-sensory approach
An insightful presentation from the British Society of Perfumers during a snowy, London evening provided the perfect framework for two independent fragrance consultants, Nicola Pozzani and Joanna Norman to meet and discuss the challenge of creating a perfumery short course with a difference. 'Design with Scents' was successfully launched at Kingston University London in 2012, before becoming part of London College of Fashion (University of the Arts London) where it is currently held.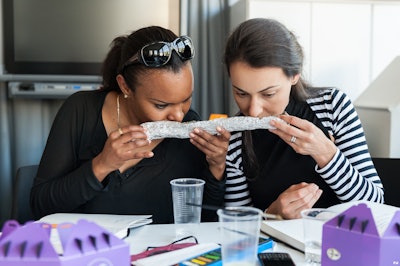 The key here is investigating the relationships among odors, memory, and emotion. Photo by Ezzidin Alwan.
Foreseeing a growing cultural interest in fragrance combined with a shared multi-sensory approach to perfume, along with a mutual passion for education led to the formation of the hands-on course. We saw a gap in the use of the sense of smell by artists and designers in their projects. Over the years the course has proved to be a unique magnet for what we call 'scenthusiasts' from around the world.
Scent + enthusiasm = scenthusiast
Who are the scenthusiasts? Why do they choose scent education, what do they love about it? And how can the fragrance industry learn from DWS?
DWS is a practical course open to anyone with an interest in smell. Participants hail from all over the world from a variety of disciplines, united under an overall enthusiasm for scent. The course introduces the language of fragrance through cross-sensory exercises whilst students design and formulate a "scent for space" solution. Why do more and more people choose to educate their sense of smell using this creative experience?
The use of cross-sensory modality, or synesthesia, has proved to be what participants described as "heightened perception" or "new awareness", a new way of thinking, smelling and feeling as a result of the sensory training. The course also incorporates elements of fragrance history, science and healing, providing a synergistic approach to education. The scenthusiasts work in teams to produce an audio-visual, scent-design solution, as well as blending a fragrance which they present on the final day of the workshop.
Understanding fragrance and smell
With regard to the smell training itself, students have all rejoiced in the experience of memory, and developing the ability to distinguish odors, experiencing the combination of ingredients and accords into new entities, described by the anosmic students in particular as "life-transforming." The key here is investigating the relationships among odors, memory, and emotion.1
Participants also have the chance to connect further to scent-focused realities outside the classroom through guest appearances from previous students, known as the 'DWS alumni' and guest lecturers, who share how they use scent in their work. Such guests have touched on perfumery, sensory fashion, scent events, beauty, wine appreciation, anosmia and smell walking; all of whom we are very grateful. The alumni have become an active community forum.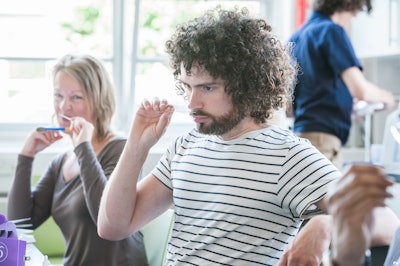 An understanding in our sense of smell offers an opportunity to enhance many areas of disciplines, including fashion, marketing/communication and journalism. Image by Ezzidin Alwan.

Overall feedback is so enthusiastic that most students wish for an extra week, ask for a Level 2 course or suggest that the workshop translates into an MA in the future, options which we are considering.
Education is key in the future of fragrance, for both consumers and businesses. The future is taking shape. The future is fragrant!
From 2012 to 2016 Design With Scents have trained 66 students of 24 nationalities, EU and Asia coming first, followed by Middle East and Africa, mainly from the fields of art, design and architecture and perfumery, followed by marketing/communication, journalism and other disciplines, including flavoring, chemistry, psychology and Islamic studies. Others were simply curious.
The course is led by Nicola Pozzani with Joanna Norman and UK Senior Perfumer Marianne Martin, piloted with John Ayres from 2012 to 2015. Next workshop will run July 2017 at London College of Fashion, UAL (UK).