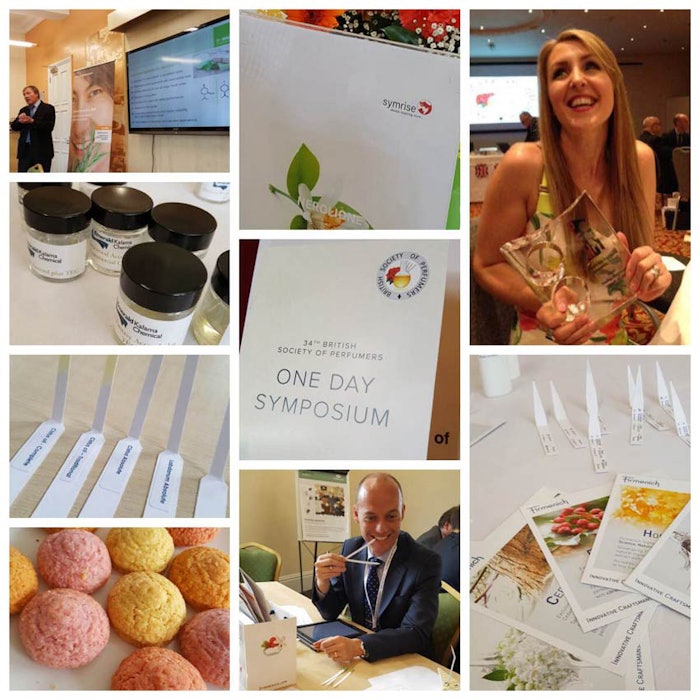 By Pia Long
This May, the 34th British Society of Perfumers one day symposium at Whittlebury Hall, Towcester was fully booked and as successful as always—it is the main highlight of the BSP event calendar and one of the key networking events. Attending perfumers and other fragrance professionals were invited to explore raw materials and inspired to approach creative projects in new ways.
The annual Perfumery Excellence Awards were bigger than ever and the award presentation was built around a "Best of British" theme with a surprise award going to Kate Williams, president of the Society, for Original Source Liquorice Scrub fragrance. Voting was open to members and friends of the society before the symposium and winners received their engraved awards during the gala dinner. Eternis and Firmenich provided bubbly refreshment for the proceedings as the winners were revealed from gold envelopes:
Female fragrance: Alaïa by Alaïa
Male fragrance: Bottega Veneta Pour Homme Extreme
Personal care: Lynx Black Deodorant
Home care: Cardamom and Moroccan Rose candle, Jo Malone
Fabric care: Comfort Intense Sunburst
Pierre the Perfumer Award for the most daring fragrance in any category (sponsored by PFW): Original Source Liquorice Scrub.
Keynote speech for the morning was given by founder and CEO of Treedom Group, Dr. Andrew Steel. Treedom Group produces oud oil in Thailand. During his talk, Dr. Steel encouraged British fragrance makers to follow their noses to oud oil producers and work directly with them.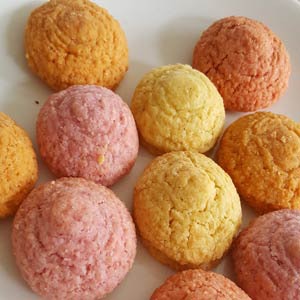 The day was packed full of interesting raw material presentations from BASF, Symrise, Firmenich, Emerald Kalama and Albert Vieille, and although everyone tends to reserve their new launches for the World Perfumery Congress, presenters at the one day symposium always inform, entertain and inspire.
We smelled DL-menthol and dihydrorosan from BASF, Jacinthaflor1, Nerolione2 and Irisnitrile3 from Symrise; cedarwood Alaska, pepper Sichuan, Lilyflore4, Ambrox Super5 and Honey Signature from Firmenich; Azuril6, Osyrol7 and Vetimoss8 from Emerald Kalama; and Albert Vieille fed us macaroons flavored with their natural rose, neroli and mandarin oils and the Arabica Coffee Salvador alcoholic extraction we smelled alongside them went particularly well with this sensory experience.
A BSP delegation will be visiting the World Perfumery Congress—reserve your place to have afternoon tea with the BSP on June 15, 2016 at 3 PM by emailing roger@britishsocietyofperfumers.co.uk (numbers are limited).
The one day symposium and the Perfumery Excellence Awards are going from strength to strength and are just one of the reasons why the BSP is so well-loved by its members. Find out more about the BSP on the BSP website and perhaps see you at Whittlebury Hall next year?
1,2,3 Jacinthaflor, Nerolione and Irisnitrile are registered trademarks of Symrise.
4,5 Lilyflore and Ambrox Super are registered trademarks of Firmenich.
6,7,8 Azuril, Osyrol and Vetimoss are registered trademarks of Emerald Kalama