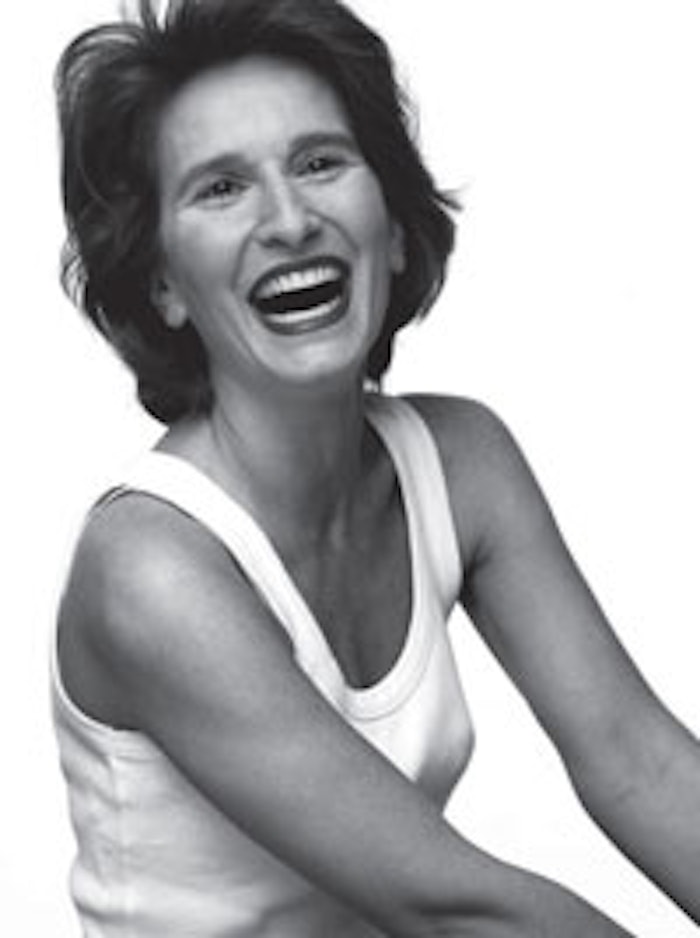 Plush boxing gloves, outsized hooded shawls, vented shoulder pads: these were some of the extreme fashions constructed by final-year students at Paris' Ecole Nationale Superieure des Arts Decoratifs (ENSAD). And it was the job of nine IFF fine fragrance and beauty care perfumers to translate these young design radicals' aesthetic concepts into signature fragrances.
Participating perfumers included Domitille Bertier (Ad Vitam Aeternam), Anne-Sophie Chapuis (Playground), Anne Flipo (K.Eau), Bruno Jovanovic (Goldensmokytown), Sophie Labbe (L'un Femme), Sandrine Malin (Oryzae), Alienor Massenet (Souffle de Lune), Catherine Poensin-Stefani (Echappee), and Dominique Ropion (Alcove).
The project began with fifth-year students submitting concepts to Judith Gross, IFF's global director of fragrance innovation, and Micaela Bracaccini, manager of the Europe fine fragrance marketing team. These concepts were then refined before the students presented to the team of perfumers, who then selected their collaborators. According to Gross, the students set out knowing no more about fragrance than the average consumer. "The level of comfort, trust and the fit in terms of creative culture was very interesting," she adds. "We were impressed—even if they were not fragrance professionals—with the depth of their vision and the relationship they had with the perfumer and to the creative process in the development of the fragrance."
Punchy Fragrance
Designer Gaëlle Martin's portfolio includes athletic themes, including oversized luxurious boxing gloves emblazoned with "BLAM" and a sparkling red sparring outfit. No wonder then that Martin's signature fragrance, formulated by Flipo, is called K.Eau. For the perfumer, meeting Martin was an aesthetic "love at first sight."
"We were all completely impressed," she says. "It was a very rich concept." The idea Martin brought to Flipo was filled with contrasting concepts of femininity that came less from traditional fragrance inspiration than from leading edge aesthetics. Extending the boxing themes, the designer refined a concept about life as "permanent combat," in which women need energy to survive. "It's always a fight," Flipo said. This element extended the boxing ring milieu, seeking out the smell of the boxing ring mat. In addition, Martin's brief called for extensive sensuality and femininity. As Martin puts it in an official release, "One needs much love to survive." This aspect called for the aroma of skin and other seductive elements.
"The idea was to begin working with the odor of skin," says Flipo. She achieved this effect in part with a musky accord. In addition, she worked to evoke the boxing ring with a Tiger Balsam accord and an element that suggested the smell of a T-shirt fresh out of the washing machine, which imparted a wetness and impact of fabric softener. What Flipo found most interesting was the play between the Tiger Balsam elements and skinlike impressions. Along the way, she showed Martin the technical process of formulation, dosing and revision, even evaluating various qualities of styrax.
In the end, the fragrance was created using just 13 ingredients. "I would describe it as extremely feminine with a feeling of hot spices and leather," she says. "I was obliged to find something new, something strong, something memorable. It was a great moment."
A Woman
Designer Cyrielle Leclere's designs are playful, with fantastical, futuristic touches such as a veil and oversized shoulder pads. At the time of her first meeting with Labbe, the student did not wear perfume, though she proved to be a natural nose. "Her mother is a good cook," says Labbe, "so I think she already knew a lot of ingredients through her own experience. It was really a lot of respect and exchange."
During their first meeting, Leclere presented Labbe with contradictory images, such as the Virgin Mary and bare flesh. "The name of her collection was L'Un Femme," says Labbe. "She was playing with all the contrasts of the woman—the virgin or the woman as an object."
The project that emerged, gathered a number of disparate elements. Labbe worked to inject the scent with impressions of holiness, sacredness, violence and blood, and carnality. "The briefing with Cryielle [called for] a perfume like a secret medicine for all the different subsets of the woman. There was something violent as well, but it was not frightening. It was violence with a lot of aestheticism and some sense of humor."
During the process, she adds, "[The students] were not afraid to go further, to try ingredients. There were no limits on price, no constraints. It was like a game. They pushed us to overdose ingredients."
During their second meeting, Labbe showed Leclere a range of materials and accords to gauge the designer's reactions. "I presented her one accord around lily, which to me suggests the Madonna and the woman with its depth and voluptuousness. [Leclere] chose it because of its spicy feeling and also because of green notes. She really wanted to work around that accord."
From there, they chose ingredients in the lab to instigate contrasts, including spiciness. "We went with pimento," says Labbe. "Lily with pimento is very interesting." In this case, the perfumer employed a higher dose of pimento than ever before. "Then we added a drop of blackcurrant for blood—but in a funny way," she adds. "And then the skin was [suggested] with masculine leather."
From this trinity of accords, Labbe dosed a number of materials in several variations to produce the L'Un Femme mods. The final fragrance was created over the course of about three meetings. Labbe says, "It's a woody, sensual accord—warm sensuality."