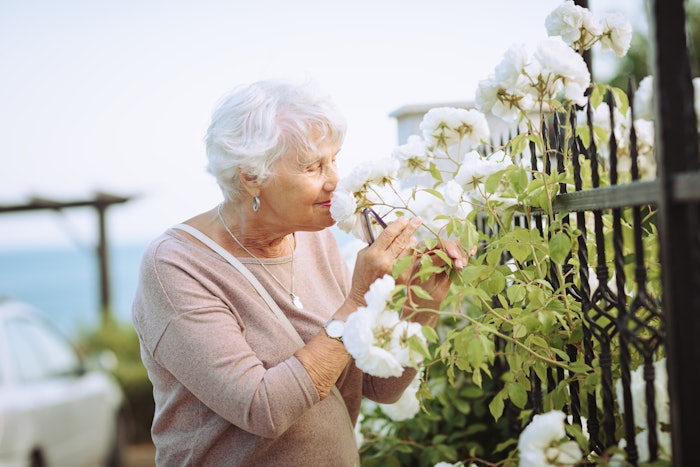 Adobe Stock
Givaudan and the International Fragrance Association Foundation UK (IFRA UK) worked together to develop Smell & Tell, a two-in-one mood-boosting game, comprising a board and memory game, that has been designed to be played by care home residents with varying abilities.
Smell & Tell falls under the umbrella of an initiative created by IFRA UK called Changing Lives Through Fragrance, which brings together people from across the industry to highlight and promote the importance of our sense of smell. This year the focus of the program is on well-being and dementia.
A YouGov survey commissioned by IFRA UK showed that two-fifths (42%) of UK adults value their sense of smell more now than they did three years ago, pre-pandemic. It also revealed that for 60% of UK adults the main feeling evoked by their sense of smell is nostalgia.
How It Works
The game uses fragrances as a conversation stimulus, and each scent has been carefully selected to remain familiar to UK residents, sparking memory and creating a moment of pleasure. Smells associated with food such as chocolate, toast and cinnamon feature, along with location and situational-based smells. 
Solène Cauvin-Wirz, Oral Care flavorist and Zoe Cogger, Oral Care marketing manager from Givaudan came up with the idea, after seeing the impact that isolation during the pandemic had on close family members who were residents in care homes. They created the game as a way to stimulate people's memory and as a way for them to interact and have fun. After a successful pilot, they were awarded funding to professionally manufacture 500 games from the Givaudan Foundation, whose mission is to make a difference within the communities where Givaudan sources and operates. The games will be donated to care homes in Kent, Surrey and Greater London this spring.
Rhian Slee, UK Fragrance Sales director at Givaudan and chair of IFRA UK, said, "The COVID-19 pandemic really highlighted to us how important our sense of smell is and how not having a functioning sense of smell can really impact on your life - sometimes leading to feelings of isolation and depression.
Yet our sense of smell is vital to our well-being because the olfactory receptors in the nose connect us directly to areas of the brain that create memories. That's why our sense of smell is so important to our well-being and to feeling connected as it links us to familiar aromas evoking feelings of nostalgia. We are delighted to have developed Smell & Tell through the Givaudan Foundation as we hope it is going to bring a sense of connection and enjoyment to the people in the care homes we are able to supply it to."
Alison Knight, front of house receptionist and the Lifestyle Activity coordinator from Park View Care Centre, Ashford, Kent shared, "This game is really good for all our residents whether they are mobile or not. The reactions of our residents when they smell something they recognize is priceless. We have had a lot of fun with the game!"
Ninety-six-year-old, Jean Downey said, "A very interesting game, which I thoroughly enjoyed. I think it will help people to converse with each other more."