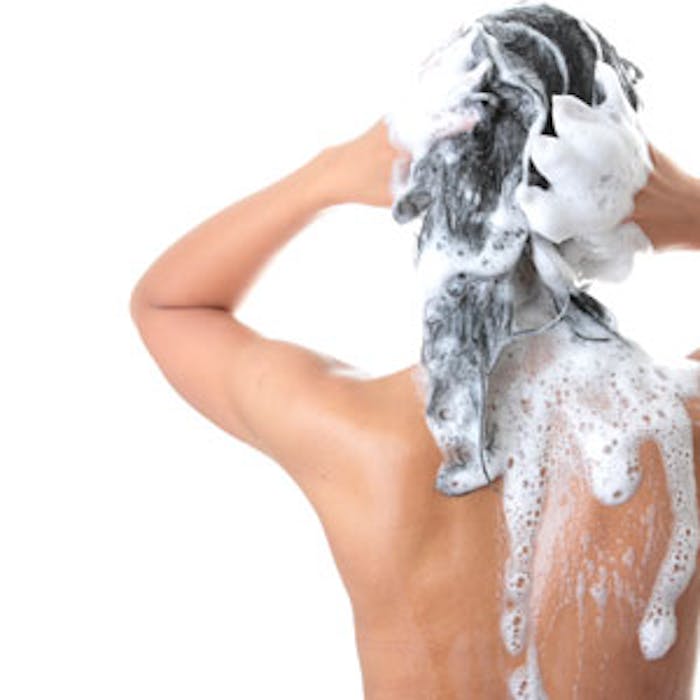 Naked, sexy women on TV are not the only ones enjoying steamy, hot showers. P&G inventors know we all enjoy this luxury, and developed a water-activated fragrance and surfactant system to enhance our experience, as this patent explains.
Water-activated fragrance and surfactants from a solid, dissolvable substrate
U.S. Patent 9295859
Publication date: March 29, 2016
Assignee: The Procter & Gamble Company
This invention describes a personal care product that efficiently delivers cationic surfactant conditioners and fragrances during consumer use. The system is triggered by water to release perfume and, optionally, a secondary scent and/or bloom of the first fragrance.
The invention is based on a porous, solid, dissolvable matrix microsphere comprising a cationic surfactant conditioner and a high impact perfume. This avoids the need for a gel precipitate dispersion that cannot be spray-dried. 
The solid substrate has a surface coating comprising from ~25% to 70% of a starch-derived material; from ~5% to 60% of a cationic surfactant conditioner; and from ~5% to 60% of a perfume.
Patent accessed April 8, 2016.