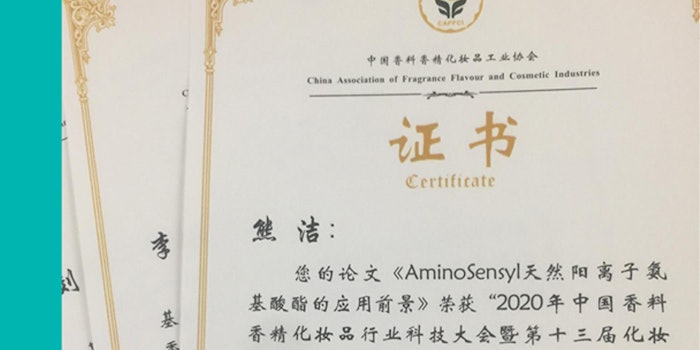 INOLEX was recognized for excellence in scientific research by the China Association of Fragrance Flavor and Cosmetic Industries (CAFFCI). The award was presented for the thesis paper: Application Prospects of AminoSensyl: Natural Cationic Amino Lipid.
Related: INOLEX's AminoSensyl Platform Wins HPCI Innovation Award
The thesis outlines the properties and cosmetic application of INOLEX's patented AminoSensyl technology. It was co-authored by INOLEX scientists Jie Xiong, applications manager; Luyi Mo, formulation chemist; TingtingLiu, microbiologist; and Mengru Li, microbiologist.
The research examines AminoSensyl's natural quat-free conditioning technology, as well as its environmental and safety profiles compared to traditional cationic surfactants
It was judged during the CAFFCI Scientific Meeting 2020 and the 13th China Cosmetics Academic Research Conference held in August, 2020. 
Martin Ma, INOLEX technical and marketing director of Great China said, "We are proud of this achievement that recognizes our scientific expertise in advancing cosmetic ingredients."