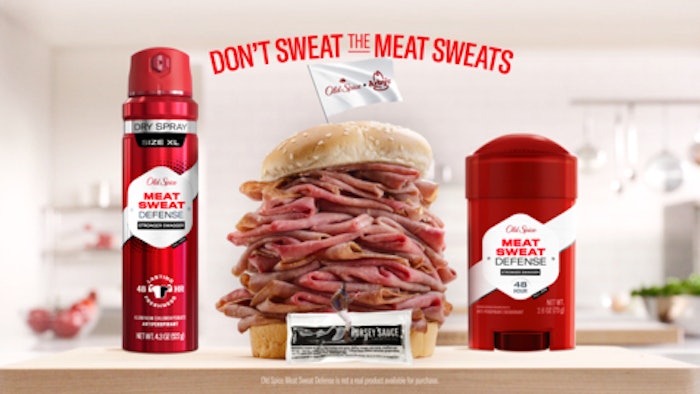 Courtesy of Old Spice x Arby's
Old Spice and Arby's have announced a collaboration to tackle the "meat sweats" with the long-lasting sweat protection of Old Spice Sweat Defense Dry Spray in a limited-edition Meat Sweat Defense kit.
Each kit is equipped with two dry sprays in popular scents, a roast beef-patterned Meat Sweat sweatshirt and sweatpants with a co-branded towel and headband.
"A collaboration between Old Spice and Arby's to solve the age-old problem of the notorious meat sweats that we've all faced at some point was a perfect match," said Matt Krehbiel, Old Spice vice president at Procter & Gamble. "Old Spice continues to look for ways to leverage signature humor and unexpected partnerships that remind them of the importance of long-lasting protection, even if it's after eating a Half Pound Roast Beef Sandwich."
Ingredients (Old Spice Sweat Defense Dry Spray): Active Ingredient: Aluminum Chlorohydrate 24.5% (Anhydrous); Inactive Ingredients: Butane, Hydrofluorocarbon 152A, Dimethicone, C12-15 Alkyl Benzoate, Isopropyl Myristate, PPG-14 Butyl Ether, Fragrance, Disteardimonium Hectorite, Mineral Oil, Propylene Carbonate, Corn Starch/Maltodextrin Crosspolymer, Dimethiconol, Argania Spinosa Kernel Oil.