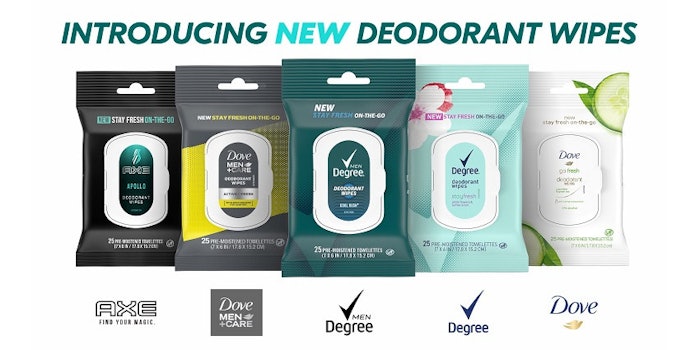 Unilever has released a portfolio of fragranced on-the-go deodorant wipes and mini deodorant sprays.
Offered in a range of Unilever brands and scents, the wipes are pre-moistened, alcohol-free and can be used alone or to complement an individual's deodorant or antiperspirant. The portfolio of products includes:
Dove Go Fresh Cucumber & Green Tea deodorant wipes,
Dove Men+Care Active + Fresh deodorant wipes,
Degree Women Stay Fresh White Flower & Lychee deodorant wipes,
Degree Women Stay Fresh Citrus & Bergamot deodorant wipes,
Degree Men Cool Rush deodorant wipes (crisp, green scent),
Degree Men Overtime deodorant wipes (fresh, citrus scent),
and AXE Apollo deodorant wipes (green fruit and sage scent).
Additionally, the brand will offer a collection of mini (1 oz.) deodorant sprays featuring some of its best-selling fragrances, including Degree Women & Degree Men UltraClear Black+White dry spray, Dove Cool Essential dry spray antiperspirant deodorant (cucumber and green tea scent) and Dove Men+Care Clean Comfort dry spray antiperspirant deodorant (clean and crisp scent).
Related: Hot Trends: Decoding Notions of Natural and Organic in Personal Care
"Our research shows that nearly 50% of people are applying their deodorant multiple times every single day," said Dawn Hedgepeth, GM and VP of Unilever deodorants, men's grooming and hand and body lotion. "There are countless moments where these wipes can provide a fresh re-set – activities like working out, before a big meeting, during travel, on the way to meet up with friends or just running around the house."