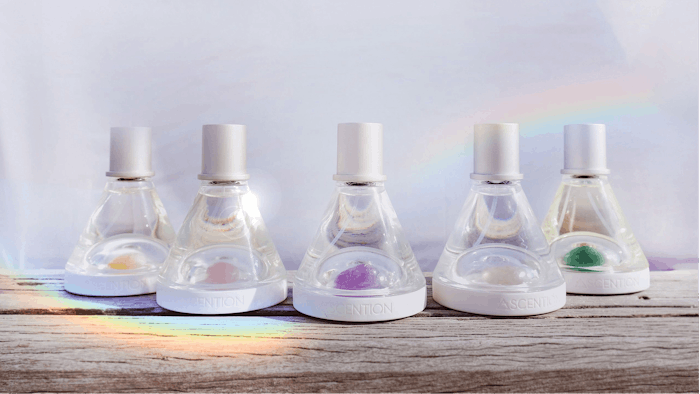 The Ascention fragrance line combines the power of scent with the power of intent. Founder and CEO, Greta Fitz, is a seasoned fragrance professional on a mission to create a new beauty category that she calls "Wellness Fragrance." The Ascention line offers five scents, each woven with aromatherapy ingredients.
Perfumer & Flavorist+ connects with Fitz to get the scoop on the founder's fragrance background, wellness, details on the collection and much more.
Perfumer & Flavorist+ [P&F+]: Can you touch on your experience in the fragrance realm and what led you to launch Ascention?
Greta Fitz [GF]: When I turned 15, my mom started selling Mary Kay cosmetics. I watched all of her training videos (on VHS!) and taught myself about makeup and fragrance. Shortly thereafter, I became a self-taught makeup artist and worked my way through college doing makeup for weddings and special occasions. After I earned my bachelor's degree, I landed at the world's biggest cosmetics company, L'Oreal at Ralph Lauren Fragrances. I worked my way through the corporate jungle gym, landing marketing roles at the industry's biggest companies including Shiseido and Coty, where I continued to work in marketing roles on designer brands such as John Varvatos and Calvin Klein Fragrances respectively. I later ended up at an indie beauty company called, Clean Beauty Collective, where I led in the creation of Clean Reserve, the first sustainably sourced fragrance brand that changed the standard of clean fragrance.
During the course of my career, my personal life intersected with my professional life, where success meant continuous stress and burnout culture, it got the best of me. My health started to suffer as I wasn't prioritizing my mental health. My hair was falling out, my body was always breaking out rashes and my stomach was having its own breakdown—all due to stress. When doctors discovered a precancerous polyp, I knew I had to make a huge change to prioritize my mental health and overall wellness. I went to the root cause of it all and focused on mitigating and healing the negative effects on my body, which was completely inflamed at the time. I worked with movement, energy work, and my senses to heal and to transmute stress. I created rituals that helped me elevate my mind and to keep my frequency high for my body and mind to heal. I didn't realize that I was even creating Ascention until I couldn't find something like my rituals on the prestige market. I believe that everything happens for a reason, and I knew that my journey had led me to create Ascention to help others elevate their minds and feel good through scent and ritual.
For the full article, please check out the Perfumer & Flavorist+ January 2021 issue.