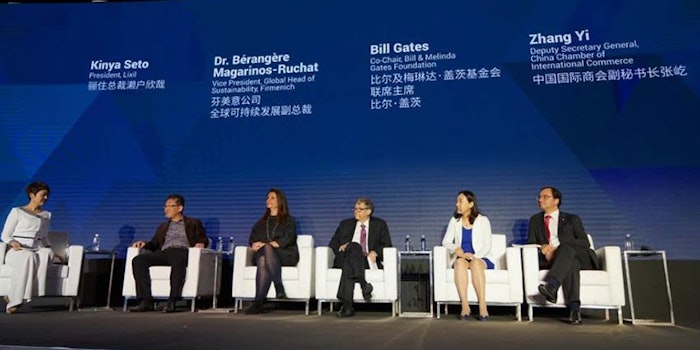 Bérangère Magarinos-Ruchat, Ph.D., Firmenich's global head of sustainability, joined the opening panel at the first Reinvented Toilet Expo. Organized by the Bill & Melinda Gates Foundation and held in Beijing, the expo featured 1,200 participants, cutting across the public and private sectors.  
Firmenich announced its findings on how appealing odor can act as a driver of positive behavior change and shared for the first time that its malodor control technologies will be reaching low-income consumers across South Africa and Bangladesh before the end of 2018, integrated into affordable and sustainable toilet cleaning products. Smell is recognized as one of the biggest barriers preventing people from using toilets.
After a 4-year research partnership sponsored by the Bill & Melinda Gates Foundation, Firmenich launched a range of malodor control technologies in 2017; since then, the company has actively worked with customers to embed the technologies into affordable, sustainable hygiene products. The study on the role of odor in sanitation-related decisions uncovered initial insights from consumers in Pune, India, and suggests that nearly 50% of respondents choose open defecation over toilets due to bad smell. The study will be extended across low-income urban settlements in India, Kenya, South Africa and China, to accelerate sanitation in those regions.
Related: Firmenich Joins Science Based Targets Initiative
Leading up to the World Toilet Summit and World Toilet Day, Firmenich is inviting other businesses to join the new toilet economy, which is estimated to reach up to $200 billion globally (with $62 billion in India alone) by 2021. The market opens up opportunities for a variety of sectors, including organic fertilizers or biofuels, building and cleaning new toilets and waste upcycling.
"I believe affordable, sustainable and pleasant toilet cleaning products are critical to accelerating access to safely managed sanitation, considered by the United Nations as one of greatest levers to public health and social inclusion," said Gilbert Ghostine, CEO Firmenich. "I am excited to see our malodor control technologies reaching populations in need, as we open the next chapter of our work, exploring the link between smell and behavior change in toilets. Tackling today's sanitation crisis is critical to us, not only because our science can make a difference, but also, because it advances our purpose to enhance wellbeing around the world."
"Working with Firmenich, a leader in the science of smell and emotions, as well as serving as Vice-Chair of the Toilet Board Coalition, I firmly believe in the role of smell to unlock the full potential of the new toilet economy" added Magarinos-Ruchat. "The new toilet economy can only work if it is supported by positive behaviors and systems. That's why we are very excited about our second grant from the Bill & Melinda Gates Foundation to explore the role and impact of odor in sanitation-related decisions. No matter how efficient and innovative new toilets can be, if bad smell prevents their usage, they will lack impact."