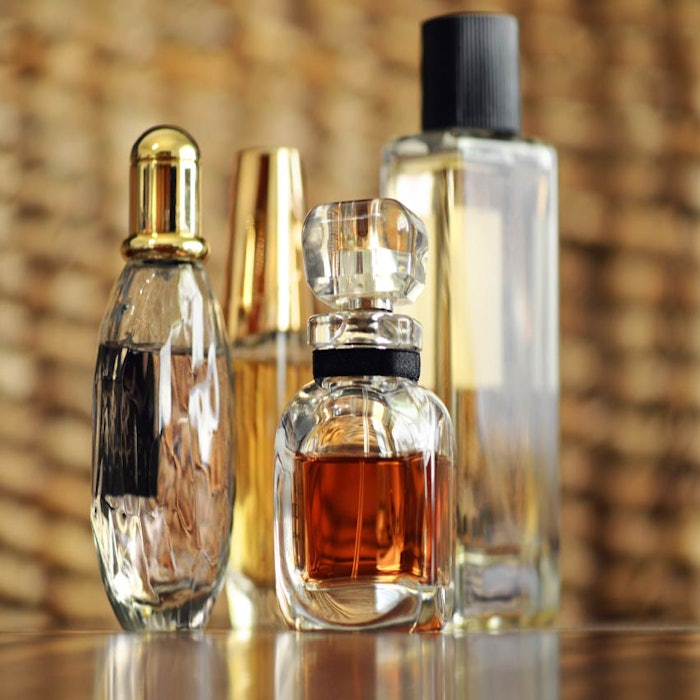 Never before has an interactive discussion between a fragrance house and its client taken place in a public setting. Never before until today, that is—when Jeb Gleason-Allured, editor in chief of Perfumer & Flavorist and Global Cosmetic Industries magazines, and program director of the World Perfumery Congress (WPC), brought both to the stage to lead attendees through the dynamics of the client-perfumer relationship and the power it brings to brands. Joining Gleason-Allured were Bruno Jovanovic, perfumer at International Flavors & Fragrances Inc., and Iain Stevenson, prestige fragrance design leader at Procter & Gamble.
Acknowledging the importance of this session topic, Stevenson remarked "the relationship between the creative and business sides of fragrance development has never been more critical than [it is] today, and we need to keep building these relationships." Jovanovic agreed, "I am excited about the new ways we carry out partnerships and the application of technology."
Emotion, Context and Storytelling
Gleason-Allured started the discussion "from the beginning," as he put it, posing to the panelists: "How can emotions be interpreted 'into' a [fragrance] brand?"
Stevenson responded, "Consumers need help translating a brand. It needs context—that's what brings a fragrance to life."
Jovanovic added, "And while we may be familiar with brands, something we need those brands to be is focused, to develop [emotional] relationships."
Gleason-Allured continued, "So when dealing with a fashion house brand and legacy, how do you instill a little bit of excitement without altering the brand?"
Stevenson observed, "One of the things you need in this industry is to have a story you can tell people. It's not enough to just have an attractive fragrance."
Jovanovic likened this storytelling to art and a connection with history. "Like every art form, something every brand needs is a white canvas, [and to use it to see] where and how far it can go. It's also interesting to share with the brand their wealth of culture and history. For me, this is a constant source of inspiration."
Deciphering Designer-speak
Stevenson circled back to the perfumer's vision "The truth is, we're here to help the [fragrance] designer bring their idea to life; so we need to have an understanding of where they want go with it."
"And with the creativity of the brand, owners and artists, we need a middle man to translate what the designer's [intent was] for the fragrance," said Jovanovic.
Gleason-Allured picked up on this potential for a fragrance's story to be "lost in translation." "That's a great point. Both fashion designers and perfumers are artists but speak different languages." He conjectured, "so how can you be sure the right message is translated?"
Stevenson responded, "The [fragrance] designer has ambition and knows what they can do for the customer. They come to us with different ideas and we take design language, non-perfumer to perfumer, and translate this to fragrance. We often need to bring that story into the designer's world."
Jovanovic added, "And while the history of the brand is important, we want to move to the future. So we need hear what vision the designer has but we also need to understand the [larger] idea—and packaging also has a lot to do with this.