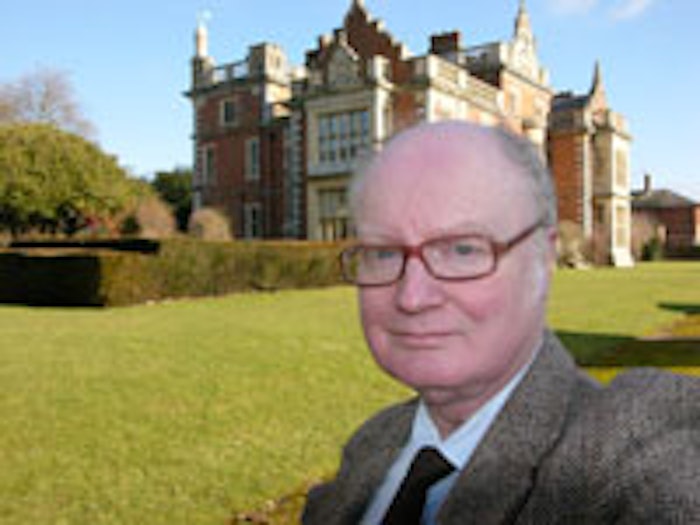 This year, the world celebrates the 800th anniversary of the Magna Carta, signed by King John of England on June 15, 1215. The Magna Carta laid the foundations of freedom and democracy, and it eventually crossed the Atlantic to become the foundation of the U.S. Constitution. His present day namesake, psychiatrist turned perfumer John King, has created two perfumes to mark this legacy using ingredients available during King John's reign. In this special feature, King speaks about the connection between perfumery and psychiatry. "Perfumes, like people, have characters," he says. This is part three of a web series featured exclusively on www.perfumerflavorist.com. (Click here to read part one and two)
John Ayres, a fragrance consultant specializing in fragrance training and development, interviews John King about how the psychiatrist turned perfumer melds the art of perfumery with science.
–Editor
An Interview with Perfumer John King
Ayres: Psychiatrists always emphasize the importance of early experiences. Was there anything relevant in your case?
King: I grew up in the railway town of Bromsgrove in Worcestershire, which was a pretty fragrant place full of smoke and grime in the steam train era. My most vivid early memory is riding in the cab of a big freight locomotive alongside the driver. It was an awe-inspiring experience and also very aromatic. The driver told me, "I can tell when she's up to full power and maximum pressure of steam because the smell changes—it becomes sort of 'nutty.'" So that's how I first became nutty about smells.
A: When did you start making perfumes?
K: At the age of about 13, I was already making aftershaves for my friends and hair creams for the teachers at school. Robertet would send me the perfume oils from Grasse. I also experimented with tobacco flavors for my father's home-grown tobacco. But I was a bit naive about other people's reactions. I remember presenting powdered coumarin in an envelope to the girl I had fallen for in the sixth form, thinking it would be an infallible way to win her affections. I was 16 and had a lot to learn.
A: Well you have certainly learnt a lot since. You went to Leeds University in 1966 and enrolled on a chemistry degree course. We both started out as chemists, in fact. How did you end up as a doctor?
K: Chemistry was my first love, no doubt about that. But when I graduated in 1970, it was a difficult time for chemists, and there didn't seem to be any openings into the fragrance industry. So I signed up at the Leeds medical school in order to be sure of having a proper job. I remember reflecting that if I became a GP [general practitioner] I could always make up my own therapeutic and scented products at the back of the surgery.
A: How did you find medicine, after doing pure science?
K: At first I found it rather stressful and less intellectually stimulating. I was often nostalgic for the more logical nature of my previous studies. On my daily walk to the hospital however, I would regularly pass within smelling distance of the basement organic chemistry laboratory. As soon as I caught that familiar whiff wafting down the corridor, the stresses would melt away. It was this that gave me the idea of using odors in therapy, though aromatherapy was still an obscure term at that time and had yet to be popularized.
A: In your article you mention the importance of names, and your own name. Are you serious about that?
K: Yes, and I could have given many more examples, but it gets a bit personal. There is one example though that I must tell you, it is etched on my memory. Back in the late 1970s, like many trainee psychiatrists working in London, I undertook a lengthy personal psycho-analysis, lying on a couch five times a week. The analyst, who had better remain nameless, found me a difficult subject and we eventually came to blows when I expressed my admiration for the perfumer Edmond Roudnitska. "The name is significant," he said gravely. "Its real unconscious meaning is rude knickers." My salvation, he went on sternly, depended upon my relinquishing completely this unhealthy and dangerous fixation on perfumery.
A: Sounds traumatic! How did you react?
K: I rebelled against it. It just made me more determined to bring fragrance into the therapeutic arena, if I possibly could. It also made me return to my scientific roots. I joined a scientific team researching the value of lithium for bipolar disorder and most of my later work was in this area, apart from the aromatherapy studies.
A: Some might say that perfumery and psychiatry are two quite different spheres, or almost incompatible—the one being associated with glamour and fashion and the other with medicine and human suffering.
K: That is true, they don't make easy bedfellows. All the same, they have a strange affinity. Perfumes, like people, have characters. Disentangling the complex elements that have shaped a personality is one of the most challenging tasks for a psychiatrist, but analyzing an unfamiliar perfume can be no less difficult for the perfumer. Unrecognized traces of obnoxious materials like civet can be the making of a successful perfume, just as a touch of psychopathic aggression can be the making of the successful business tycoon or political dictator. There are many such parallels which I have pondered, as I have straddled the divide.
A: For a psychiatrist, you know a lot about perfumery. Is that through self study?
K: Partly, but I also owe a lot to the British Society of Perfumers with its program of workshops and educational events. People in the industry have always been supportive, not least yourself. The attachment you arranged to Givaudan's headquarters in Switzerland was an enlightening experience and a source of valuable insights. The industry is remarkably friendly, generally, and even more so in years gone by. When I was a youngster, directors of small companies would write me long informative letters, and when samples from Robertet arrived labeled "pour Monsieur King," there was no schoolboy in England more thrilled. It has all been an education.
A: I believe you are most known, and quoted in the Reader's Digest, for your studies on the benefits of seaside fragrances. How did all that come about?
K: It came about through the work of WORG, the Warwick Olfaction Research Group. This was a research group spanning the departments of chemistry and psychology at Warwick University, headed by Drs. George Dodd and Steve van Toller. They carried out pioneering studies on the sense of smell throughout the 1980s and 1990s. I was the medical member; I used to transport patients in my car to the experimental studio. You could never do that today.
A: And some of the studies were on sea fragrances?
K: That's right. Warwick is right in the middle of the UK, about as far away from the coast as you can get. Sea air is associated with special times of relaxation, fondly treasured holiday memories. The work caught the popular imagination, especially after I demonstrated the positive results on myself.
A: Experimenting on yourself used to be a tradition for doctors. You were on TV, I think, on a number of occasions?
K: One occasion stands out. It was an appearance in 1992 with Steve van Toller on the popular BBC science program "Tomorrow's World."
K: On arrival at the studio, I rigged up a fragrance delivery machine from a nebulizer and other medical equipment. In the reservoir was a highly evocative salt spray fragrance, developed for WORG by Haarmann and Reimer (France), reinforced by a seaweed absolute from Robertet Grasse. The program was broadcasted live in front of about 8 million people—a potentially terrifying experience—but when the sea breeze wafted forth the calming effect was quite wonderful. A scented tranquillizer better than valium. The polygraph, operated by Dr. van Toller, demonstrated clearly the relaxing effect on my muscles, putting a scientific stamp on the ability of fragrances to calm anxiety.
A: So you gave yourself a taste of your own medicine. How did that go down with the press?
K: The press loved it. There were headlines like "Whiff You Were Here" from the New Scientist, and similar quirky reports from the tabloids. At least it made a refreshing change from stories about dangerous escaped lunatics, which had previously dominated the media image of psychiatry.
A: What about perfumes of the past, have you done much previous work there?
K: I have explored nostalgic aromas and their use for reminiscence therapy with older people or those wanting to recapture significant moments from their lives. This can be very beneficial, especially in nursing homes.
A: And the future?
K: I'm now retiring from medicine, and no regrets. I would like to be reborn as a perfumer, ideally. The Magna Carta project has been completely absorbing and I look forward to any feedback from readers. Of course I realize that how things used to smell is often open to dispute. However, since nobody's memory lasts 800 years, King John's judgment should be final! But we will see.
John Ayres is a fragrance consultant specializing in fragrance training and development. Formerly the head of Givaudan UK, he is also past chairman of The Fragrance Foundation United Kingdom, past president of the British Society of Perfumers, and past chairman of judges for the UK Jasmine Awards for fragrance journalism. His academic responsibilities include Associate Lectureships with the University of the Arts in London, and with the University of Plymouth (Peninsula Medical School). Ayres has a BSc Honors degree in chemistry from Exeter, where his abiding fascination with geology was also born. After a period in training as a flavorist and later as a perfumer with Lautier Fils, he joined Givaudan in 1977 as an assistant technical manager, rising to become director of fragrances for Givaudan UK in 2000.