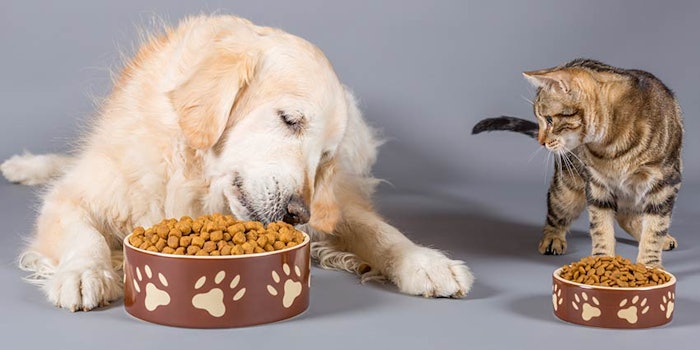 Symrise's Consumer Fragrance division has announced it will be working with Diana Pet Food's Odalia, a provider of scent and care solutions for pets, to introduce new fragrance solutions made with ingredients that work against malodors without disturbing pets. The solutions will be designed for use in dog shampoos, scent sprays, odor neutralizers and cat litters.
The partnership will take into account the pets' behaviors and sense of smell, as well as human scent preferences. Symrise knows consumer preferences and uses this knowledge to improve its pet products.
To avoid malodors from the beginning, Symrise and Odalia have combined existing and innovative technologies for odor control.
Custom ingredients for cats and dogs
To meet the needs of cats and dogs, Odalia pays special attention to the different smell behaviors through Diana Pet Food's expert measurement center Panelis and its various panels in the world.
While dogs develop their preferences mainly on the basis of scent, the opposite is true of cats; alien smells quickly unsettle them and they reject them.
Odalia's experts also benefit from exchanging knowledge with specialists at Diana Pet Food—veterinarians, ethologists, statisticians, flavorists—who possess broad and leading knowledge about cats and dogs.
The global Consumer Fragrance Pet team keeps these pet behaviors and preferences in mind when developing new solutions.
"With the current humanization trend, the pet care market offers huge opportunities," Anne Cabotin, senior global vice president, consumer fragrance at Symrise. "Building on our unique synergies with Odalia from Diana Pet Food, which is number one in pet food for palatability solutions, it was amazing to learn about their specificities—that using the wrong fragrance could really annoy your dog or cat. With our new fragrance solutions, we are combining the wishes of the owners with the requirements and preferences of their pets."
"Pet care products facilitate harmonious cohabitation between people and their four-legged friends," Odalia director Marc-Henry Lussigny. "The canine and feline species have extraordinary olfactory capabilities. It has been reported that canines' olfactory abilities to detect odorants can exceed 10,000 to 100,000 times that of an average human, and their lower limit of detecting volatile organic compounds amounts to one part per trillion. That's why it is essential to evaluate if cats and dogs like a specific fragrance added to products, i.e., cat litters, pet shampoos, lotions and pads as well as general air-fresheners and all-purpose cleaners."