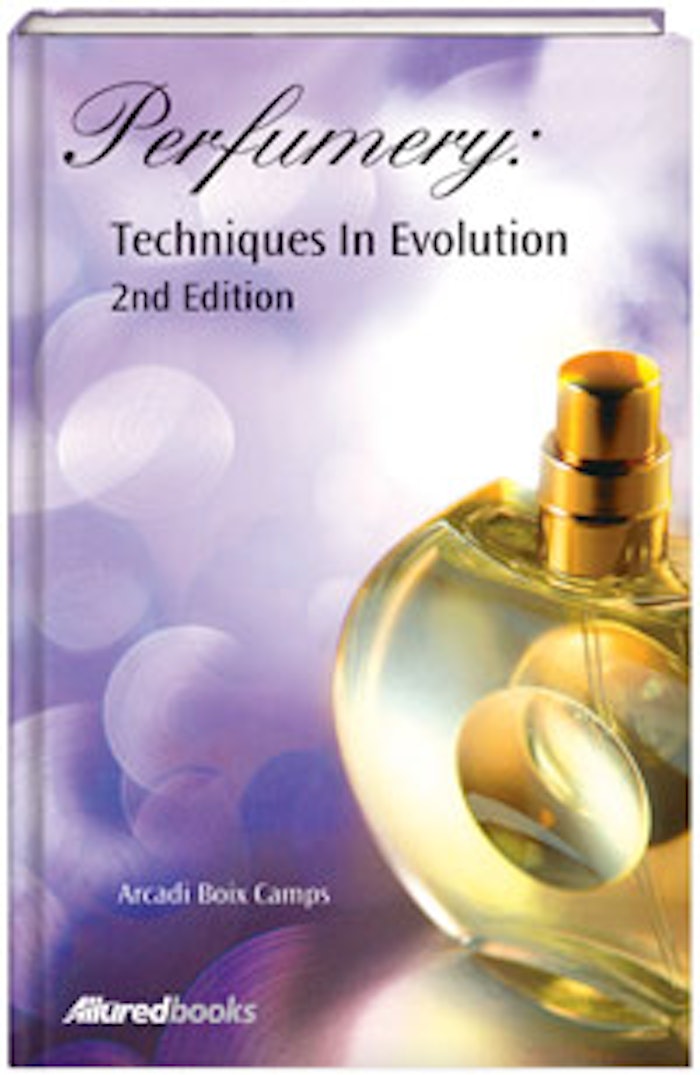 This is an exclusive excerpt from the newly published book "Perfumery: Techniques in Evolution, 2nd Edition." To learn more about this topic or to purchase the entire book, visit www.allured.com/bookstore.
Perfumery is evolving. [W]e have seen great creations. We have seen a fantastic work of cooperation between chemists and perfumers, only hindered by the bureaucracy of "political" institutions that "brightly" warn us against many things. However, let me return to optimism by saying that this fantastic cooperation between chemists and perfumers has allowed us to make tangible so many beautiful fragrance creations.
These great fragrances—fruit of this creative cooperation between chemists, perfumers and, let me also say, evaluators—are like a subtle, delicate and fresh shadow in a burning environment that makes it possible for our souls to live in splendor without pretending that we reached the end of the path. This kind of oasis and its soft shadow bordered by an unfriendly environment, is blessed by the breeze that conveys the auratic breathing of the beguiling scents of jasmine sampac, champa, kewra, gul hina, rose, lily of the valley, violet, gardenia, magnolia, orris, freesia and frangipani.
This cooperation between creative and cultured chemists and perfumers, with its prodigious and wondrous serenity, wisdom and the human aim to progress, is what makes perfumery eternal.
Pharaone—2-cyclohexyl-1,6-heptadien-3-one: This is an incredible and beautiful chemical. If neobutenone is more fruity pineapple, Pharaone is simultaneously citrus-grapefruit and galbanum-like. While Pharoaone (Givaudan) differs from neobutenone, it does possess about the same strength and retention time in GLC/MS (Carbowax). Pharaone, though, is fresher, and although very new I see a fantastic future for the material, especially for eaux fraîches and fresh products. The material would serve to make such products more diffusive, while marking them with its galbanum citrus note, infusing applications with an indescribable charm. Accords of Pharaone and Labienoxime (Givaudan) are great, as are Pharaone's effects with Orangeox and Haitian bitter orange oil (one of the most beautiful citrus essential oils in the world—in fact, Edmond Roudnitska's favorite citrus essential oil). However, I do not see Pharaone restricted to just these applications. Accords of Pharaone with cedrat coeur, expressed lime oil, grapefruit oil and various grapefruit chemicals are so novel that one can foresee a compelling age coming for this sensational chemical. When mixed with spirogalbanone, its fixation improves greatly, and its effects mark the fragrance from the top note to the last remaining dry down. Pharaone diffuses sensationally with hedione and Paradisone and produces good accords with helvetolide and all the floral musks. I recently modified of a rather new musk fragrance, Bulgari Omnia, which contains large amounts of Helvetolide (Firmenich), habanolide, Hedione (Firmenich), muscenone, ethylene brassilate and Galaxolide (IFF); the addition of Pharaone and neobutenone changed the product, raising its intensity and boosting the excellent white musk heart of the fragrance, making it more lively, bright, young and diffusive. Pharaone will certainly be a key chemical affecting the beautiful evolution of perfumery. I am very impressed with this chemical, in case you could not tell. The first thing I did when smelling it was to use it in a Light Blue accord, and in a Truth for Men accord. Both fragrances, which were already fantastic, were improved.