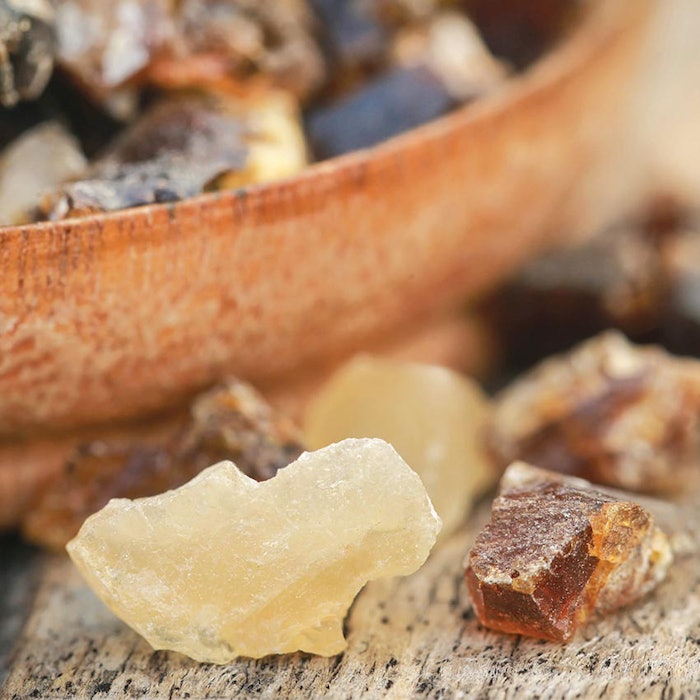 *Editor's Note: This article is part of a two-part series on the world of frankincense. Part two will discuss frankincense varieties and habitats, which you can read in the digital magazine of Perfumer & Flavorist. Please visit the September issue on PerfumerFlavorist.com. In the October 2019 issue, we will explore the sustainable cultivation and future of frankincense.
Part one of our article describes the status of the global trade in frankincense, one of the most ancient and important aromatic plants used in the fragrance and flavors industry. During the last 25-30 years the world of frankincense has undergone dramatic and profound changes. Not only has there been a worldwide boom in demand; which has put great stress on the frankincense supply chain, but also the structure and geography of the market have undergone a major transformation. These changes, sadly, have taken place against a background of a deteriorating socio-economic and political situation in many of the major producing countries. Few people in the industry are aware that a large proportion of the frankincense they buy comes from areas where poverty, lawlessness and drought are the norm. The challenge that faces this trade today is how to sustainably channel some of the gains made through the massive growth in demand for frankincense back to those who harvest, grade and collect this fabled ancient commodity.
New Trends in Trade
As with all commodities, trends change. The traditional Arab market for frankincense for chewing use and for such functions as fumigating clothes and in traditional medicine has certainly declined due to Western-style education and economic growth. While the practice of burning incense, particularly on special occasions, does not seem to have declined much, in the cities traditional incense burners are being replaced with air fresheners and electrically operated diffusers. Modern alcohol-based perfumes using frankincense oil and extracts are largely replacing traditional attars, and home prepared bokhuur (fragrant incense balls) and uunsi (prepared incense).
While attendance at mosques and Coptic Christian churches in both the Horn of Africa and the Arab world seems to be stable or expanding, the decline in attendance at European Catholic, Greek and Russian orthodox churches has had a major downward impact on demand. Moreover, it is reported that the quality of the resin used by places like the Vatican has also declined as prices of frankincense resin have risen! Please see F-1 for an estimated breakdown of the global resin market. Against this downward pressure on global resin demand, three major new markets have emerged in the last 20 years:
1. Cosmetic and skin care products – Use in frankincense oils and extracts have boomed during this period. Companies like UK-based Lush Cosmetics and Neal's Yard Remedies produce an increasingly wide range of products using frankincense resin extracts in various forms.
2. Aromatherapy and spa and wellness – This sector has seen spectacular growth. Frankincense is one of the top oils used by aromatherapists and multi-level market giants like DoTERRA and Young Living have set up their own supply chains for this raw material reportedly using dozens of tonnes of frankincense oil a year. These two companies alone have recently become some of the dominant buyers of the resin and oil in the world.
3. Boswellic acid extracts – The other growing new market are chemical extracts from the resin, particularly Boswellic acids, which are found in the non-volatile components of frankincense in varying amounts. Through a few human clinical trials and many in vitro and rodent trials, Boswellic acids and related chemical components have been shown to have high medical potential in the treatment of such conditions as rheumatoid arthritis, osteoarthritis, low back pain, soft tissue rheumatism, myositis, fibrositis, chronic colitis, ulcerative colitis, Crohn's disease, bronchial asthma and peritumoral brain edemas.