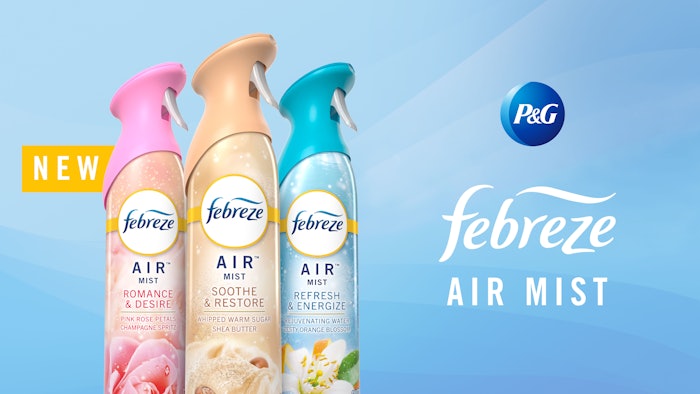 Febreze has debuted its Mood Collection, which is a set of three blended scents designed to set the atmosphere of every room in the user's home.
Each scent is named for the mood it evokes: 
Refresh & Energize: Surfacing notes of rejuvenating water reminiscent of a cool, rushing waterfall, along with zesty orange blossom. The scent is designed to "awaken the senses with optimistic energy."
Romance & Desire: Infuses the delicate allure of pink rose petals with a champagne spritz for "an intoxicating aura of beauty, elegance and romance."
Soothe & Restore: Whipped warm sugar and shea butter together are saiid to offer a "delectable scent with soft, velvety notes that ease tension and build a sanctuary of serenity and restoration."
Angelica Matthews, Febreze brand vice president, said, "Our research revealed consumers are interested in air care not only as a way to fight odors and leave a fresh scent behind, but specifically as a way to impact their moods. The new Mood Collection delivers on an emotional need. Not only does it just smell great, but it helps consumers shift from considering how an air freshener can make their room smell, to how an air freshener can make their room feel."