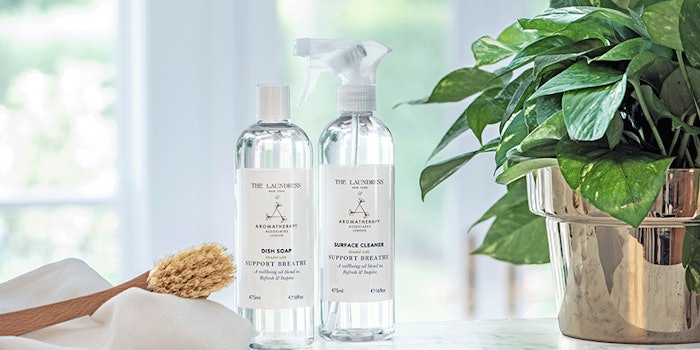 Though the ways in which COVID-19 has impacted the fragrance industry won't be fully realized for many months to come, a few things already feel fairly certain: Cleaning products will continue to fly off the shelves, and the rise of the wellness industry will barrel forward with even more strength.
The Laundress and Aromatherapy Associates have joined forces to bring these elements together, combine therapeutic essential oil blends with fabric care and home cleaning formulas into four elegant, multifunctional household products.
The Laundress x Aromatherapy Associates collection features two laundry detergents and two home cleaning solutions, infused with three of Aromatherapy Associates' signature 100% natural and vegan essential oil blends which were strategically selected for their optimal properties: Deep Relax, Forest Therapy and Support Breathe.
Perfumer & Flavorist interviewed Anna Teal, global chief executive officer of Aromatherapy Associates and Gwen Whiting, co-founder of The Laundress, about the launch.
Perfumer & Flavorist [P&F]: Would you tell us a little bit about the inspiration behind this collaboration?
Anna Teal [AT]: Gwen and I met at The Global Wellness Summit in October last year and immediately had a connection, founded in a joint belief that we want to create as many luxurious wellbeing moments daily—be that from transforming daily domestic or beauty routines in a more holistically beneficial experience.
We could both see the trends in wellbeing, particularly as the impact of the pandemic started to take hold, as well as more people spending time at home and wanting to turn their home into a sanctuary. Combining our strengths—ours in essential blending to deliver wellbeing benefits with The Laundress' expertise in creating natural but high-performing home cleaning products—felt a natural one to cater for our joint aspiration to create more transformative daily experiences
Gwen Whiting [GW]: The number one inspiration behind this collaboration was to create an unprecedented wellness experience leveraging the strengths and unique elements of our brands as renowned industry leaders—merging the best of home care with the best of self-care to elevate everyday rituals.
The resulting collaboration combines international, award-winning therapeutic essential oil blends with premium fabric care and home cleaning formulas into four multi-functional household products. Each product within The Laundress x Aromatherapy Associates collection is expertly crafted to increase the longevity of your valued wardrobe, linens, and household surfaces while creating wellness zones throughout the home with powerful aromas conducive to Rest & Tranquility with Deep Relax, Grounding & Restoring with Forest Therapy, and Refreshing & Inspiring with Support Breathe. This timely collaboration leans into the growing need for self-care and wellness-infused cleaning rituals.
P&F: The line has launched with detergent and home cleaning solutions; why these products in particular?
AT: The products selected were paired with the blends to match the emotional benefit of the blend with the function of the cleaning product to give a more holistic experience. So for example, we paired our Deep Relax blend with The Laundress' signature detergent to enable people to use this for bed linens our loungewear to create a relaxing scent at a time or space in the home when that wellbeing benefit would resonate with people.
GW: We took a mindful approach to pair the intended wellness benefit with an efficacious cleaning product for transformative results. The products within the collection were determined by first assessing which Laundress formulas would best leverage the wellbeing properties of Aromatherapy Associates' natural essential oil blends. Now, more than ever, people are spending increased time at home—laundering and cleaning with more frequency and intention. This collection is specifically designed to easily incorporate into your daily routine for a luxurious and wholly beneficial experience.
The Signature Detergent is our bestselling fabric care solution, perfectly formulated to whiten, preserve color, and remove stains from everyday laundry while immersing your senses with the wellbeing properties of Deep Relax and Forest Therapy.
The Surface Cleaner is a household essential, formulated to clean and purify all surfaces — from countertops and stainless steel to bathroom fixtures, finished wood, and tiles — and enhanced Aromatherapy Associates' Support Breathe, a blend of tea tree, peppermint, and eucalyptus essential oils to soothe and increase clarity.
The Dish Soap is a do-it-all dishwashing formula that contains active ingredients including cleaning enzymes to remove grease, baked-on food, and cooking messes while releasing soothing vapors to renew and improve clarity. It's especially ideal for everyday dish washing and for kitchen essentials that are not dishwasher safe, including copper materials, silver, fine china, crystal, knives, and wooden cutting boards and utensils.
P&F: Can you tell us a little bit about the scents of the products, and why they were chosen?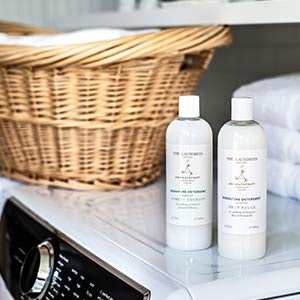 AT: We invited Gwen to our lab in London, where she had a masterclass session with our director of education to understand the history of the blends and how to use them. This was followed by a private session with our master blender who explained the complexity of each blend and why each oil is chosen in the blend. With this knowledge, Gwen and I then selected blends we felt would suit not only the home cleaning environment but would also expand that into creating a more enjoyable, therapeutic ritual from an everyday task. We settled on:
Forest Therapy: A complex blend of 22 essential oils including ho wood, pink pepper, cypress and Sicilian lemon—all selected for their uplifting, grounding and calming properties, to really replicate the feeling after a nice walk out surrounded by nature. A wonderful scent for everyday cleaning to help bring the wonderful scent of the outdoors, indoors
Deep Relax: Our iconic blend, created by our founder originally to help treat her chronic insomnia it helps the mind slip out of overdrive and into a relaxed state ready for sleep. This blend contains earthy vetiver, comforting chamomile, and enchanting sandalwood—ideal for laundering linens, bedding, and loungewear to help create a tranquil space.
Support Breathe has been formulated to release soothing vapors that refresh and inspire, is hand- blended with high concentrations of the finest eucalyptus, peppermint, and tea tree essential oils. The invigorating blend is the perfect pairing for high-contact dish and household surface cleaning to help renew and improve clarity.
P&F: What were some of your key objectives when crafting the line (sustainability, function, etc.)?
AT: Ensuring that the product still delivered against our joint standards—efficacy in cleaning, providing the sensory experience (and therefore ensuring the scents of our blend was really felt) as well as sustainability were all top of mind. The Laundress is going through their B Corporation certification journey and we have just successfully achieved ours so really applying thought to the sustainability of our products was key throughout.
GW: Function and purpose were our key priorities. Aromatherapy Associates has an incredible portfolio of beneficial blends, but ultimately it was the pairing of function and results that was our driving force for the best experience.
Our visions could not be any more aligned, both in our foundation and future trajectory; we believe in premium, quality ingredients and craftsmanship for the best possible results. Plus, with female founders at the helms, we learned while working together that our brands were also on a similar sustainability course and taking steps toward B-Corp certification. From start to finish, this truly felt like such a natural process.
P&F: Will this collaboration yield more products in the future? If so, what can we expect to see on the horizon?
AT: We certainly hope so! For now we are focusing on engaging people on this new concept, receiving their feedback on the collaboration and understanding what more they would like to see us create in the future—watch this space!