Perfumer & Flavorist+ attended a virtual event hosted by The Harmonist to celebrate the fragrance house's newest scent launch, Royal Earth.
Related: The Harmonist Launches New Line Amidst Rebrand
During the event, titled Find Your Stability, virtual attendees were endowed with a bottle of champagne, fragrant rose bouquets from Bouquet Box which featured many of the real florals found in the perfume, and of course, Royal Earth.
Supplemented with a Q&A with founder Lola Tillyaeva and perfumer Guillaume Flavigny, the discussion dove deep into the lengthy process behind the formulation of Royal Earth.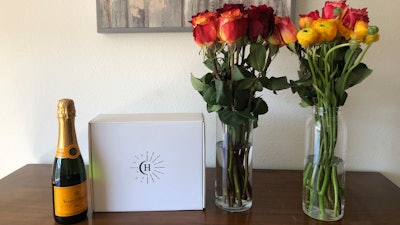 An addition to the Yin Parfums Collection, Royal Earth Parfum features notes of ylang ylang, passion fruit, and Egyptian rose surrounding a heart of powdery Tuscan iris, earthly angelica and carrot seeds, with a gourmand base of sandalwood and vanilla.
Guillaume Flavigny, a perfumer working at Givaudan since 2003, studied chemistry before entering ISIPCA, then the Givaudan school of perfumery. Flavigny has also formulated fragrances for Dolce & Gabbana, Comme de Garcon and many more.
Spritzing herself with the perfume, Tillyaeva explained, "I'm very excited about this new fragrance, which, I have to confess, is my favorite one. It took us three years to get this product in our hands. It immediately takes me to the place where I feel safe, centered, and beautiful. The idea of this fragrance was to bring memories of classic 80s perfumes and channel them in a new fragrance, while still keeping the main earthy raw materials."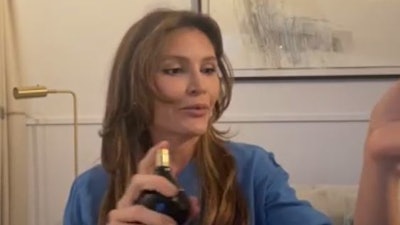 Flavigny elaborated, "The main ingredient for Royal Earth is orris root. We don't use the flower to make the extractions or distillations, we use the root. You have to wait between three to five years to make the extraction, and because the scent is not so strong, you have to use a high concentration with an amazing quantity of roots. This makes the whole process very expensive, making it royal. But it's magic! The root is about stability and earth and is the key ingredient in the fragrance."
Flavigny shared his thoughts on the layers of the fragrance, "In usual perfumes, you have top notes, middle notes and dry notes. Normally, the top notes are very important because it gives rhythm to the rest of the fragrance. But we didn't want rhythm, we wanted roundness, softness to translate peace and earthiness. The creative process was completely different to other perfumes. Royal Earth focuses much more on middle and bottom notes. It took me much time to create this."
Tillyaeva laughed, "The process took so long because if something bothered me, I would bring it up to Guillaume, and he would have to take several steps back and start building again."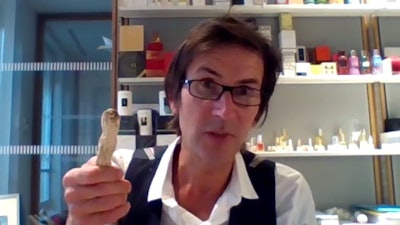 When asked during the Q&A how the fragrance tied in with the theme of stability, Tillyaeva had intimate thoughts to share.
"Any fragrance triggers certain parts in the brain…, particularly the memory part and can invoke good memories in us. No one really understands how it works. But we all know that the power of scents is so strong and can immediately take us to a place thousands of miles away, or even to your childhood. With this fragrance, the powder notes were, for me, my happy place, [bringing memories of] when I was a child. It is the fragrance of my happy place and brings stability with the root notes and woody notes."
Founded in 2016 but rebranded in 2021, founder Lola Tillyaeva created The Harmonist as a perfume line that translated the tradition and philosophy of feng shui into the language of modern fragrances to bring balance to the wearer. Each fragrance was crafted through evolving conversations between Lola and perfumer Guillaume Flavigny. With high perfume concentrations and created with a carte blanche approach, fragrances from The Harmonist contain more than 50% of natural raw materials, from organic and ethical sources, respecting both humans and nature.
Want to know everything going on in flavor & fragrance? Sign up for P&F+'s newsletter. You can also follow along on Instagram and LinkedIn.