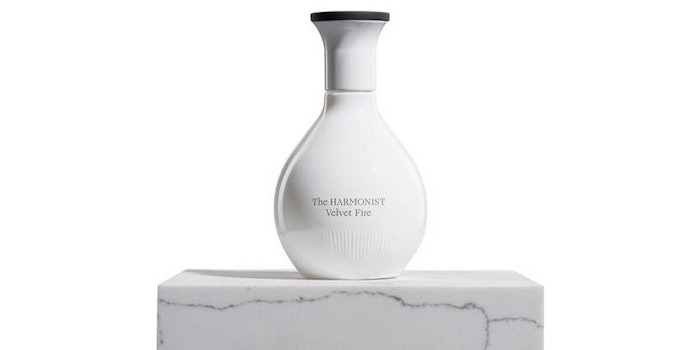 The Harmonist relaunched its Yang Collection in a new parfum concentration that allows ingredients to better reveal depth and character.
The collection was inspired by the principles of Feng Shui and the five elements: wood, fire, earth, water and metal. It also showcases The Harmonist's redesigned packaging, which eliminated all internal plastic, making it 100% recyclable.
Related: The Harmonist Launches New Line Amidst Rebrand
The Yang Collection includes Golden Wood, Desired Earth, Velvet Fire, Matrix Metal and Sacred Water. It is part of The Harmonist's existing fragrance range, which also includes the Yin Collection, the Prequel Collection and Yin Transformation.
Golden Wood is a woody, citrus and oriental scent. Top notes offer vergamot, mandarin and bitter orange. Middle notes feature bee wax, pear granita and guaiac wood. Base notes hold oak, tonka bean and cabreuva.
Desired Earth is a spicy and woody scent. Top notes offer elemi, cade and immortal flower. Middle notes feature red cedar, myrrh, and tolu balsam. Base notes hold vetiver, iris and vanilla.
Velvet Fire is described as aromatic and woody. Top notes offer cypress, clary sage and myrtle. Middle notes feature neroli, saffron and tobacco. The base notes hold cistus, tonka bean and oud.
Matrix Metal is a woody, metal and musk scent. Top notes offer cardamom, nutmeg and metallic notes. Middle notes feature white tea, cyclamen and vetiver. Base notes hold sequoia, sandalwood and white musk.
Lola Tillyaeva (Lola Till), founder of The Harmonist, says, "Golden Wood, Desired Earth, Velvet Fire, Matrix Metal, and Sacred Water are vibrant, assured aromas. Warm and radiant, they are designed to energize and nourish the wearer, much like the sun's light. While we are immensely proud of the collection, which was conceived in collaboration with my dear friend and nose Guillaume Flavigny, The Harmonist is an ongoing conversation. Fragrances must be allowed to grow and evolve, like people."
Want to know everything going on in flavor & fragrance? Sign up for P&F+'s newsletter. You can also follow along on Instagram and LinkedIn.