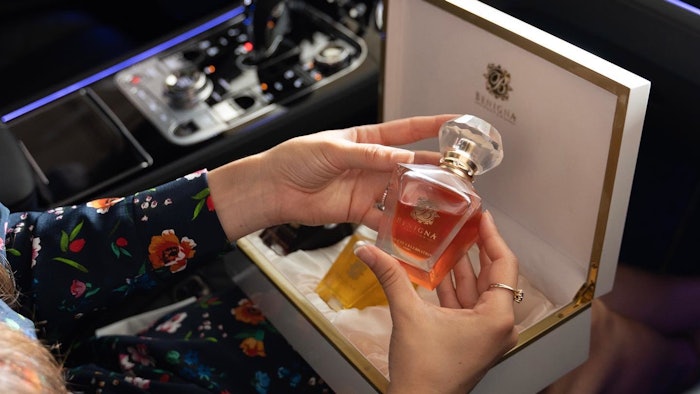 Benigna Parfums announced that the brand will now accept the option of cryptocurrency payments for its online orders. 
As of 2021, it is reported that there are more than 300 million cryptocurrency users worldwide*. According to a release, Benigna Parfums expects that its percentage of cryptocurrency sales might reflect the 3.9% of the population estimated to be using cryptocurrency, but it is possible this number might be even greater if the percentage of luxury consumers engaging in cryptocurrency transactions potentially skews toward a higher average sales transaction.
The luxury fragrance brand offers gender-neutral floral fragrances with scents including:
• Absolute Celebration: A bright, fruity-floral filled with "positive energy that celebrates the supreme victory of achievement."
• Premier Amour: White tuberose and heliotrope, bergamot, tonka bean, clove and rare woods.
• Escape Velocity: Heady, fresh floral dramatic notes of white rose, bergamot, heliotrope and resinous woods.
Each bottle uses a hand-cut crystal cap, individuated for its unique scent. The logo-embossed eco-friendly reusable wooden boxes used to store the fragrances are FSC certified—sustainable and eco-friendly. 
Benigna Parfums currently has plans to announce a new collection of seven additional gender-neutral fragrances.
Benigna Parfums founder and creative director, Benigna Ajuogu, stated, "The brand simply could not continue to ignore the changes that are taking place in how people use and view money, especially when we consider the preferences of our forward-thinking, international clientele. If they are attracted to Benigna Parfums, it is because of its innovation, as well as its aesthetics. The reality is that many online luxury consumers actually would prefer to use cryptocurrency, and we need to accommodate them."
*https://triple-a.io/crypto-ownership/
Want to know everything going on in flavor & fragrance? Sign up for P&F+'s newsletter. You can also follow along on Instagram and LinkedIn.