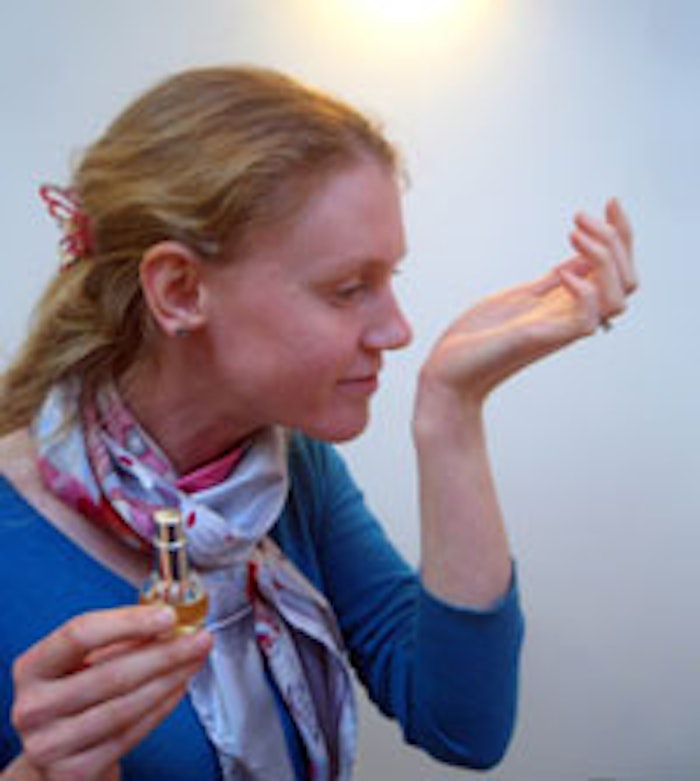 By John King, Associate Member, British Society of Perfumers
What better wedding gift from father to daughter, than a perfume?
But it had to be the right one. A very special scent to mark a very special day. A perfume that blended together ingredients meaningful to the bride, with those appreciated by the groom in a happy union.
The Concept
"You make woodland perfumes don't you?" my daughter reminded me. "What about a fragrance to celebrate the heritage woodland that Richard [the groom] and I now look after, with the scents of the trees in autumn? I will give you a list: English oak, hornbeam, silver birch, sweet chestnut, Monterey pine, scots pine, western hemlock. And to mark our wedding year, we are planning to plant some small leaved lime saplings, which we hope will grow up to produce that wonderful lime blossom scent."
"No problem at all, Hilary" I assured her.
But my thoughts were racing now. It was true that I had developed a small enterprise called Woodland Perfumes, which had furnished the odd Christmas present for friends and relatives. Woodland and forest have always had a romantic aspect, echoed in children's' stories from Hansel and Gretel onwards, and lately in perfume launches. One thinks of Annick Goutal's Nuit Etoilee, Serge Lutens' Fille en Aiguilles (literally, "pine needle girl") and Enchanted Forest by The Vagabond Prince.
But this was a tall order, to design and produce perfumes for 70 guests, with appropriate packaging, and only a few weeks to get it right before the big day.Could I do all that on my own? No way. Creative partnerships were the order of the day.
The Formulation
The Perfume Academy in Inverness is a modest building, but houses some important initiatives in the world of fragrance. Its director, George Dodd, is a former colleague from research days at the University of Warwick, who has pioneered a wide variety of olfactory "firsts" and enjoys a formidable reputation. More to the point, he has considerable experience of making personal perfumes. Happily, George was keen to help, and proved the ideal collaborator. Throwing himself into the project with gusto, he immediately invited me up to Scotland and we set to work.
There was no set formula, no preconceptions, plenty of blue skies thinking and improvisation. We had the benefit of some first class naturals-for example a fir balsam absolute and patchouli a l'ancienne from Robertet. They had both aged somewhat, but had improved with time.
Fir balsam had been a key ingredient in a wonderful accord called Forest Q, which Firmenich had once made for me as part of an educational project, and which had a perfect autumnal atmosphere. It featured just five ingredients, presaging Andy Tauer's pentachord concept. Unfortunately, the exact formula had been lost in the mists of time, but I could remember most of the components—caryophyllene, cis-3-hexenyl salicylate, geosmin and a green note.
"I'm from the Emerald Isle, so life-affirming green notes are especially important to me" said George. "We will enhance the green effect with a local speciality, Highland myrtle oil, my own distillation."
Scotland was thus represented in the formula. And, in deference to the groom's Dutch family heritage, we thought it fitting to include something from International Flavours and Fragrances (IFF), which was founded by a Dutchman, A. L. van Ameringen, living in America.. We selected IFF's Floralozone for its ability to confer a neutral freshness, balancing the heavier patchouli.
We also surveyed a fascinating variety of novel materials, including some olfactory oddities that I had never encountered. Allyl tiglate, so-called gooseberry ester? Why so much basmati absolute? But George was confident: "You will see", he said.
The Evaluation and Final Formula
In due course, Hilary and Richard received a box of around 20 samples, fragrant ideas for their consideration. There were a number of interpretations of the woodland theme, including some "wildcards" – offbeat ideas thrown in for good measure. She chose number 421, which had an authentic autumnal quality, slightly austere but very elegant.
The creation of the final compound was a revelation. Although ostensibly following the agreed formula, George had a twinkle in his eye and would add a trace of this and a little more of that, working quickly and with abandon in a passionate style reminiscent of Jean-Baptiste Grenouille in the novel, "Perfume."
"You are ruining it, George!" was my immediate reaction. "Stick to the formula, for God's sake, it's the one she's chosen." But George had already finished, and was dipping a couple of smelling strips gingerly in the mixture.
He handed me a strip and we both inhaled. Triumph, joy, relief. This was autumn woodland precisely. You could pick out the fallen leaves, but it was fresher than before, a poignant riff of sunshine weaving in and out of the branches. My fears dispelled, I now saw there was method in his madness. In fact, he had not departed too far from formula 421, but had just swayed a little, yielding to inspiration.
"It's exactly what I wanted, Dad."
Hilary's approval was unequivocal, and that was what really mattered after all. Working through the night, I filled 70 bottles and constructed 70 wedding favor boxes just in time for the ceremony. The wedding was a joyous affair in magnificent surroundings, with fine food and a wedding cake that was a work of art.
Epilogue
Coming up for a year later, has the fragrance stood the test of time? The green notes have faded a little, and the earthy background intensified. But for Hilary, the scent still brings the memories flooding back: a special day and a wonderful honeymoon in Italy.
As for me, I feel that creating this fragrance and getting it right has taught me a lot.
First, it is essential to allow enough time for a project like this. Ingredients, when mixed, need a while to get to know one another as the rough edges are smoothed off—helped by the alcohol, of course, as in life. Some materials intensify, in this case the earthy 2-ethyl fenchol. The process cannot be rushed, and ideally the wedding perfume should have had a little more time to mature. Still, we were lucky and it contributed to a successful day.
Second, there are few things in life as rewarding and enjoyable as perfume-making, and this is doubly so if it is a gift for someone you know. I happen to be fortunate in having a large collection of fragrance ingredients and friends who share my interest. But there is no doubt that whatever one's level of expertise and access to the tools of the trade, perfume creation is a noble, uplifting and much underrated art form.