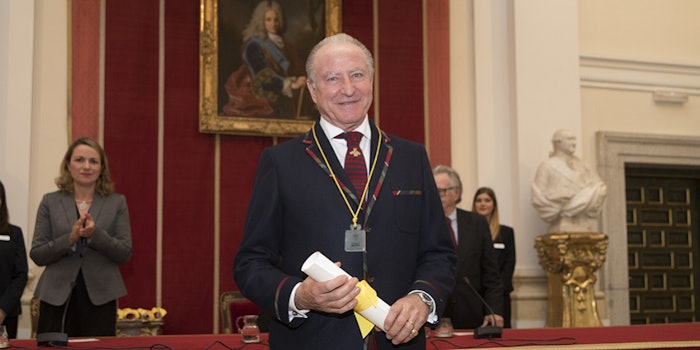 Firmenich has announced that master perfumer Alberto Morilla has been inducted into the Academia Del Perfume Foundation in Spain.
"Alberto is one of the greatest perfumers in the world,"  said Armand de Villoutreys, president of perfumery ingredients, Firmenich. "Through his artistry he has shaped and left an indelible mark across the perfumery landscape, having signed some of the world's most iconic fragrances."
Originally founded in 2007, the Academia Del Perfume is a fragrance industry association in Spain, which organizes annual fragrance awards and industry events. This year, the organization inaugurated a new foundation under the patronage of Juan Pedro Abeniaca and honored three categories of leading cultural figures.
A Fragrant Career
Alberto has over 40 years working experience with Firmenich and the world of perfumery. He began his studies at the School of Beaux Arts and started working at Firmenich at the age of 20. Since then he has created a number of fragrances for Firmenich, which include Giorgio Armani Acqua di Gio, Calvin Klein CK  One, Flower by Kenzo, Estée Lauder Pleasures, Marc Jacobs Daisy, Bulgari Goldea and Gucci Bloom. In addition, he has been awarded several industry distinctions, such as The Fragrance Foundation's Lifetime Achievement Award in  2013, Perfumer of the Year in France by CosmetiqueMagin 2013 and le Prix François Coty for Best Perfumer in 2003.
"Spain and my hometown Seville are true inspirations for me, across my creations every day. For instance, I try to render the experience of freshness from the Mediterranean Sea in the heat of the summer across all of my aquatic fragrances," said Alberto Morillas, master perfumer, Firmenich. "I am sincerely touched by this prestigious recognition and would like to  thank the Academia Del Perfume for celebrating the art of perfumery."