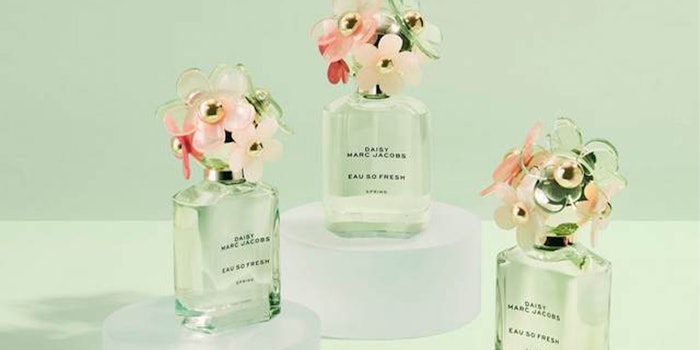 Marc Jacobs, a Coty brand, has released its spring line of Daisy fragrances including three new scents: Daisy Spring, Daisy Love Spring and Daisy Eau So Fresh.
Related: Marc Jacobs' Perfect Virtual Launch Party
Daisy Spring is said to be a spicy green floral scent with notes of green cardamom, pink rose buds and rosewood. The 50 ml bottle is adorned with a pink and green flower lid and retails for $86. 
Daisy Love Spring is a sweet fruity floral scent with notes of fig, pink peony and fig milk accord. The green glass bottle has a matching green flower top and for $86 for 50 ml.
Daisy Eau So Fresh offers a fresh fruity floral aroma with notes of pink pepper, green tea blossom and matcha tea accord. This is the largest of the three, available in a 75 ml bottle with a bouquet of flowers on the lid, retailing for $100.