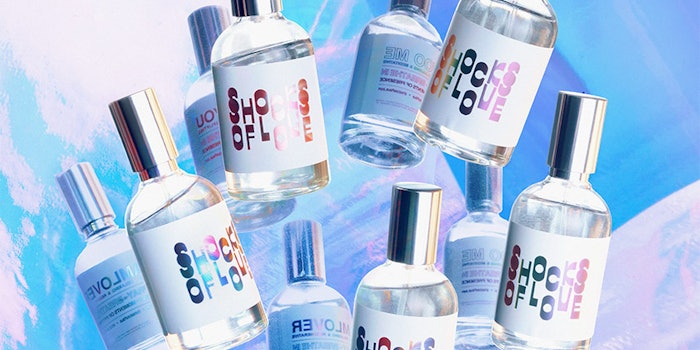 Shocks of Love has announced its newest launch, Scent Riturals, all natural, nontoxic and cruelty-free fragrances. 
Related: L'Occitane en Provence Releases Perfume in Oil for Body & Hair
The collection offers five perfumes crafted by Juan Felipe Rendon, founder and perfumer. Each perfume is designed for different daily rituals of self-care and has recommended times to use.
Woo-Woo Me, designed for mediation, is recommended for sensitive skin and spirits and to be used any time for a self-care ritual. Featured notes include:
sandalwood
palo santo
frankincense
gardenia
Sweet On You, designed to balance, is recommended as a midday pick-me-up. Feature notes include: 
cypress
veviter
geranium
pine
Dreamlover, designed to calm, is recommended to use pre-sleep or when feeling antsy. Featured notes include:
lavender
chamomile
marjoram
Dance With Me, designed to energize, is recommended to be used at the start of the day. Featured notes include:
cardamom
grapefruit
black pepper
coriander
rosemary
cypress
Tender Loving Care, designed to restore, is recommended to be used for a moment of self care or on the onset prevent sniffling. The fragrance claims to support the immune system and brighten moods. Featured notes include:
palmarosa
ginger
resalina
lemony-floral
The bottles cost $65 each and 5% of all profits from Scent Rituals and all future lines will be redistributed to Activation Residency, a Black-led artist residency designed under principles of healing, justice and mutual aid centering Black, Brown, Indigenous, trans and queer bodies.