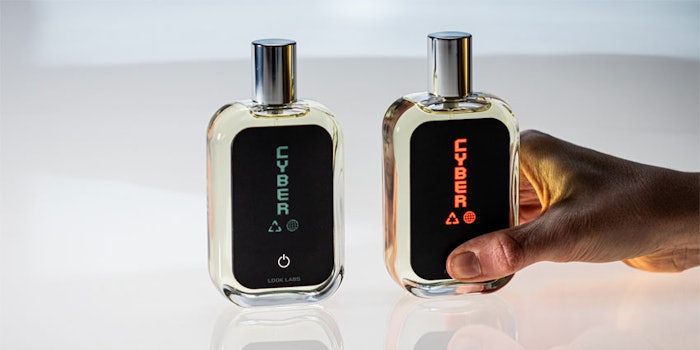 LOOK LABS collaborates with Montréal artist Sean Caruso to launch the first digital fragrance encoded into NFT artwork.
Cyber EDP (Eau de Parfum) is the first unisex fragrance with an illuminated label, embedded printed electronics and a focus on sustainable materials. Inspired by scif-fi movies and AI, the scent has energizing headnotes and a heart of incense with notes of zen wood and amber.
The fragrance of Cyber Eau de Perfume was extracted using near-infrared spectroscopy and is represented in the art piece itself in the form of spectrum data. Each NFT comes with a physically redeemable collector's edition of the fragrance.
The NFTs are redeemable with a physical edition of the fragrance which incorporates a printed-electronics label that blinks in red, with 10 limited editions available. First edition owners of the NFT will receive the fragrance signed by the creators and additional hi-resolution versions of the artwork.
On the hunt for a position in fragrance? More details here.
The physical version of the perfume will drop exclusively online on April 11 in very limited quantities. An NFT token with special content will be issued for each item sold. The expected retail price for the product is €240/$280/£220/ for 100 ml/3.4 oz.
"For the NFT, I was inspired by the original packaging and bottle of the Cyber Eau de Parfum. I wanted a photorealistic render of the bottle with the illuminated label and the NIR data represented as a colorful spectrogram, contrast to the Gigeresque styled platter," said artist Sean Caruso.
LOOK LABS founder, Jordan Katzarov wants to create "the ultimate luxury fragrance that combines traditional craftsmanship with the latest disruptive technology. Choosing the highest quality ingredients and materials was an imperative step in the process of designing and crafting a product that is unique and the first of its kind on the market." 
Want to know everything going on in flavor & fragrance? Sign up for P&F+'s newsletter. You can also follow along on Instagram and LinkedIn.