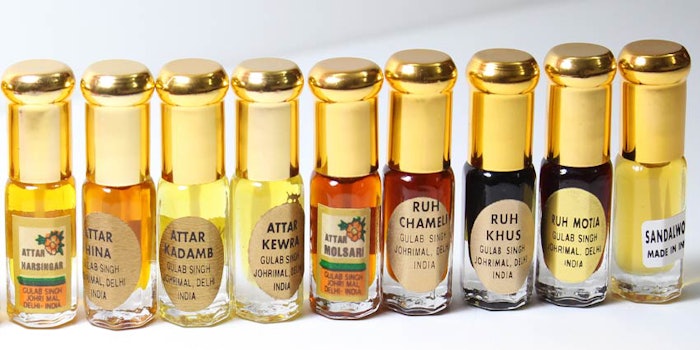 Considered one of the world's oldest civilizations, India has been the womb of cultural evolution. The mystics and seekers of ancient India have considered fragrance in various forms to be the unspoken angels of spiritual connection. The science of fragrance continues to evolve and progress from the Vedic era, which dates back almost 8,000 years.
It is said that the art of making perfume out of natural ingredients like woods, flowers, herbs, spices and other substances were first discovered in India, which is rich with reserves of raw materials. Indian fragrances, similar to the Arab World, are characterized by pure concentrates devoid of any alcohol. The Arabic word is 'attar' derived from 'attaar' or 'distiller' and is also widely used in India.
The Perfumery
In 1816, a businessman by the name of Gulab Singh from Jhajjar in the northern Indian region of Punjab established a business of attars along with his son, Johrimal, in the heart of India's national capital, Delhi's old quarter called 'Chandni Chowk' – also one of the country's oldest urban marketplaces. Little did he know that his humble trade would evolve into a fragrant dynasty, his torchbearers passionately upholding his legacy for the next two centuries!    
Dodging the crowds and grime brings me to the Gulabsingh Johrimal Perfumery, one of India's oldest upholders of the ancient scent tradition and a landmark in oriental fragrance. I am welcomed in impeccable English by the hospitable 7th generation perfumer, Mukul Gundhi. Old-style wooden cupboards storing ethereal fragrance oils in ancient-looking ornate Belgian-cut jars and exquisitely designed bottles tempt my olfactory into an afternoon of eclectic nosing!
"It is believed that the 'Nawaabs' (Muslim royalty), and wealthy traders were among my forefathers' clients. Today, we have a diverse clientele right from the devout, to international aficionados, to young executives, trendy college students and those buying attars as wedding gifts," explains Gundhi.
Three Types of Fragrances
Principally, the perfumery specializes in three types of traditional fragrances, all non-alcoholic concentrates. Along with a vast range of essential oils are 'attars,' which are derived from steam distillation conducted over flower petals on a sandalwood oil base. Then there are traditional pure extracts called 'rooh" (from the Arabic 'rooh' meaning soul), the literal core essences of flowers that are extracted in their purest forms without a sandalwood base. They also sell synthetic blends of which Gundhi houses an enormous repertoire.
"Traditionally 'attar' referred only to fragrances created from distilling flowers over sandalwood oil. Today, the term is loosely used for all non-alcoholic fragrances. But we differentiate between 'attar' and 'pure attar'" he says.   
Although the concept of synthetic blends is fairly recent, among the pure attars are those of sublime indigenous Indian flowers like, 'kewda' (Pandanus), 'molsari' (Mimusops elengi) and  'kadamba' (Neolamarckia cadamba). Roohs include the likes of 'khus' (vetiver), 'motia' (Jasminum sambac), 'rajnigandha' (tuberose) and even the legendary oud (agarwood). Oud is synonymous with Arab fragrance and derived from the forests of Assam and other South East Asian forests.
Internationally acclaimed blends like the woody 'amiri oud', florals like 'majmua', 'manzar', 'sultan', classics like the deep, dark 'madan mast' and audacious 'hina Kashmiri' are true blue symbols of Indian fragrance heritage.
 A hallmark in India's fragrance repertoire is Gulabsingh Johrimal's 'attar gil' (Persian for 'fragrance of earth') which is literally, distilled earth! Being a tropical monsoon country, the fragrance is that of moist earth after the first showers of the Indian monsoon! Steam distillation is conducted over broken but fresh earthen pottery over sandalwood oil in large copper chambers called 'deg.'
Treasure House of Raw Materials
While their roses come from their own plantations near Mathura city in Uttar Pradesh (North-Eastern India), kewda is grown along coastal Odisha and Andhra Pradesh (east and south east).
Both jasmine and sandalwood come from the south and although there are several government restrictions over growing or selling pure sandalwood, India is renowned for its excellent quality (over 95% santalol content). Other top-ranking producers of sandalwood are South Africa and Australia.
About the Author