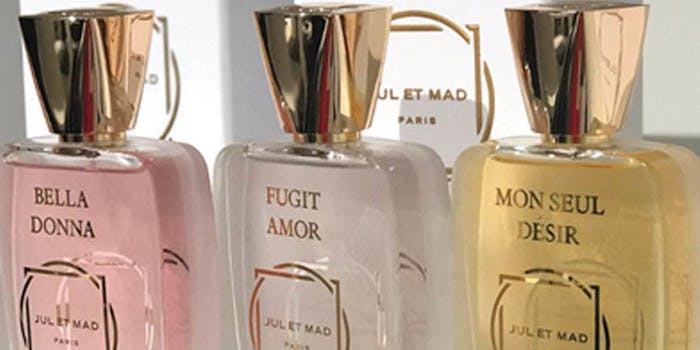 We're in the center of Grasse. The wisterias are in full bloom and cover the walls and balconies of the Musée International de la Parfumerie (MiP), where Stéphanie Bakouche acts as the Osmothèque link and guest lecturer. Recently, Stéphanie set up her new laboratory on a nearby street, Chemin de la Rose de Mai (May Rose Way). What could be more appropriate for a perfumer? Just further down the road at the Edmond Roudnitska estate, her supplier, Accords et Parfums, is eagerly waiting for orders from this young independent perfumer.
And orders she has—we've just returned from the Esxence perfume fair in Milan where Stéphanie received several briefs on the back of the success of her previous work and two latest launches for the niche brand, Jul et Mad.
Her doting husband and two beautiful little daughters are happy here; the girls have room to play, enjoy the nature and the family is well-settled.
In fact, Stéphanie's life is so charmed right now that it is hard to believe what a succession of serendipitous and unplanned events it took to get her here. Of course, it did all start with a plan.
A Youthful Determination
Stéphanie Bakouche first appeared on the perfume world's radar with the launch of Invasion Barbare from Parfums MDCI—it became an instant cult hit with perfume aficionados, and a strong seller for the brand, especially on the Russian market. The brand owner took a big risk on an unknown perfumer and it paid off. It also launched Stéphanie's career.
Stéphanie's family is not connected to perfumery in any way, and she describes herself as lucky to have happened on her calling at a career fair.
"I've always been very fond of all kinds of smells—it's a joke with my dad that if you give me anything, I'll smell it before I look at it. It's instinctive," explains Stéphanie, "but I didn't know about the career of a perfumer until I happened to find the ISIPCA stand at a career fair when I was 15 years old. And it is the only stand I remember from the exhibition because I stayed there for such a long time; I was so mesmerized by it. By the time I left, I had decided to pursue it quite seriously."
Stéphanie carefully noted down all the information given at the stand of what she should study if she wanted to gain entry to ISIPCA. "I am not a literary person so choosing a scientific baccalaureate was logical anyway," she says, "and as I was four years away from it when I discovered this job existed, I was very fortunate to be able to direct my studies accordingly."
Much later, when Stéphanie already had successful perfumes on the market, a relative remarked on her success: "Oh I'm not surprised—when you were five years old, you once sat up and declared 'I want to make perfume!'"
This was news to Stéphanie, but it made her feel like there might be a hand of destiny drawing out the big lines of her life.
A Helping Hand
Maybe not destiny but the kindness of friends well-made in the industry, or perhaps a bit of both, enabled Stéphanie's success with Parfums MDCI.
"When you go to ISIPCA, and you don't have many contacts, you don't automatically land a big job in the industry after graduating," says Stéphanie, "and unless you stay with the company you do your internship with or have existing contacts, finding a job after ISIPCA can be quite hard. It is a relatively small industry."
Studies in France involve several stints of work experience. Stéphanie chose LT Piver as her compulsory school-work experience employer. Since she had set her sights on a career in the fragrance industry at such an early age, she ensured that every job would revolve around scent. "They were absolutely lovely there," comments Stéphanie, "and my actual internship while at university doing my chemistry degree was with Takasago. I spent a few months there as a perfumer's assistant weighing for Dominique Preyssas. This was my first experience in a perfumery lab where I saw how it operates, how to compound; all the shelves full of ingredients."
Yet, it was the work experience she undertook at the Givaudan evaluation department during her ISIPCA studies that became the key to everything else that followed.
"I have never been totally decided to be a perfumer and nothing else, actually," says Stéphanie, "the whole industry fascinates me and I am absolutely passionate about it. So when I entered ISIPCA, I loved to discover all the different jobs. I did my apprenticeship at Givaudan, in evaluation, and I was a really happy evaluator and product manager. I've never been a frustrated perfumer."
"After I left ISIPCA, I carried on creating, but I also had to support myself financially so I initially became an agency worker for perfume brands, covering big perfume launches in Parisian perfumeries, training staff and hosting events," Stéphanie explains, "but when I had landed my first potential perfume client, I had a dilemma: no lab!"
Stéphanie asked a big favor of a contact in the industry, and he very kindly gave her access to a lab under very limited conditions.
"I am very grateful for this," says Stéphanie, "or I would not have been able to satisfy my client's demands." She had a palette of ingredients and a balance for a few weeks and developed six perfumes, all of which she sent to Claude Marchal from parfums MDCI.
"He took one of them—Invasion Barbare—as it was," says Stéphanie, "he didn't want any modifications."
Thanks to the success of Invasion Barbare, Stéphanie was contacted a few years later by founder of Cloon Keen Atelier, Margaret Mangan, for whom she created Bataille de Fleurs—celebrating the famous French mimosa festival that is held annually on the Riviera coast. That project was the beginning of what became a key relationship: Stéphanie's partnership with the supplier Accords et Parfums.
L'Artisan Parfumeur
Stéphanie continued looking for a permanent position in the industry and sketching out creative concepts. Meanwhile, temp work was a good way to pay the bills and learn about the fragrance marketplace. "I was spending a few days in one store and a few at another. I was hired for many different perfume launches and each time I worked with a new brand, they'd train us for a whole day. This period allowed me to have an amazing amount of training from each brand and helped me develop a level of expertise with the fragrance market that has proved very valuable," explains Stéphanie.
"I also was used as an interim trainer at Sephora before they brought all functions fully in-house and worked for Cinquième Sens to organize workshops for clients."
All of this would prove very useful later, but of course at the time it was a way to work in fragrance in whatever way possible.
"Then, I was hired by Guerlain to cover the last three months of the year for their Champs Élysées boutique. We were heading to Christmas so it was an important time of the year for fragrance," says Stéphanie, "but in November, I received a job offer from Pamela Roberts from L'Artisan Parfumeur for a permanent position and I just had to take it—luckily, although disappointed, Guerlain were very understanding."
Stéphanie was hired as a training manager and things moved along very quickly. "I did all the staff training, workshops and two days a week on the shop floor. Then I developed a new workshop for the company which proved their most popular—a fragrance creation one."
This was followed by Stéphanie being promoted to the international training manager. "I got to develop all the training and travel a lot around the world training staff in our various locations."
The Master Perfumer Next Door
Six months into her job with L'Artisan Parfumeur, Stéphanie—based upstairs of their Paris flagship store—gained a new neighbor: master perfumer Bertrand Duchaufour.
"At that point, I really thought to myself: this is destiny. He moved right next door! He arrives six months into my job at L'Artisan and sets up his lab right next door to where I am based, in the training room of the Grand Boutique! Was I supposed to pretend that he wasn't there?" Stéphanie grins.
"So of course I had to find a way to train with him," she says, "and he was nice enough to let me access the lab and compose some accords."
"It was amazing. How could I not have pursued creation under these circumstances?"
After a few years as a training manager, Stéphanie was invited to sign an exclusive contract with L'Artisan Parfumeur to become head of perfume development. Her role involved close contact with both Duchaufour and external fragrance suppliers like Firmenich. She helped Duchaufour and assisted with reformulations and new creations. "To have Bertrand Duchaufour as a mentor and an artistic director was challenging, but very good. He would tell me exactly what he needed to tell me without softening it up—but that made me learn so much," says Stéphanie and laughs.
"No one would have believed, least of all me, that this would end up with my creation for L'Artisan, but that is something I can really thank Sarah Rotherham for because she is the one who agreed to give me a chance," says Stéphanie, "we did it in collaboration with Bertrand and it was the culmination of what had become an apprenticeship with a master perfumer—the masterpiece at the end of study. "
The result was Rose Privée, a soft rose fragrance highlighting Rose de Mai, and enhancing the citrus and green facets of the bloom by use of a magnolia accord, basil and violet leaf.
Grasse
L'Artisan planned to take a big step towards going back to the heart of perfumery and the idea was to have a creative centre and production in Grasse, so Stéphanie relocated there from Paris.
Meanwhile, she had joined Osmothèque as an Osmocurator in 2013. "I was in charge of ensuring they had a full library of all the original L'Artisan perfumes and I just got talking with them about how I could help. I think the work they do is so important and I wanted to find out if there was anything I could do," says Stéphanie.
"I was surprised to find how truly difficult it is to find people to really invest some time in the Osmothèque but I think it's really worth fighting for."
Stéphanie signed the confidentiality contract with Osmothèque and became one of the people able to handle the precious fragrance samples from the vault. "I think all brands should contribute something to the running of the Osmothèque—it benefits us all," says Stéphanie. "We are very strict about never leaving the liquid samples with anyone as the brands trust us with their original formulas," she explains, "so when I became the link between Osmothèque and the MiP in Grasse, I also became the key holder of the Osmothèque samples fridge there."
Everything was set for a perfect perfumer life in Grasse, but then—after Stéphanie had spent eight years with L'Artisan, everything changed. Puig acquired the brand and decided that the Grasse idea was no longer part of the plan.
The Lady and the Unicorn
Stéphanie decided to stay in Grasse and start her own business. "My husband told me: just go ahead; don't worry. If you don't do it now, you may never do it." The fact Stéphanie fell pregnant with her second child helped make up her mind. "I didn't want to go to job interviews with a bump—they'd know I wasn't going to be available immediately, so what's the point? That gave me time to really think about things."
Having already fallen in love with life in Grasse and being in a position to partner with Accords et Parfum made the decision obvious. Sensaba, her creative perfumery consultancy, was born. Stéphanie had never stopped being contacted by brands about perfumery work since Invasion Barbare and now her ex-colleague Madalina from L'Artisan Parfumeur who'd gone off to set up Jul et Mad was developing a new trio of fragrances.
"There was an accord I had been playing with that she had fallen in love with when we were both still at L'Artisan," explains Stéphanie, "and it was a good match to one of her creative ideas for the new collection, so she asked me to fine tune it."
The perfume became Mon Seul Desir, inspired by the tapestry depicting the sixth mystery sense (which has been interpreted as love) from the famous tapestry series Lady and the Unicorn, housed in Musée de Cluny in Paris. Stéphanie's accord plays with osmanthus, mandarin and leather notes—the original was quite masculine and Stéphanie wanted to give the fragrance a red tonality to match the tapestry.
The second fragrance for the new collection was based on the marble sculpture Fugit Amor by Auguste Rodin. "Madalina wanted a fragrance that explores contrasts—the coolness of the marble and the heat of the passion," says Stéphanie. She built what she calls a 'masculine carnation' with a spicy top and a musky base.
"I really enjoy working with contrasts in general," she adds, "and making people feel something with perfume."
It is clear Stéphanie Bakouche is someone to watch. We are likely to see great things from her and she is bound to have many opportunities to convey her passion for the art of perfumery through her creations.