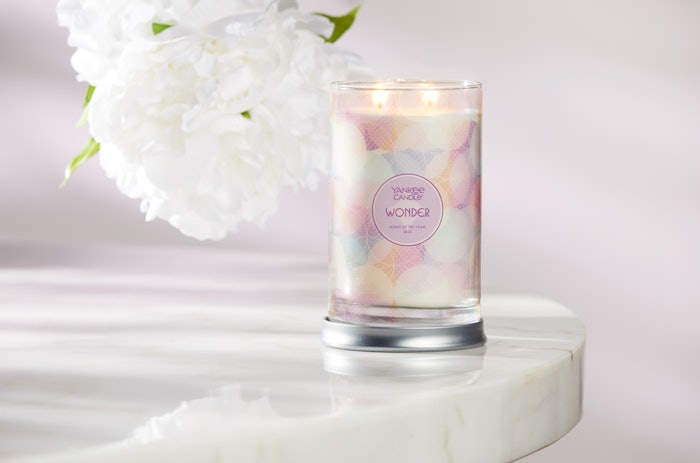 C/O YANKEE CANDLE
Earlier this month Yankee Candle unveiled its 2023 Scent of the Year—Wonder. As the brand's fifth annual Scent of the Year, Wonder features notes of white lavender, sparkling citrus and warm amber.
Perfumer & Flavorist+ (P&F+) connected with Yankee Candle senior fragrance evaluator Taylor Perlis to discuss her process of creating the scent, evolving consumer demands and a little about her fragrance journey.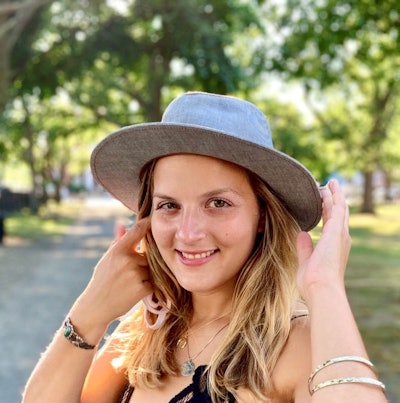 P&F+: What was the inspiration behind creating this scent? Which accords or notes immediately came to mind? How does this scent inform current consumer trends/demands? 
Our main inspiration behind the scent was to capture the feeling of wonder and gratitude that we experience during the joyful moments of everyday life. After reviewing consumer lifestyle trends, we found that despite being increasingly connected digitally, consumers are eager for real, human connections. They are on a quest for a mood boost and are seeking nostalgic sentimental moments filled with surprise, connection, and renewal. Our 2023 scent embodies the appreciation that we experience when finding those special moments, capturing the sentiment of joy and happiness.
We created this fresh and clean fragrance as consumers are looking to live healthier lifestyles, as a response to global environmental issues and health concerns. With anxiety caused by the pandemic, consumers are still seeking comfort and reassurance at all costs. They want fragrances that remind them of clean skin, linen, soap, the secure feeling of being home, or the tender touch of a loved one. Clean fragrances are fresh, soft, comfortable, and create a reassuring cocoon feeling, featuring ingredients like powdery musk, nostalgic blooms, and bubbly aldehydic facets.
Key fragrance notes in Wonder—
o   Iridescent Aldehydes: This top note is bright, refreshing, and adds a clean sparkle to this fragrance. This aldehyde reminds me of a clean soap bubble and is super nostalgic.
o   Bouquet of Florals (Solar Rose and Ylang Petals): We've seen a resurgence in classic floral directions that have a nostalgic appeal. Offering comfort and positivity during challenging times, traditional ingredients such as rose, and white petals will continue to be trending in the floral space.
o   Fruit Melody (Spring Berries and Orchard Fruits): The berries are sweet with a jam-like quality, while the orchard fruits provide a crisp freshness. Fun fruity facets continue to spark joy and olfactively transport consumers to sunny & warmer days.
o   Green Grass: Grass is uplifting, fresh with a tad of sweetness. Since well-being is top of mind in 2023, fragrances will be a way to immerse yourself in the natural world even when indoors. Garden and green grass notes are becoming popular, as fragrances that emulate the healing powers of nature are key to consumers.
o   Warm Amber: This summer amber note smells like clean sun-kissed skin, this nostalgic aroma gives consumers a secure feeling that reminds them of receiving a hug from a loved one.
P&F+: From your perspective, how have consumer demands evolved over the last few years? Any you can predict for the near future? 
The main factor that impacted consumer fragrance trends over the past few years was COVID-19 pandemic. As consumers' homes transformed into a work and living space, many were looking for fragrances that not only smelled nice but provided a bit of escape from their present circumstances. Our 2021 and 2022 SOTY fragrances were inspired by the desire for the global travel and the personal internal journeys that each person experienced over the past few years. In 2023, we have adapted the message of our SOTY fragrance to speak to the current times we are living in as the world has begun to get back to normal.
In terms of future fragrance trends, I can't share too much right now but I can say that Yankee Candle has several exciting new fragrances lined up for the future.
P&F+: Can you share a little about your fragrance journey?
I've always been fascinated by fragrances and the science behind their creation. When it came time for college, I embraced my fragrance passion and received a B.S. degree in Cosmetic & Fragrance Marketing from Fashion Institute of Technology. Today as a senior fragrance evaluator at Yankee Candle, I work closely with perfumers based all around the world, to create new fragrances that align with our brand concepts and stories for the year ahead.
My favorite part of the job is trend forecasting, as I get to discover new aromas, flavors and textures that serve as my toolbox to envision a new fragrance. Analyzing consumer trends and preferences helps me to ensure that I'm always bringing new and innovative ideas to the Yankee Candle portfolio.