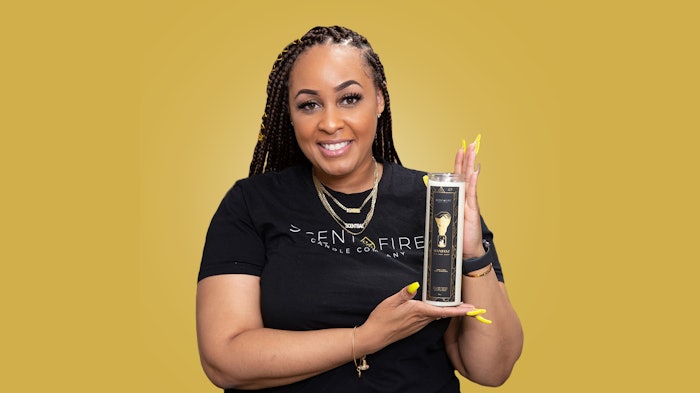 C/O SCENT & FIRE
Scent & Fire is a tech-based manufacturer of eco-luxury scented candles and other fragrant consumables. The company utilizes technology to enhance aromatic experiences through curated music playlists and online community building. 
Recognized by Forbes' The Next 1000 (2021) series, founder Monisha Edwards designs each product to destress environments and promote self-care for mental wellness.
The company's initiative, Scent + Self, was created to raise awareness around mental health through curated experiences, to provide resources and information for those seeking help, and to create a community of individuals who are on a mission for mental wellness.
Perfumer & Flavorist+ connected with Edwards to discuss Scent + Self, the concept of curated scent experience and future endeavors.
Can you tell us a little bit about the Scent + Self initiative? What was the motivation behind launching it? 
Monisha Edwards [ME]: Scent + Self* is an initiative through Scent & Fire Candle Company to raise awareness around Mental Health through curated experiences, to provide resources and information for those seeking help, and to create a community of individuals who are on a mission for mental wellness. My motivation came from dealing with my own mental health journey. After my father was shot and became paralyzed, I became his 24-hour caregiver and I never knew what being a caregiver entailed. I became severely depressed and was diagnosed with PTSD, Seasonal Affective Disorder and severe anxiety. My therapist played a vital part in my healing, along with holistic strategies such as aromatherapy, pouring candles as a hobby, and dietary choices. I am starting this foundation to provide access to mental health resources and therapy to continue fighting the stigma, especially in marginalized communities. 
There is a stigma about mental illness in Black communities and many people from these communities view receiving therapy and mental health services are a pricey privilege. At the time, I didn't have insurance, which is really expensive for an entrepreneur, but I researched and found resources that would let me get my therapy sessions at a reduced rate. I wanted to be able to provide these services for free or at a very low cost to my people in urban and disadvantaged neighborhoods. I want people to know that they have access regardless of their household income. Scent & Self Foundation's first initiative is to provide sponsored therapy sessions for men and women in marginalized communities. Each sponsored patient will receive four to five therapy sessions from certified and licensed therapists via video chat. 
Could you shed some light on how the curated experiences work? 
ME: The curated experiences that I create involve merging fragrances and technology together to enhance the aromatic experience. Many of our candles currently come with a curated music playlist to accompany the theme of each scent. We are getting ready to launch the beta version of our affirmations and wellness motivation app. I am also now creating augmented reality filters to use real-life environments as a backdrop for digital experiences. 
We've seen a major interest in the wellness aspect of fragrance products. From your perspective, what are some of the opportunities and/or challenges that accompany the creation process for those products?
I love how people are now focusing on and embracing the wellness aspect of using fragrances, especially with all of the things that are going on in the world. A lot of people are now taking a look at their self-care and wellness products and I believe that fragrances have always been a great way to boost confidence, lower anxiety, and evoke an uplifted mood. While it is great that there is more interest in the wellness aspects of fragrance products, I find it too soon be challenging for smaller brands, especially candle makers. 
While I do make more fragrant products besides candles, candles are our staple product. I do believe that the market will be saturated with, even more than what it already is, due to large brands and corporations now developing candle lines as well. Alongside that, supply chain issues are still huge for us right now, especially with the current state of our economy. However, I do see the opportunity for brands to create products that will help consumers pay more attention to their mental health and wellness, and overall well-being.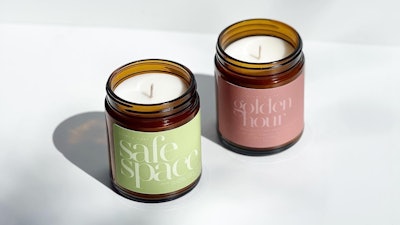 Can you share any long-term or even short-term goes for the initiative? For the Scent & Fire brand?
ME: Yes, I am officially launching the foundation this summer and will be partnering with licensed therapists to launch wellness activations in the fall. I am also in the process of launching our Scent & Fire Experience Loft and Popups this summer. We will start with popup lofts that will last between 1-2 days while I look for a permanent space for the loft. The loft and popup lofts will be a tech-based retail and wellness mixed space that will provide a multi-sensory experience to those who practice aroma-driven self-care. Part of the space will be dedicated to retail, while the other part will be dedicated to wellness with experiences such as yoga, candle-making, events, and wellness seminars taking place exclusively in this space. Augmented reality filters will be placed throughout the space to provide affirmations and educational tips on sustainable wellness practices. This loft and popup lofts will be one of a kind. 
*Scent + Self is a trademark of Scent & Fire Candle Company.
Want to know everything going on in flavor & fragrance? Sign up for P&F+'s newsletter. You can also follow along on Instagram and LinkedIn.