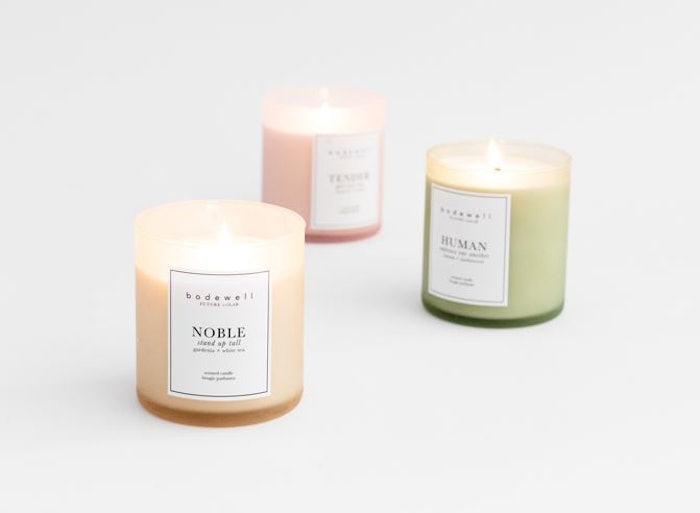 Three years ago, Effie Tanji started selling the candles out of the back of her car at her daughter's soccer practice. Just a couple of months later, Tanji realized that this passion project could turn into an actual sustainable line which is now called Bodewell Living. Early on Tanji landed major accounts including Anthropologie,  J. Crew,  Madewell and Ojai Valley Inn. In more recent news, Bodewell Living launched on NeimanMarcus.com. 
The growing brand's candle collections are each created with a specific memory from her life in mind. Many of the scents are inspired from her childhood in rural Pennsylvania and summers in Greece. The latest line, the Pastel collection, includes the "Human" candle, to raise money for the Los Angeles LGBT Youth Center, which has suffered during the pandemic. Perfumer & Flavorist+ connects with Effie Tanji to the brand's growth, ingredient sourcing musts and more.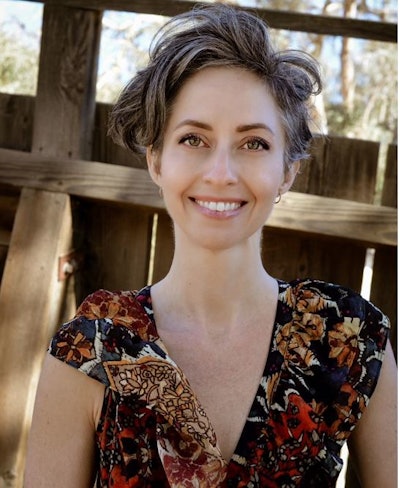 Perfumer & Flavorist+ [P&F+]: Once you decided you wanted to launch your products in retail companies, what did that process look like? Can you touch on any major hurdles? 
Effie Tanji [ET]: The process was challenging. Finding a way to connect with retail buyers via phone or email was nearly impossible. I decided to take a set of candles to boutiques around Los Angeles and left the candles with store owners and managers in hopes that they would reach out if they liked the candles. I was surprised when I got a response. In fact, one of our first accounts that ended up being one of our biggest accounts was Burro Goods in Venice–a beloved boutique on Abbot Kinney Boulevard.
Quickly after that, we signed on with multiple rep groups. The biggest challenge was scaling a small business. There were too many SKUs, too many orders, too little space to house all the goods and too little money to stay afloat. The growth was fast and furious and I wasn't business-minded, but I knew enough to pump the brakes. I took my chances and pulled out of all the showrooms and decided to regroup and figure out a sustainable growth strategy.
P&F+: Is there anything you wish you would've known before taking your brand to the next level? 
ET: I wish I would have known that in order to run a business you must learn ALL the aspects of the business, especially the ones you don't like. I was the designer, the fragrance developer, and the "face" of the brand. I thought that was enough. I left the operations side of the business to someone else to manage. That was my biggest mistake–not fully understanding what happened behind the scenes. I learned the hard way that there are no excuses for ignorance in business. These days I design, sell, market, photograph, write copy, work with suppliers, pay the bills and deliver candles if I must. I know my cost of goods down to the penny. And, most importantly, I know how to find my people–my tribe. The only thing I don't do are spreadsheets, they terrify me!
P&F+: The Bodewell collection offers candles made with all-natural, clean-burning, non-toxic vegan soy wax. Could you touch on the importance of launching this brand with an emphasis on all-natural ingredients?
ET: My husband is a firefighter, so I think about how things burn. When I was conceptualizing the brand, I knew instinctively that I wanted to use a high-quality paraffin-free wax. As I researched and educated myself about the different types of waxes available, I quickly realized that most candles contain paraffin because of the low cost and ease of use. Natural waxes are much more difficult to use and much more expensive, but they are non-toxic. I decided I owed it to myself and my family to create a product I could feel good about, so I spent a little more money to have a lot more peace of mind.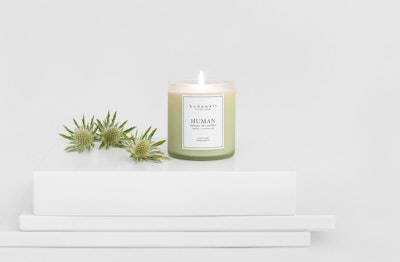 P&F+: When you consider and source fragrance materials/ingredients for your products, what are the criteria for the materials and suppliers to ensure they align with your mission?
ET: I have three criteria: transparency, respect and communication. Those three things combined equate to trust. When a supplier/manufacturer is transparent about ingredients and sourcing and timelines and pricing, I feel I can trust them. When a supplier shows the same level of respect and attention to an emerging brand as they do to an established brand, I feel I can trust them. When a supplier/manufacturer communicates clearly about timelines and provides updates about supply chain issues or delays, I feel I can trust them. The very worst thing in this business is not being able to reach your suppliers. When emails and phone calls repeatedly go unanswered it is time to move on. This entire business depends on making deadlines and shipping on time. I want the people with whom I work to be like family – where we all work together for a common goal: excellence.
P&F+: What is some advice for aspiring fragrance professionals looking to launch their own line? 
ET: Know your story and tell it. Find your authentic voice and don't be afraid to allow your experiences and history to come through your work. Human beings want to be a part of something bigger than a product. They want to smell a fragrance and be reminded of their loved ones or that summer they spent on a tiny island in Greece. They want to be taken back to their first kiss or their last goodbye. Human beings want to feel something. Fragrance can do that. I would say to someone who is aspiring to be a fragrance professional to know the power they have to affect someone else's life.
P&F+: What does the future look like for Bodewell Living?
ET: The future looks like a pastel-colored dream. An eternal sunrise and sunset. It is a horizon of hope, challenge and perseverance. The future looks like something I can be proud of.  There are a lot of unknowns, but I have a team of professionals and supporters that believe in the dream, so all I can do is trust and enjoy the journey.
Want to know everything going on in flavor & fragrance? Sign up for P&F+'s newsletter. You can also follow along on Instagram and LinkedIn.