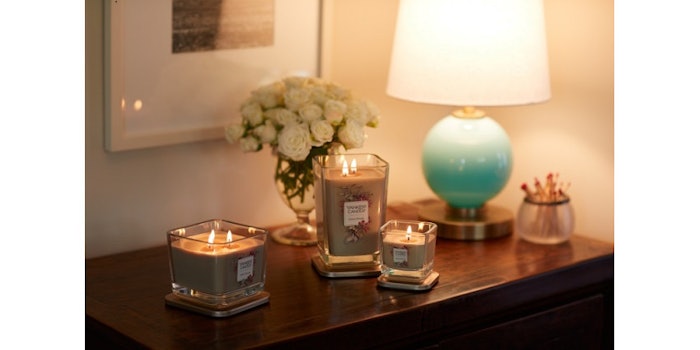 The Yankee Candle Company, Inc. has released its latest line, the Yankee Candle Elevation collection.
With a tapered glass silhouette and dual-purpose lid, the new line of candles will include a range of every day and fall-inspired scents. The company will also be launching a line of fragrance for the 2018 holiday season at a later date. The current line of candles includes:
Harvest Walk. Reminiscent of a fall day, this candle features notes of birch, red oak, eucalyptus and a dash of sandalwood.
Citrus Grove. A lemon zest scent with soft wood undertones, pine and a hint of eucalyptus.
Coastal Cypress. A coastal pine scent with iris and orchid.
Velvet Woods. Inspired by a walk through the woods, this fragrance will include warm amber notes and a hint of sweet fruit blossoms.
Dark Berries. A festive berry blend that includes scents of ripe blackberries and sheer peony.
Evening Star. The scent features a blend of baby rose and jasmine.
Ginger Pumpkin. Featuring spicy and sweet scents, the fragrance includes nutmeg, ginger, pumpkin and caramel notes.
Magnolia & Lily. A floral, citrus fragrance that features citrus and magnolia notes.
Pear & Tea Leaf. The candle includes notes of ginger, chai tea, apple and fresh pear.
Sheer Linen. A fresh and clean scent, similar to fresh morning air and clean clothes.
Shore Breeze. A salty, sweet fragrance that takes inspiration from walks on the beach.
Sweet Nectar Blossom. A bright and uplifting scent that includes sweet vanilla, creamy coconut and lily notes.
"When it comes to decorating your home, it's all about making it your own. Small touches can make big impressions, and that's where the new Yankee Candle collection comes in," said Nancy Sacco, director of brand marketing, Yankee Candle Company. "The beautifully crafted collection features a sophisticated mix of fragrances, and it's also functional. The lids double as an attractive accessory that nestles right under the candle."