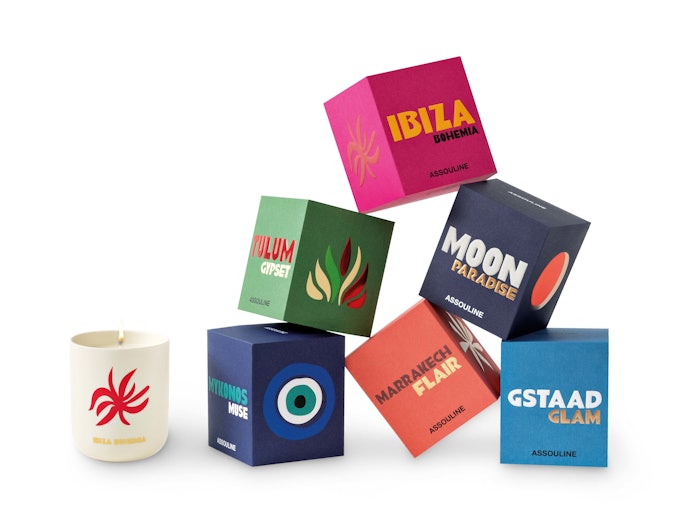 courtesy of Assouline
According to Technavio, the candle market size is expected to grow by $2.8 billion from 2022 to 2027 at a CAGR of 5.79%. North America is estimated to account for 28% of the market's overall growth. Candle and air care usage was popular before the pandemic and was further boosted by the pandemic. Candle scents' ability to transport consumers to faraway places and evoke positive childhood memories has made them a mainstay. In addition, individuals use candles and air care at home to create a spa-like environment to help alleviate stress and anxiety.
A OnePoll survey of 2,000 people on behalf of AlEn USA, found that 51% of Americans experience "scent-stalgia," missing the comforting scents of their homes after being away for a couple of days. The top scents people enjoy at home are floral (17%) and clean or sanitizing (e.g. chlorine bleach) (14%), followed by citrus (13%), baked goods (11%) and wood/natural scents (13%). To boost the scent of their home, the study found that people opened windows for fresh air (47%), cleaned regularly to remove odors (45%) and burned scented candles (43%). Furthermore, 77% are comforted by the smell of home, and they most often feel relaxed (38%), happy (36%) and centered (32%). Books, Italy, and summer scents are popular home fragrance themes while collaborations, sustainable candles, and air care innovations continue.
1. Bookworm
Books have been a muse for fine fragrance, now they are one of the latest muses for candle launches. Assouline Publishing is a book publisher and luxury lifestyle company best known for its coffee table books. Inspired by the brand's popular Travel Series collection of six rainbow-hued hardbacks, Assouline created the Travel From Home Candle line of corresponding scented candles that use the same iconic serigraphy of symbols from the books.
The Gstaad Glam candle features notes of cypress, cedar, black tobacco leaves, juniper berry, and palo santo, while Ibiza Bohemia highlights lemon, bergamot, and green apple with fresh and earthy undertones of patchouli. Marrakech Flair offers cypress, sweet cedarwood, and juniper berry with black tobacco leaves, bergamot, neroli, and citrus, while Moon Paradise Travel is a complex mix of black pepper, sweet bamboo, musk, and cashmere wood. Mykonos Muse contains cyclamen, almond, green fig, and tonka bean notes and Tulum Gypset has eucalyptus, sage, black pepper, black amber, and spicy cardamom.
Anecdote Candles and Barnes and Noble collaborated on the exclusive Book Lover Collection, which "includes six bookish candles celebrating universal favorite genres, book tropes, and characters." The Anti-Hero Good (Peppered Rose & Cedar) is described as "intentions and questionable morals," while The Book Club Banter (Black Currant & Red Wine) is inspired by "lively discussions and endless wine." Dark Academia (Vintage Leather & Oud) channels "melancholy moods and secret societies," and Enemies To Lovers (Vanilla Orchid & Jasmine) is "heated fights and steamy nights." Main Character Energy (Wild Iris & Santal) is "a memoir in the making," and Plot Twist (Sea Minerals & Water Lily) leans into "chills and thrills."
2. Take Me To Italy
Candle scents are often inspired by destinations. Italy is trending as a current source of inspiration. According to RateGain International Inbound Flight Bookings for June-Aug'23, Italy was the top three most visited countries for summer 2023 for overall, business, and leisure travel. Byredo and luxury resort ISSIMO launched L'Orto Italiano, a limited-edition candle inspired by Italian Culinary "that captures the essence of summer and the escapism of la dolce vita." The candle highlights tomato leaves and basil rounded out with bamboo and crisp amber. Fashion and lifestyle brand La DoubleJ dropped the Scents from the Motherland candle collection inspired by founder J.J. Martin's favorite Italian locales. The collection is available in four scents: Capri, Lago Di Como, Milano, and Pantelleria.
Each candle is housed in a porcelain vessel with an original La DoubleJ print and trimmed in 18K gold. Capri is a juicy mix of blackcurrants, pomelo, lemon, and applewood, while Lago Di Como is a luxe blend of rose, white musk, mimosa, amber, and leather. Milano is a sultry blend of jasmine, cedar, and peppercorn, while wild and herbaceous Pantelleria contains fig, wild lavender, sandalwood, and bergamot. Woodhouse Spa has launched Revive, a limited-edition signature fragrance inspired by the invigorating scenery and scents of the Amalfi Coast in Italy. Offered in an Aromatherapy Essential Oil Blend and Room Spray, the fragrance "marries notes of sun-kissed Italian citrus with hints of fresh eucalyptus, sweet rosemary, and the clean, restorative breezes of the Mediterranean Sea." Siblings' latest artist collaboration La Dolce Vita was developed in partnership with English-Italian artist Chiara Perano. The La Dolce Vita - Rosemary, Lavandin, Salt Water scent description reads "where the warm salty waves of the Mediterranean meet the lush Italian coast dotted with lemon groves, gardens and sandy cove beaches."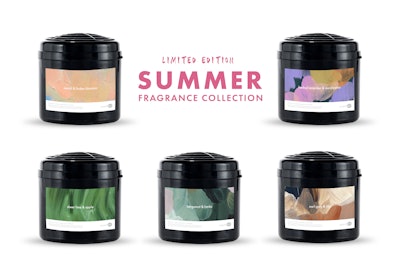 3. Summer Scents
Trendincite's Perfumer & Flavorist+ "Forward Thinking: Candle Scent Trends and Seasonal Staples," article, which appeared in the September 2021 edition, explored seasonal scents. Hot summer days often conjure memorable moments such as the great outdoors, herbs, fruits, flowers, and ice cream. Candle brands continue to lean into these memories with seasonal summer scents. Byredo has created a Summer Rain candle "that captures the restorative power of nature, especially on a hot day" with notes of basil, spearmint, fig, and sparkling ginger. Loewe's latest release is two new candles designed specifically to be burned outside. Housed in sculpted terracotta pots and filled with high melting-point wax, the scents are offered in Geranium and Thyme variants. Bath & Body Works launched Endless Sea and Wild Sand candles for the summer season. The Endless Sea contains fresh bergamot, saltwater lily, and ocean driftwood notes, while Wild Sand has notes of prickly pear fruit, cactus flower, and warm agave nectar. Inspired by frozen treats, PartyLite introduced four summer scents: Frozen Matcha Latte, Mango Lime Sorbet, Pistachio Ice Cream, and Sweet Berry Gelato candles. For the first time, ScentAir released a Limited Edition Summer Fragrance Collection for its Whisper HOME cartridge collection. The six summer scents include Bergamot & Herbs, Earl Grey & Lily, Herbal Lavender & Eucalyptus, Neroli & Linden Blossom, Sheer Lime & Apple, and Watermelon & Sugared Lemon.
This summer, Alexander McQueen released its first home fragrance collection with a trio of scented candles. Ghost Flower features fresh freesia and peony with earthy patchouli, while Pagan Rose contains wild rose, cognac and peat moss, and Savage Bloom highlights saffron, tuberose and oud. The candles are made from black mineral waxes and rapeseed wax and encased in black lacquered glass with three different lids in silver metal, antique dark metal and antique gold housed in a recyclable wooden crate.
To read the entire Forward Thinking article,  visit Perfumer & Flavorist+'s September issue.