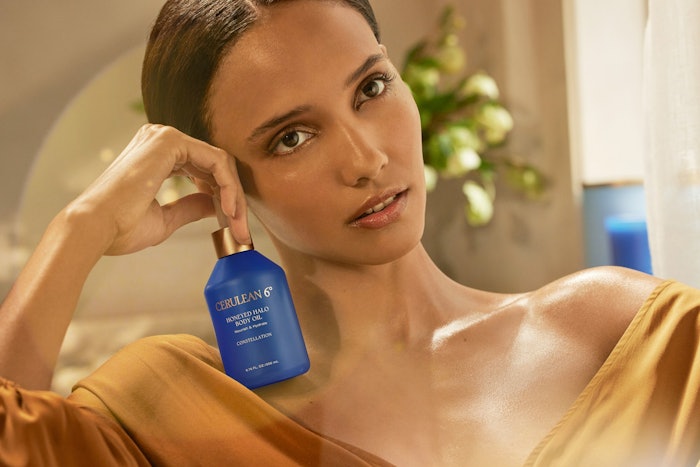 Bluemercury has launched its own fragrance-forward bath, body and home fragrance line, Cerulean 6°.
The range, available exclusively at the retailer and its website, is available in two scents, including the woody floral Constellation and fruity floral Cloudline.
The Cerulean 6° collection includes the hydrating Silken Quench Body Crème ($48), which features cold-pressed hibiscus flower, shea butter, vitamin E and essential fatty acids, as well as the Opal Aura Body Lather ($24), featuring jojoba and rosehip oil and designed to cleanse away stressors, while hydrating, moisturizing and soothing the skin.
The range also includes the moisturizing and reinvigorating Honeyed Halo Body Oil ($46), featuring vitamin E, elderflower extract, and a variety of vitamins, minerals and nutrients.
Cerulean 6°'s whipped Divine Glow Body Polish ($36) features sunflower oil, sea salt, spirulina and sea clay.
Finally, the range's Scented Candles ($48 for 13 oz, $86 for 30 oz, and $238 for 80 oz) features essential fragrance oils, soy waxes and wicks comprising natural fibers. The candles will be available in three limited-edition holiday scents: Holiday Splendor, Apple Moonshine and Twinkling Treetops.
"Internal innovation has always been an important element of our business, allowing us to build brands that deliver solutions based on direct feedback from our clients, and Cerulean 6° is no different as it addresses an expressed desire for luxe essentials in the bath, body and home fragrance category," said Julie Kelly, head of proprietary brands at Bluemercury. "Cerulean 6° was developed for the client seeking exquisite experiential fragrance-led products at an approachable price point, and to make everyday moments feel more extraordinary."