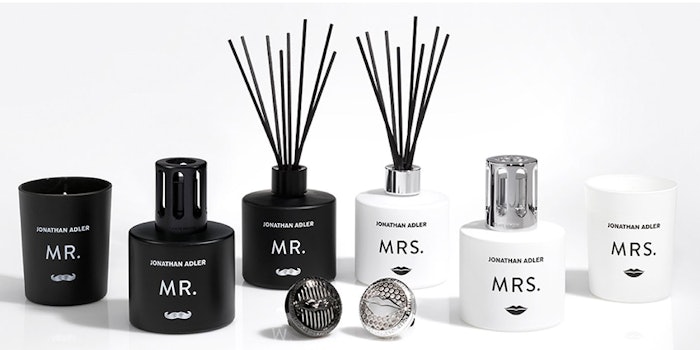 Jonathan Adler has collaborated with Maison Berger to create a limited edition high-end home fragrance. 
Related: House of Rothach Joins Small Biz 100
The collab incorporates Maison Berger Paris' scent blends with the craftsmanship of Jonathan Adler. 
The Muse Collection is inspired by the archetypal creations of Jonathan Adler and the desire to create a chic, elegant and functional decor. It features three porcelain vessels with refined shapes and Adler's surreal touches such as embossed lips with sparkling gold metallic details.
The catalytic lamp and the reed diffuser rituals display motifs from Jonathan Adler's Muse vase.
Both tops' patterns reproduce the artist's table leg.
The scented candle ritual reflects the same design finesse.
The Muse rituals diffuse a perfume with imperial green tea and notes of sandalwood and a backdrop of modern musks.
The Mr. & Mrs. Collection pays tribute to Salvador Dalí, representing his mustache, and to his muse, Misia Sert, representing her lips. The collection includes four different rituals:
Catalytic lamp
Reed diffuser
Scented candles
Car diffusers
The Mr. rituals are packed with Wilderness, a crafted fragrance that has scents of tomato leaves and citrus in the top notes.
The Mrs. rituals are filled with Citrus Breeze fragrance that possesses citrus facets as well as the presence of vetiver in the base note.
The collection pieces range from $28 to $170.
"The combination of the unique and modern style of Jonathan Adler and the long tradition of Maison Berger for the finest home fragrances is creating an extraordinary range of products and emotions. We are truly proud and extremely excited to launch this new collection across the globe," said Maison Berger North America president Guillaume Wehrlin.