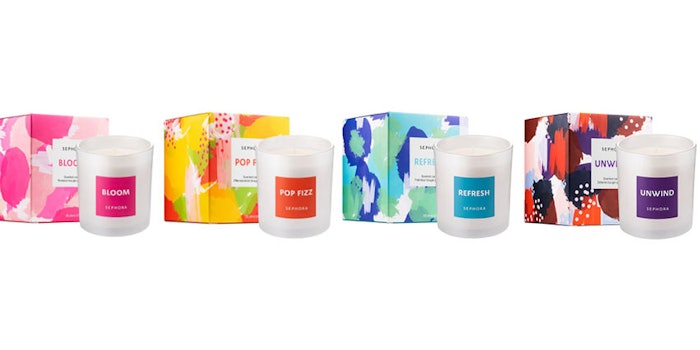 Sephora has launched its own line of scented candles. The Sephora Collection launch includes four flagship scents: Bloom, Pop Fizz, Refresh and Unwind.
The candles are made of a natural soy-blend wax that is non-toxic that is free of phthalates, parabens and sulfates and is not tested on animals.
The Bloom candle has notes of rose petals, freesia and amber that harmoniously blend to create ambiance.
The Pop Fizz candle has notes of blood orange, red currant and creamy sandalwood for zest.
The Refresh candle has notes of black currant, grapefruit, jasmine and musk to create an in-home spa-like feel.
The Unwind candle has notes of black amber, vanilla and sandalwood combined with pink berry and bourbon to impart feelings of peace.
Sephora has set an expected burn time up to 40 hours and a price of $18 for each 8 oz candle.