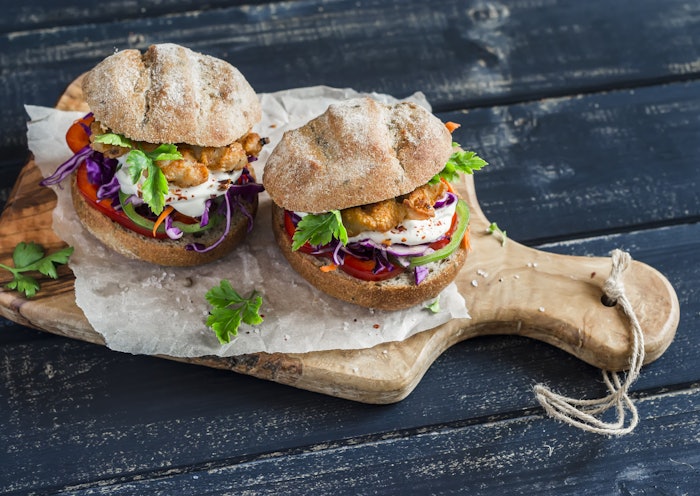 Future Market Insights (FMI)* released a report on the global market for plant-based fish that indicates it will grow at a 28% CAGR from 2020 to 2030. As plant-based protein becomes more popular and environmental concerns become a priority, the global market for plant-based fish is expected to similarly expand.
Related: Catch of the Day: Tapping into the Plant-Based Seafood Market
FMI reports that plant-based fish is a popular alternate dietary product for those with food sensitivities related to seafood. It is also allergen-free, 100% vegan and safe for lactose-intolerant consumers. This, coupled with increased interests in eco-conscious and sustainable products, is expected to contribute to the market surge for plant-based fish.
Burger patties are the preferred form for plant-based protein due to their cost-effective and hassle-free production and distribution process.
North America is the most lucrative plant-based fish market, holding high potential with the penetrating growth of manufacturing sectors and distribution channels.
Europe is another highly lucrative market for plant-based fish due to product launches and food chains offering plant-based fish on its menu. The European market is expected to experience significant growth.
East Asia has emerged as one of the key markets through rising demand in China, Japan and North Korea.
The competition in the plant-based fish market is strong and companies mostly focus on product launches to gain competitive strength.
With competition getting fiercer, companies operating in the plant-based fish market are focusing on product launches to gain competitive strength.
Some of the key market players identified by FMI include Gardein by Conagra Brands, MorningStar Farms, Archer Daniels Midland Company, Symrise, Roquette Frères S.A., Kellogg's, Tyson Foods, Inc., Sotexpro SA, Crown Soya Protein Group, Puris Proteins, LLC, Ingredion GmbH, Glanbia plc and Fuji Oil Co., Ltd.
Some challenges for the plant-based fish market will be the advanced manufacturing methods required at all stages of production. Special attention is required for production, packaging and distribution. This also results in plant-based fish products being a high-range cost that may not be affordable to the general population.
The COVID-19 pandemic has created restrictions that brought delays in manufacturing due to scarcity of raw materials and fewer workers. This could hamper the growth of the market, according to FMI.
* Plant-Based Fish Market By Product Type (Burger Patty, Fillets, Crumbles & Grounds), Source (Soy-based Protein, Wheat-based Protein), Distribution Channel (Supermarkets, Convenience Stores, Specialty Food Stores), Fish Type (Tuna, Crab, Shrimp) & Region - Forecast to 2020 - 2030
Want to know everything going on in flavor & fragrance? Sign up for P&F+'s newsletter. You can also follow along on Instagram and LinkedIn.