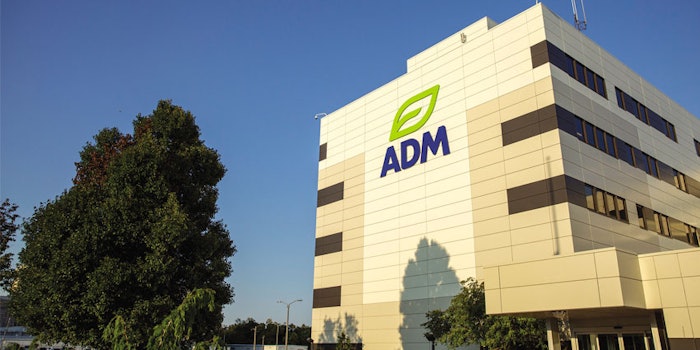 Chicago, Illinoisa
A fresh face to July's Leaders & Newsmakers issue is ADM. The global nutrition company has joined the ranks due to making strides with innovative plant-based and sustainability practices over the last year.
On the plant-based front, in September 2020, ADM launched a portfolio filled with textured wheat and pea proteins to offer optimal sensory appeal for those searching for meat alternatives. The following month, the company partnered with Spiber Inc. to expand the production of innovative bio-based polymers. These Brewed Protein polymers are expected to help expand the range of plant-based, sustainable alternative materials. The plant-based theme continues with yet another partnership with Marfrig to launch PlantPlus Foods. ADM's role in the partnership is to supply innovative technical expertise, application development and an array of plant-based ingredients, flavors and systems.
Regarding accolades, earlier this year, ADM was recognized by Ethisphere as one of the 2021 World's Most Ethical Companies in the food, beverage and agriculture category for the second year in a row.
Staying on brand with ethical practices, ADM announced a policy to protect forests, biodiversity and communities in March 2021. By the end of 2022, the company expects to achieve full traceability of its direct and indirect sourcing throughout its soy supply chains in Brazil, Paraguay and Argentina. ADM also aims to eliminate deforestation from all company supply chains by 2030.
Perfumer & Flavorist+ connected with a handful of ADM executives to weigh in on the company's triumphs over the last year, technical advancements, sustainability accomplishments and key trends shaping innovation and the course of business for the months and years to come.
aADM did not disclose fiscal 2020 sales, although they have been published elsewhere.
Over the last year, ADM has strengthened its reach across platforms and continents with new initiatives and innovation centers.
Calvin McEvoy
President, Global Beverages, ADM
What was your company's biggest business accomplishments in the last year?
At ADM, we continue to invest in our flavor business as global demand increases for our innovative flavor solutions. Over the past few years, we've strategically invested in several acquisitions to propel our capabilities and business in key flavor areas, including Florida Chemical and Ziegler for citrus, Rodelle for vanilla and Eatem Foods for savory. We're particularly excited about our expansion in our citrus capability and are now considered one of the world's leading suppliers of citrus flavors, ingredients and solutions.
In spring 2021, we opened an innovation center in Singapore to advance protein innovation in plant-based foods. We also opened our Berlin culinary innovation center in 2020. Both facilities are helping advance our unique solutions through integrated technical expertise and collaborative team efforts across categories. On top of that, we've invested in industry-leading robotics and compounding to complete our cutting-edge flavor manufacturing capabilities in Berlin, supporting our growth in the region.
We're also eager for what's ahead of us. We have plans for a new state-of-the-art manufacturing facility in China to support flavors growth in Asia. We also have a new beverage and food innovation center in the works to support the wider market in Latin America.
For the full article, please check out the Perfumer & Flavorist+ July 2021 issue.