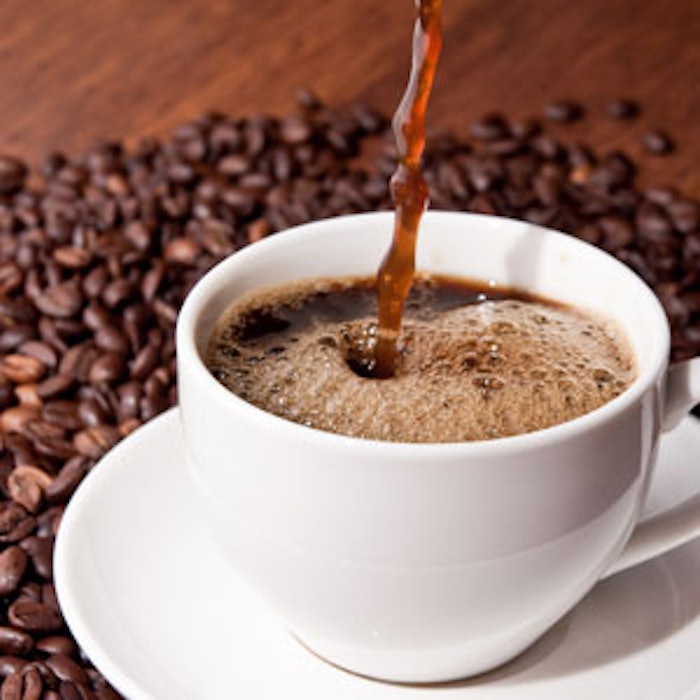 Coffee production worldwide is really perking up. A Statista report showed coffee production grew from 105.53 million in 60 kilogram bags in 2003-2004 to 143.37 in million in 60 kilogram bags in 2015-2016. With an increase of coffee production, it's causing a stir in coffee trends.
Here are just five making their way into the finished product sector, according to a recent article on FoodBevMedia.com. 
1. Mocha Iced Coffee
Ready-to-drink iced coffee brand Jimmy's Iced Coffee has announced a new variety mocha, a different blend of coffee and chocolate that has been listed in Sainsbury's, BP and over 1,200 Tesco Express stores across the country. 
2. Magnesium Coffee From Nestlé in Spain
In Spain, Nestlé has launched two new Nescafé Vitalissimo coffee blends, fortified with magnesium to help reduce tiredness and fatigue. The new instant coffee is available in natural and decaffeinated formats—both in 200 g glass jars —and is designed primarily to appeal to the health-conscious over-40 market. A single 2g cup of Nescafé Vitalissimo with 200 mL of semi-skimmed milk delivers 15% of the daily reference value of magnesium. 
3. Brew From Your Smartphone
DeLonghi has launched a new coffee machine that can be controlled "from the comfort of your sofa" using a smartphone. The PrimaDonna Elite allows users to create a coffee, wherever they are at home, using an app on their mobile.
DeLonghi says it can create hundreds of different varieties of drinks. Consumers can also set up personal profiles of their ideal aromas, temperatures and quantity of coffee and milk for each drink. 
4. Coffee Mate
Nestlé Coffee Mate joins other companies allowing consumers to add flavors to coffee at home or in the foodservice sector. Sold in 750 mL cartons, the flavors vary from cinnamon (canela) to vanilla light. Nestlé Mexico "Coffee Mate" coffee creamers are sold in aseptic carton packs from SIG Combiloc. 
5. Hot Coffee in a Ready-to-drink Can
Hot coffee in a ready-to-drink can is not a new concept—in fact in Japan, it is a $15B industry. Now it's making its way to the U.S. Initially available in espresso, caramel, vanilla frappe and hot chocolate, the coffee (made from 100% Arabica beans grown in Sumatra) is served in aluminum cans (made of 70% recycled content) that are warmed to 140 degrees by a custom-designed HOT "fridge." When opened, the cans emit steam and the fresh-brewed aroma expected from a delicious cup of coffee. 
For the complete article, visit www.FoodBevMedia.com.